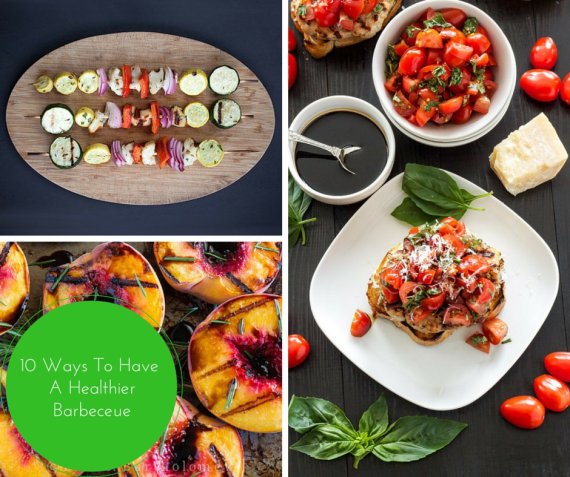 Mayo-laden side salads, mystery meat hot dogs and greasy potato chips are all staples at summer cookouts, which can make healthfully navigating a barbecue a little tough. But it's not impossible! Check out these dietician-approved tips for filling up by the grill in a nutritious way.
1. Vegetables first.
Eat the salad or veggies first, "especially if they're unadulterated," says Elisa Zied, a registered dietician in New York City. When you hit the crudité platter, fill up on raw veggies rather than those smothered in oil or dressing. Once you're done, you'll have less room in your belly for fattier fare.
When you do move on to the main course, "pile your burgers high with veggie toppings like tomatoes, sautéed mushrooms, spinach, mixed greens, and red onions," says Alexis Joseph, a registered dietician in Columbus, Ohio and the founder of Hummusapien.com. "The more room taken up by veggies, the less meat (aka saturated fat)" you'll eat.
2. Make your own sides.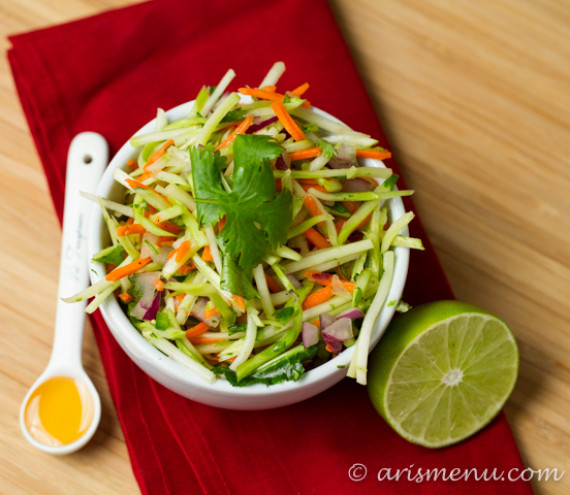 Ari's Menu
If you're not hosting, prepare a side or two to bring to the party. It'll be a nice gesture, and you'll get peace of mind knowing you can enjoy some dips or dishes that aren't brimming with mayonnaise. Manhattan dietician Rochelle Sirota recommends mixing up a vinegar-based coleslaw (like this one). You can also replace mayo with Greek yogurt for a protein-filled recipe that's still creamy. If you're short on time, she says store-bought hummus, guacamole or salsa are all great vegetable-dipping options.
3. Marinate like a pro.
Sauce makes all the difference in more ways than one. Baltimore-based licensed nutritionist Monica Reinagel suggests skipping the barbecue sauce for something lighter. "Baste your chicken with bottled Italian dressing instead of BBQ sauce and you'll slash sugar and calories by 90 percent," she says. If you're using store-bought marinades, be sure to read the labels and opt for a bottle with a lower sugar count.
4. Swap cow for fish.

Fish is a great protein for grilling, and it boasts brain-boosting omega-3 fatty acids and a lot less saturated fat than traditional barbecue meats. "Grill wild salmon fillets marinated in a bit of soy sauce, sesame oil, pure maple syrup, fresh ginger, and garlic for an Asian flare. For a more budget-friendly option, snag a can of wild salmon and make salmon burgers," Joseph says. Check out the recipe for her kale and broccoli salmon burgers (pictured above) at Hummusapien.
5. Use condiments wisely.
Condiments can make or break a hamburger. But depending on the type, they can also make or break your meal's healthy meter. Registered dietician Cheryl Forberg recommends mustard as the go-to spread. "A tablespoon of Dijon mustard has 18 calories with no added sugar or fat, while mayonnaise has 57 calories and 5 grams of fat," she points out. Ketchup, as innocuous as it seems, can be a major source of hidden sugar. If you've got to have the red stuff, Forberg suggest shopping for a brand with no added sugar.
6. Kebab it.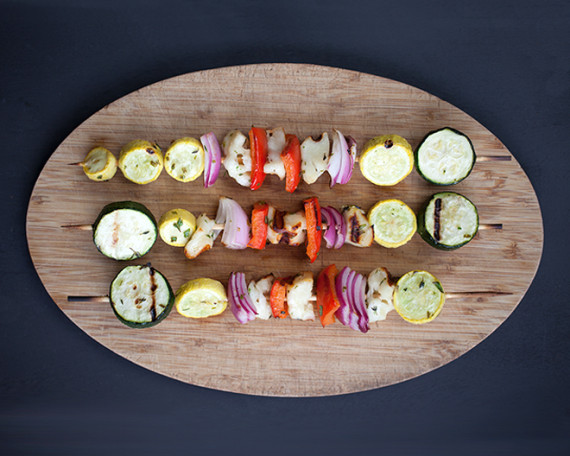 Last Ingredient
Food tastes better when it's eaten off a stick, and you can kebab just about anything. Forberg suggests skewering plants like mushrooms, cherry tomatoes, eggplant, zucchini and bell peppers. Cut them all to be around the same size, and they'll cook at the same rate. You might alternate some of these veggies with a protein: dietician Angela Ginn-Meadow says shrimp and chicken are excellent, lean options that pair well with grilled vegetables.
7. Limit the booze.
You might consider choosing to enjoy alcohol or dessert, since both tend to boast calories without much nutritional benefit, Zied says. When drinking, alternate booze with water. It'll be extra important to stay hydrated if you're outdoors, sipping under the hot sun.
8. Craft an open-faced burger.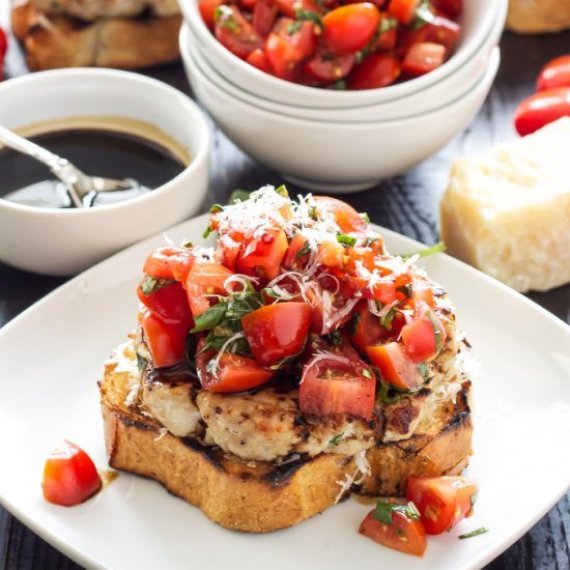 Recipe Runner
Give one side of your sandwich the bread treatment, and top the other with veggies, Ginn-Meadow says. Or, if you like, go completely bunless and mix your meat with crisp produce and healthier sides. When you do bun your burger, Forberg says to choose one made of whole grains with fiber.
9. Have your dessert and eat it, too.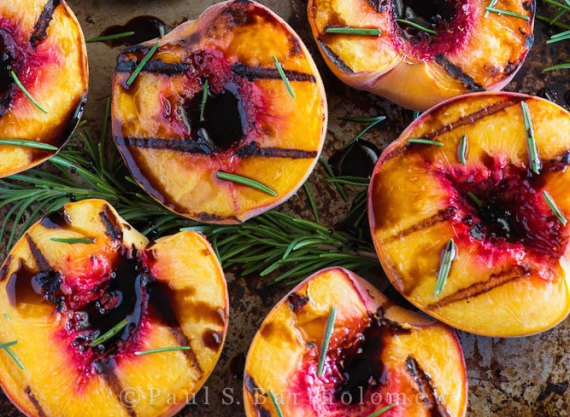 The Framed Table
Grilled fruit, people. It's sweet like candy. When the grill's coals have died down and the heat is low, place fruit on the rack and watch it caramelize. Forberg recommends using fruit that isn't overly ripe, as it is more likely to stick and burn. Bananas, peaches, pears, nectarines, pineapple -- they're all badass on the grill. The fruits' natural sugars will make the dessert so sweet, you won't need to add a thing. Check out registered dietician Julie Upton's recipe for peaches with cinnamon yogurt here.
10. Be realistic and enjoy yourself.
Hey, you're at a party, and you're entilted to taste all that summer has to offer. "Remember that one meal doesn't break an otherwise nutrient-rich diet," Zied says. "Enjoy the food, don't feel guilty if you eat things that aren't nutritious, and enjoy the company. Stressing too much over what to eat can really ruin an otherwise enjoyable barbecue." Amen.
Related
Before You Go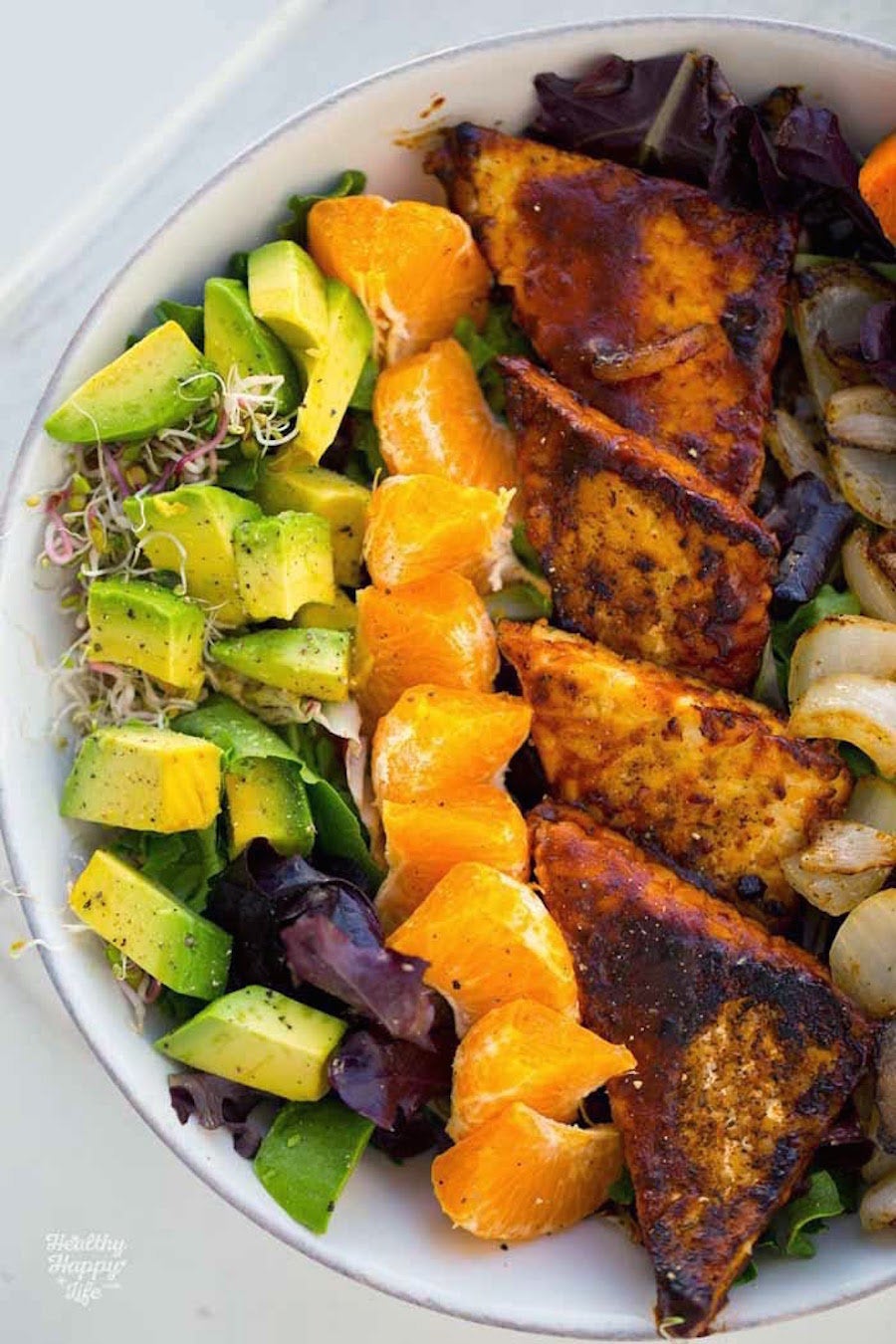 Vegan Barbecue Staples