Holy heat wave! When you're awoken by humidity rather than the buzz of your alarm, the last thing you want to do is turn on the oven or the stove to whip up some breakfast.
Below, find seven super-chill morning eats brought to you by some of our favorite nutritionist.
Light And Refreshing Chia Pudding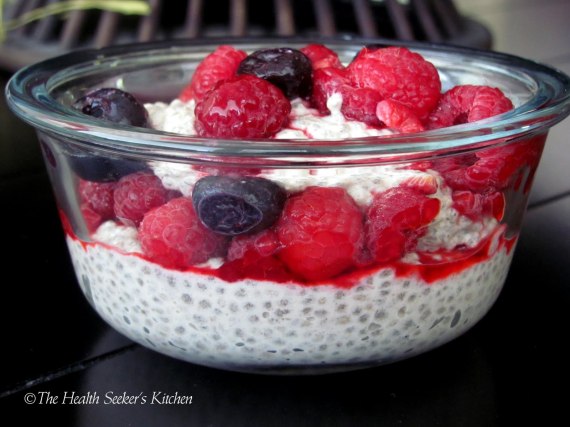 Photo: chiaseedorganic.com
Rochelle Sirota, MS, RD says to combine all the ingredients (listed below) and store the mixture in the fridge -- it'll keep for several days. When you're ready to enjoy your pudding, top it off with some fresh, in-season fruit.
Ingredients:
- 2 tbsp. organic white chia seeds
- 4 oz. organic unsweetened nut milk
- 1 tsp. vanilla extract
- 1 tsp. grade B maple syrup
- 1/4 tsp. cinnamon
- 1 pinch pink Himalayan salt
Summer-Inspired Muesli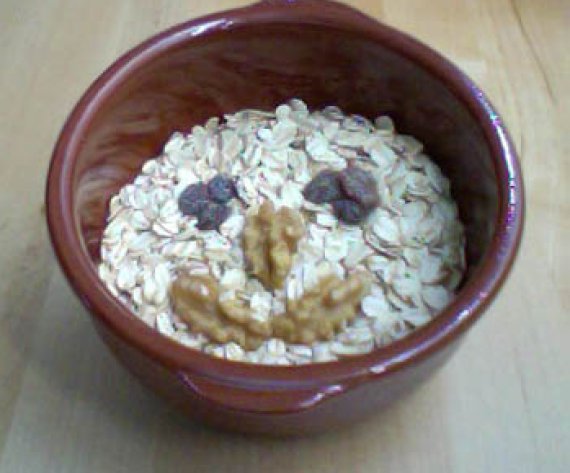 Photo: Flickr/Melissa Salmeron
"My favorite summer breakfast is fresh muesli," says nutritionist Emily Dingmann. "I make the same variety with oats, chia seeds, blueberries, greek yogurt and peanut butter.
Ingredients:
- 1/3 cup oats
- 1 Tbsp chia seeds (optional)
- 2-3 Tbsp milk or water
- 1/2 cup frozen blueberries
- 6 oz plain greek yogurt
Combine the oats, chia seeds and milk or water. Top with blueberries and yogurt. Allow the mix to sit in the fridge overnight. In the morning, stir and top with your favorite nut butter -- easy, healthy, and oh-so-filling.
Summer Oatmeal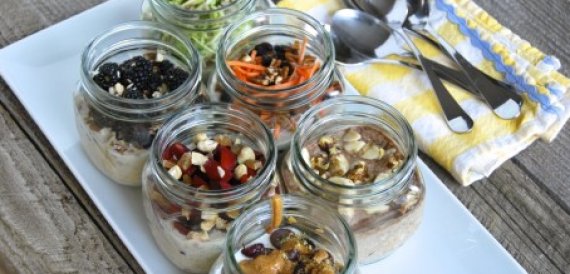 Photo: Dawn Jackson Blatner, RD
"This oatmeal recipe does not require cooking and is served as a cold cereal. It's a refreshing way to enjoy heart-smart whole grains in the spring and summer," writes Dawn Jackson Blatner, RDN, CSSD, LDN. Get the whole recipe here.
Yogurt Parfaits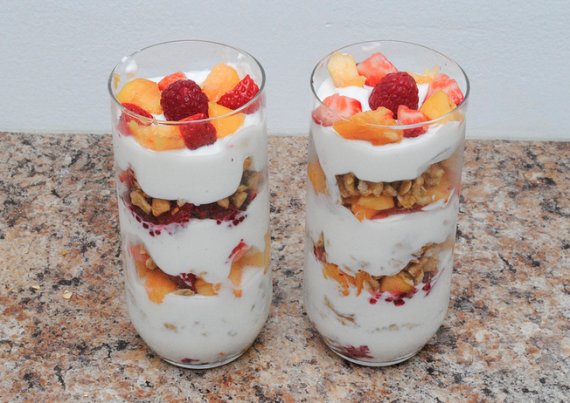 Photo: Flickr/Annie Piccolo
Heidi McIndoo, MS, RD highly recommends the parfait, especially for kids, since they'll enjoy assembling the meal themselves. Repeat layers of yogurt, your favorite fruit and a bit of low-sugar cereal for a healthy breakfast that doubles as a gorgeous work of art.
Refreshing Smoothies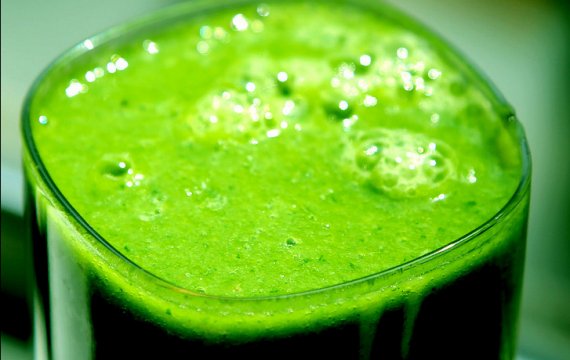 Photo: Flickr/Joanna Slodownik
Rebecca Scritchfield, RD, suggests whipping up a green smoothie when you can't stand the heat (but don't care to get out of the kitchen). One of the best things about this mix is that you can customize it just to your liking -- see Scritchfield's basic smoothie "template" here.
Breakfast Salad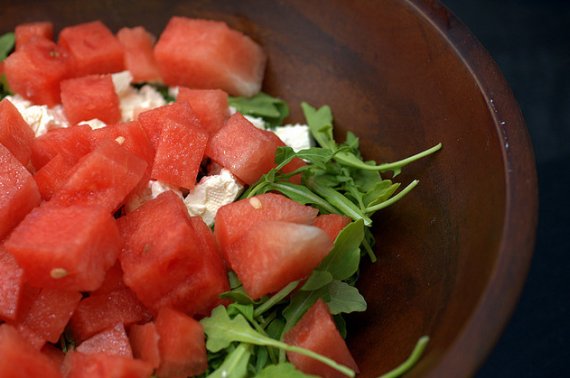 Photo: Flickr/Olga Massov
If you choose salad for a cooling crunch at lunchtime, there's no reason why you shouldn't enjoy it as your first meal of the day. Monica Reinagel, MS, LD/N, CNS suggests combing 1 cup of chopped watermelon (red and yellow for extra beauty) and 1/4 cup chopped and peeled cucumber in a chilled bowl. Top with a squeeze of lime juice, 1/4 cup feta cheese and some chopped mint for the ultimate morning refresher.
'Insanely Divine' Chocolate Avocado Mousse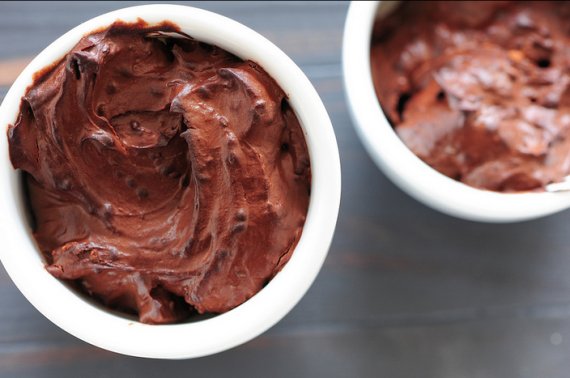 Photo: Flickr/jules
Lauren Talbot, CN takes cold breakfast to a whole, new decadent level: The recipe makes 4 - 6 servings, so you can spend your mornings cooling off by standing in the fridge instead of bent over a mixing bowl.
Ingredients:
- 4 large avocados, halved, pit removed
- ½ cup raw cacao
- ½ cup dates, pitted and soaked for 2 hours (eliminate if you suspect Candida)
- 1-2 tsp vanilla stevia (Talbot recommends an alcohol-free vanilla stevia like one by NuNaturals), or alcohol-free vanilla
Place avocado into the bowl of a food processor and process until smooth. Add 1-2 tbsp of water If needed to ease blending. If using dates, drain water. Add remaining ingredients and blend until well combined and smooth. Scoop into 4-6 small serving dishes and keep in the refrigerator until ready to serve.
For more healthy breakfast ideas, click here!
Before You Go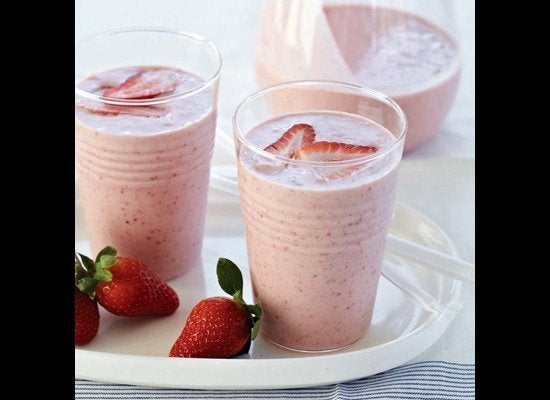 Summer Smoothie Recipes
Popular in the Community