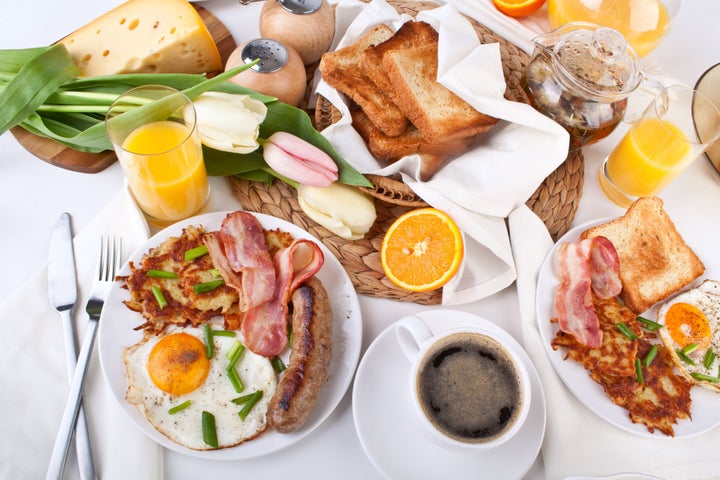 As many of us celebrate Easter with a festive brunch, we may find ourselves staring down a monster buffet table. What should you grab? When is it okay to indulge and what constitutes a major diet setback? We asked our favorite nutrition experts to outline their absolute brunching don'ts as we head into the holiday.
What's your strategy for eating healthfully at brunch? Tell us in the comments!
1. Brunching In The First Place
"Honestly, the biggest mistake is going to brunches at all," says Ruth Frechman, M.A., R.D., C.P.T. "It's calorie suicide. Typically, brunches are expensive. Most people want to get their money's worth. They could easily consume 4,000 calories in one meal. The average person only needs 2,000 calories for the entire day."
2. Choosing Sweet Over Savory
This is the central question of brunch: Do you go sweet or savory? Pancakes or eggs? Now we have an answer: savory (but not too salty!).
"My number one brunch don't would be dishes that are practically made of pure carbs like pancakes or waffles. Because these are digested so quickly they're guaranteed to make your blood sugar spike and then plummet," says Karen Ansel, R.D. "While you might feel fine for a while you're inevitably going to get that carb coma feeling a couple of hours later. Adding sugary maple syrup to these only adds insult to injury. Instead pick something that's more balanced with a combination of protein, complex carbs (preferably from whole grains) and some healthy fat like huevos rancheros with avocado."
3. Confusing Brunch and Breakfast
"One of the biggest mistakes people make, they do before they even get to brunch. And that's not eating anything at all," says Rachel Begun, M.S., R.D., registered dietitian and spokesperson for the Academy of Nutrition and Dietetics. "You need calories to burn calories, meaning you need to eat food to get the metabolism going. If you wait until late morning or early afternoon to eat something, your metabolism is sluggish and not operating at maximum capacity. Plus, going to brunch starving is a recipe for overeating."
Joy Dubost, Ph.D R.D. C.S.S.D. agrees: "We may think because we are combining two meals we can [eat more]," she says. "But if you are not careful on choices and portion-size, brunch can quickly exceed calories consumed in two separate meals."
Instead, try to have a healthful snack in the morning before you head out the door -- something that combines fiber and protein, like low-fat cheese with an apple or yogurt with berries and slivered almonds.
4. Ordering From The Drink Menu
Alcoholic brunch drinks like bloody marys and "adult" coffee drinks are an easy way to go overboard on the calories without even realizing it. "Consuming multiple beverages, particularly those that are higher in calories, can end up being a high calorie meal on its own," explains Dubost. "I would recommend keeping it to one 12-ounce beverage. For lighter options you may want to choose mimosas or wine spritzers."
5. Beware Customizable Options
We're looking at you, omelet bar. The egg base might be just fine, but add enough meats and cheeses and you've got a calorie bomb on your hands.
"Many dishes can be higher in calories because we load them with numerous ingredients," says Dubost. "Try to keep it more basic or include various flavorful vegetables."
6. Thinking About Calories, Fat ... But Not Sodium
Between the bloody mary mix, hollandaise sauce and hash browns, brunch can amount to a salt lick. And while you might choose egg whites for your omelet and salad on the side, it won't do much to lower the sodium of your meal. That means you can easily surpass the government's daily recommendation of 2,300 mg within a matter of bites.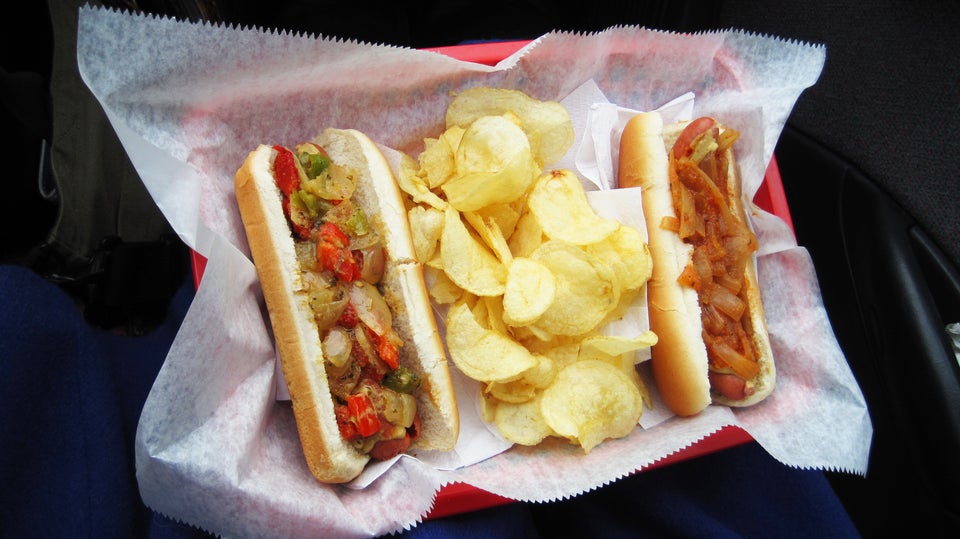 Foods Nutritional Experts Won't Eat