The second entrepreneurs into the Shark Tank this week were Megan and Scott Reamer. They were presenting their business Jackson's Honest and seeking $1.25M in exchange for 5% of the business. They have developed a line of potato and tortilla chips that are made using coconut oil. This was inspired by the diet they fed their son Jackson who had been diagnosed with a rare autoimmune disease called Aicardi-Goutieres syndrome. They found that feeding him a low carb diet full of good healthy fats improved his condition, so they decided to take one of those fats and create a business around it.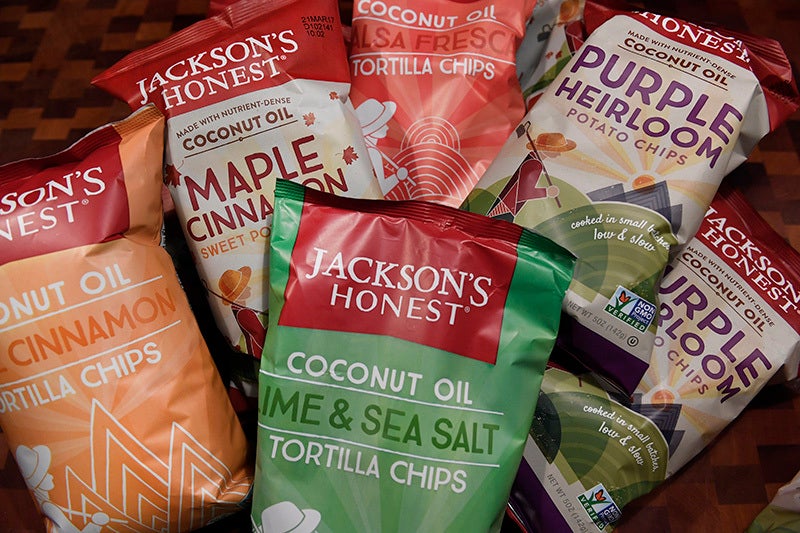 Obviously they are not standing by the low carbs with this product. These chips have just as many carbs as any other chip on the market, however they are made using coconut oil which is a much healthier alternative to traditional chips. That being said their purpose was not to provide people with one of the foods that helped Jackson's condition, but rather to raise awareness about good fats and inspire people to pursue healthier dietary choices.
As for their presentation, they struck gold by landing a deal with Rohan Oza. He is well known as a branding genius in the food and beverage industry with his portfolio containing such household names as Vitamin Water and Pop Chips. Even though they had to give up 15% of the business instead of 5%, this is the kind of move that could change the course of their business and their lives.
It is always such an inspiration to see people take the tragedies or challenges in their lives and turn it into something positive. They were not satisfied with merely using this knowledge to help their son, they felt compelled to see everyone benefit from what they discovered.
Unfortunately, Jackson passed away on August 13, 2017. To everyone in Jackson's family you have my deepest condolences. I hope and pray that you are able to press forward and build a legacy in Jackson's memory that will benefit generations to come.
Calling all HuffPost superfans!
Sign up for membership to become a founding member and help shape HuffPost's next chapter
This post was published on the now-closed HuffPost Contributor platform. Contributors control their own work and posted freely to our site. If you need to flag this entry as abusive,
send us an email
.