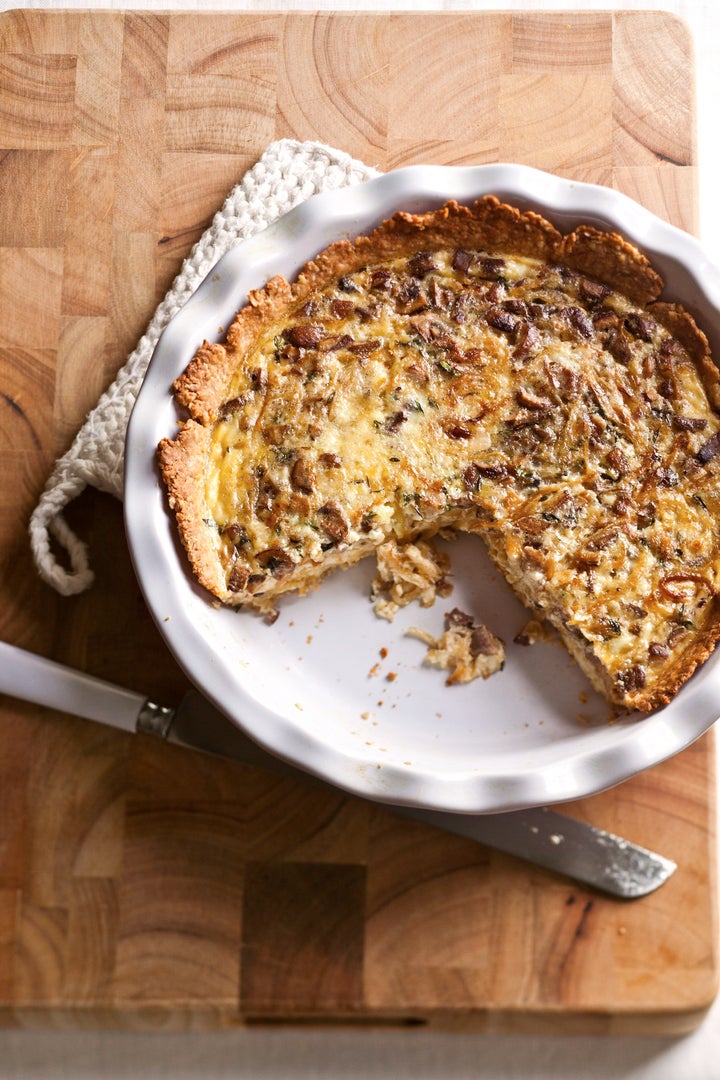 If you crave comfort food -- mashed potatoes, lasagna, brownies and the like -- you are not alone. Most of us with any kind of passion for living do. But if you want to get the most out of life you also want to be healthy, and the sad truth is most of the feel-good comfort classics are far from good for you. Instead they are loaded with sugar, saturated fat, calories, and sodium -- all of the things that ultimately rob us of our health.
As a born food lover and a professional nutritionist I am determined not to have to sacrifice my beloved meatloaf, my chocolate chip cookies or my well being. I want it all. So I have made it my mission to make comfort food in a healthier way. It took some tinkering in the kitchen, but I ultimately landed on some easy techniques that make decadent favorites healthier without sacrificing the taste and satisfaction you yearn for. Here are three of my tricks to help you "fix" traditional comfort food dishes, so you can get your "fix" in a healthier way.
Go Halfsies
Substituting all egg whites in an egg dish robs it of its sunny yellow richness, and using only whole-wheat flour in brownies and cookies makes them too heavy and healthy tasting. Same goes for other substitutions. That's why I split the difference for most of my "fixes." By using half whole eggs and half egg whites, or half whole grain and half all-purpose flour, and so on, you get the taste and texture you yearn for while still improving the nutrition profile.
Boost Veggies and Beans
Adding extra beans and veggies to dishes helps cut back on high-cal starches and meat without skimping on portions. It also provides volumes of important nutrients, color, taste and texture. So I stir ribbons of zucchini into my Fettuccini Alfredo, add mushrooms to my meatloaf and beans to my beef tacos.
Keep it Real
Sometimes a little of the real thing goes a long way. That's why I would rather use 2 slices of real bacon in my BLT than 4 slices of turkey or tofu "bacon." And I believe there is no acceptable substitute for real dairy, full-fat whipped cream or good quality cheese. I use these and other such ingredients in minimum amounts for maximum impact. Also, rather than use artificial sweeteners, I use minimally processed honey, maple syrup and molasses in place of white sugar and in small amounts whenever possible.
This quiche recipe, with its rich, flavorful filling and flaky crust, is a perfect example of how it all comes together in one scrumptious dish. I use half whole eggs and half whites and incorporate whole grain oats into the crust. I amp up flavor and volume with lots of caramelized onions and mushrooms and I use just the right amount of real Gruyere cheese. The result is a comfort food indulgence that will truly satisfy but with nearly half the calories and a third of the saturated fat of the typical version. Here's to your health AND your fulfillment.
Mushroom, Onion, and Gruyère Quiche with Oat Crust
3/4 cup old-fashioned rolled oats
1/2 cup all-purpose flour
3 tablespoons cold unsalted butter, cut into small pieces
3 tablespoons cold low-fat buttermilk
1 medium onion, thinly sliced into half-moons
4 ounces mixed mushrooms, such as cremini, oyster, shiitake, coarsely chopped
1/4 teaspoon freshly ground black pepper
1 tablespoon chopped fresh thyme, or 1 teaspoon dried
1 1/2 cups cold low-fat (1%) milk
3 tablespoons all-purpose flour
3/4 cup grated Gruyère cheese (2 ounces)
To make the crust, place the oats, flour, and salt in a food processor and pulse to combine. Add the butter and pulse about 12 times, until the mixture has a pebbly coarse texture. Add the buttermilk and pulse 3 to 5 times more to combine. Shape the dough into a flat disk, wrap it in a large piece of wax paper, and chill at least 1 hour and up to 2 days in advance.
When ready to bake, preheat the oven to 400°F and spray a 9-inch pie plate with cooking spray.
Open the wax paper so the dough sits on top of it. Place another large piece of wax paper on top of the dough. Roll the dough out, between the wax paper sheets, to an 11-inch circle. Remove the top sheet of wax paper. Transfer the crust, still on the other piece of wax paper, to the pie dish, then remove the wax paper from the top. Press the crust gently into the dish. Bake for 9 minutes, remove from the oven, and allow to cool. Reduce the oven temperature to 350°F.
To make the filling, heat 2 teaspoons of the oil in a large nonstick pan over medium heat. Add the onion and cook, stirring occasionally, until softened, about 6 minutes. Reduce the heat to medium low, cover, and cook, stirring occasionally, until the onion is golden brown and caramelized, about 20 minutes more. Transfer the onion to a bowl. Add the remaining 2 teaspoons oil to the pan and heat over medium-high heat. Add the mushrooms and cook, stirring occasionally, until they have released their water and begun to brown, about 6 minutes. Add the onion back to the pan and stir in the salt, black pepper, mustard, and thyme.
In a medium bowl, whisk together the milk and flour until the flour is dissolved. Add the eggs and egg whites and whisk until well combined.
Sprinkle the cheese into the pie crust. Top with the mushroom-onion mixture. Pour the egg mixture on top. Bake until a knife inserted in the middle comes out clean, 45 to 50 minutes. Allow to cool for 5 minutes before cutting into 6 wedges and serving.
Makes 6 servings
Serving size 1 wedge
Per Serving Calories 290; Total Fat 16 g (Sat Fat 7 g, Mono Fat 5.8 g, Poly Fat 1.2 g); Protein 14 g; Carb 24 g; Fiber 2 g; Cholesterol 135 mg; Sodium 410 mg
Excellent source of Calcium, Iodine, Molybdenum, Phosphorus, Protein, Riboflavin, Selenium
Good source of Folate, Iron, Pantothenic Acid, Thiamin, Vitamin A, Vitamin B12, Vitamin D
Popular in the Community