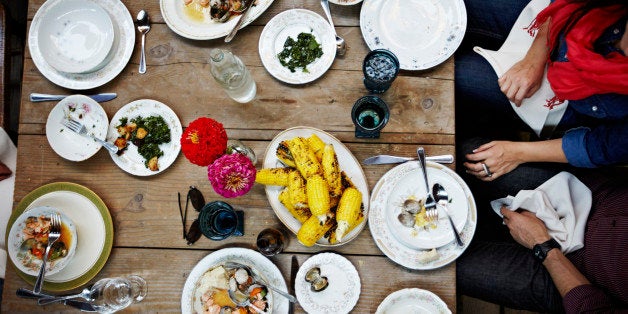 The thing with health initiatives is that they are not always one-size-fits-all.
Something that works in one community may have to be implemented in a different way in another. Something could completely succeed in one place, but fall flat in another. Yet, at the end of the day, the problems are often -- on a large scale -- the same from community to community. Issues like obesity, diabetes, food environment -- they are not unique to any one area or group.
That's where HICCup comes in.
HICCup, which stands for Health Initiative Coordinating Council, is a non-profit founded by angel investor and philanthropist Esther Dyson, with the purpose of identifying what works, and what doesn't, to promote public health -- specifically, what lessons can be learned that can then be applied more broadly to different communities. The discoveries will come from the tracking of five specially picked communities over five years -- what is called the "Wellville Five." The communities are Clatsop County, Oregon; Greater Muskegon, Michigan; Lake County, California; Niagara Falls, New York; and Spartanburg, South Carolina.
We sat down with Dyson and HICCup advisor Karen Watson at Stream Health, an "(un)conference" put on by the advertising holding company WPP in Orlando Florida (disclosure: AOL is a partner of WPP and Stream) to learn the idea behind the creation of the challenge, what they'll be looking at over the next five years, and the action they hope to spur through this challenge.
HP: How did you pick the five communities?
ED: We looked for places that already have a plan and a team, and have been doing something in terms of getting healthier, but want to be accelerated. And we're going to help them do that. We're going to evaluate them and study them over five years. We did a call for applications last March and got 42 -- and from there, that's how we got the five.
Our goal is to show what happens when you do these [public health initiatives] at critical density, not just one at a time. There are so many health initiatives that happen one at a time, and don't have any real impact. So we want to show [the impact] in a way that's tangible, where the community looks and feels healthier. We want other places to steal our ideas.
All of the communities are under 100,000 [residents] each -- which means we get more coherent data. These are intentionally pretty isolated places -- they're not urban, but they have a substantial amount of poverty. They're self-contained places -- where if the school lunch is changed, kids couldn't go somewhere else for lunch. We're going to look at the basic composite metrics -- like health impact, social impact, sustainability and cost savings -- that are going to consist of the usual things like obesity, diabetes and death rates for the whole population. And then high school graduation rates or teen pregnancy for girls.
We didn't try to pick the best five communities; we tried to pick the best group of five -- meaning as a group they all had diversity in leadership, location and demographics. For instance, Niagara Falls is mayor-led, while Clatsop County, Oregon, is Medicaid provider-led, and Spartanburg, South Carolina, is foundation-led. But in every case, it's a coalition that includes the government, employers, schools, health systems, non-profits, churches and the like.
HP: What sort of interventions are these communities implementing?
ED: It's whatever they're already doing. It's fixing school lunch. It's reduced sugar. We're not looking for new, exotic, high-tech things -- we're looking for things that actually work, but have not been applied at scale or consistently. We're not looking for the old thing about "Don't give people fish, teach them to fish" -- we want these places to build fishing schools. So it's one level more of sustainability.
HP: What is the role of industry in this challenge?
ED: Industry has two big roles: Every company is an employer. And many of them are also suppliers. We want to help local companies in both roles, and sometimes we can help units of national companies deal with headquarters. Local companies are often coalition members already. Where we can help is talking to companies such as Target, Walmart, Walgreens, Safeway, Denny's and other chains and large outfits. Also, because of my other role as a tech investor, I personally know a bunch of health/tech startups. Many of them are eager to do pilot projects in a welcoming, health-oriented environment.
HP: What is your personal motivation behind this?
ED: I don't want people to be unnecessarily ill. It's stupid and wasteful and it shouldn't happen. There's illness that can't be avoided, and that happens. But I'm frustrated about all the stupidity and waste. I want people to manipulate themselves into good health, instead of being manipulated into bad health. Don't rent your health -- invest in it.
KW: I think that we'll have learned a number of things about what works and what doesn't work that will be pertinent to the larger community of the United States and possibly even the world. That's the goal. These issues that we're tackling are not unique to these communities - they are emblematic of the problems of every community.
HP: Why the emphasis on working on the community level, instead of going straight to regulations?
KW: I think that regulation doesn't happen in a vacuum -- we need to have evidence to show that it works, and you have to have collective demand for change. And really, that starts at the market level. So you really want to build awareness, and you want to build consensus in these communities, and you want to be able to show them what can work and cannot work. This is not like tobacco -- you don't need to smoke, but you do have to eat. And there's different kinds of things to eat. It's much harder to do something in moderation than to not do it at all.
ED: Working with public health -- it must feel like collective action, not government interference. It's the local public official, not someone from Washington telling people how to live.
HP: What can we do -- as people living outside these communities -- to help in this challenge?
KW: We'd like any food company that is testing healthier options to think of our communities as a place where they would have a lot of support.
ED: For vendors, they are a demilitarized zone! And by "healthier options," we mean no sugar, not processed, not gimmicky. Things that would be demonstrably healthier -- things you'd find at a grocery store. For example, we want the food sections of chains like Walmart to be a grocery store, not a purveyor of things wrapped in plastic. We want to challenge food sellers to be their better selves. Because their customers will live longer.
KW: We want the convenience stores to be healthier and offer more affordable, healthy options.
ED: We welcome these companies and will help them to talk to our communities -- not to us -- because it's the communities that make the decisions. If the community doesn't want to do it, then it won't succeed.
This interview has been edited for length and clarity.