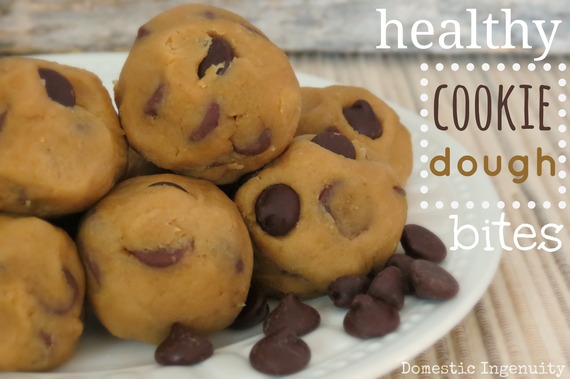 Yup!! I know what you're thinking... healthy cookie dough, does that even exist? Oh yes, it does! For those that know me, I LOVE food and I eat healthy... and I usually I eat A LOT! But with my little one keeping me so busy lately it can be a struggle to grab what's healthy as opposed to what's convenient. I know how important it is to fuel my body, especially while working out and running around in the summer heat and not always getting the rest I need. So these are the perfect quick and healthy snacks to grab on the go, especially for those afternoon energy crashes when your system is craving sugar!
These bites are SUPER quick and easy to make, so now I grab one of these as opposed to processed snacks and they satisfy my sweet tooth while giving me energy. They are packed with natural ingredients and are a great source of protein. And who doesn't love the idea of eating cookie dough?! Minus the E. coli of course. But chickpea cookie dough bites?! I know... sounds gross. But humor me and try them. I swear you will love them!
1 can (16 ounce) chickpeas, rinsed and drained
3 Tbsp honey
1 Tbsp coconut palm sugar
1/4 tsp baking soda
4 Tbsp organic peanut butter (or almond butter)
2 tsp vanilla
Pinch of salt
3/4 cup chocolate chips

Directions

1. Combine chickpeas, honey, sugar, baking soda, peanut butter, vanilla, and salt into food processor and pulse until smooth.
2. Place mixture into a medium bowl and stir in the chocolate chips. Roll into small balls. Enjoy!!
*For an extra decadent treat: freeze the bites first, then dip them into melted chocolate. Then place them back in the freezer until the chocolate hardens. Store them in the fridge or at room temperature afterwards*
You are the peanut to my butter, the best to my friend and the milk to my cookies ~ Author Unknown