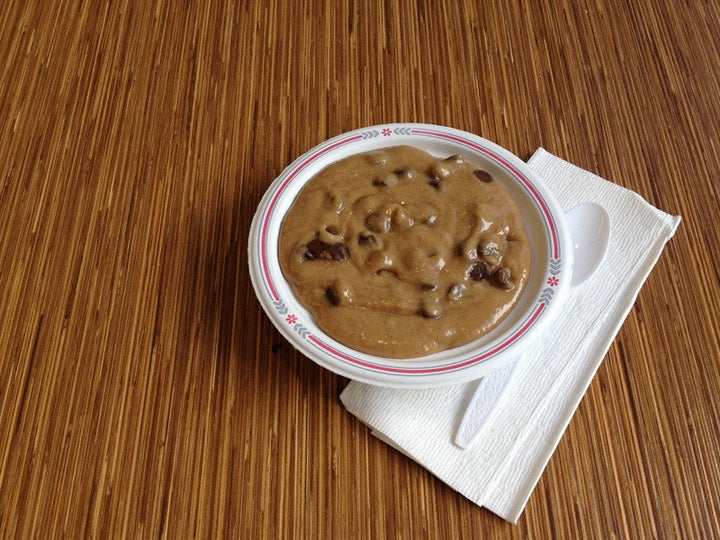 As part of our daily grind here at HuffPost Taste, we look at a great many food blogs and review even more recipes. Usually, we come across recipes that make us hungry, and as a result, we eat an alarming amount of snacks throughout the day.
But sometimes we stumble upon recipes at which we snub our noses. And then, there are recipes like this healthy cookie dough dip recipe which very nearly horrified us. We had never heard of cookie dough dip before, though honestly it's not a bad idea. And, there are beans in it!! We were shocked. And once we got over that, we knew we had to try it.
We needed to know: can a recipe that includes sugar, chocolate AND bean puree actually turn into something we want to eat? So, we made it, and the editors here at Taste gave it a try. Here's what they thought:
"This tasted surprisingly good. Sure, it's no cookie dough, but it definitely satisfied my sweet tooth and I had the urge to take another bite. That's the sign of a pretty successful dessert in my mind."
"White beans + fake cookie dough is a thought that horrified me, but the experience of eating this -- even knowing there were beans in it -- was rather pleasant. I kept waiting for a beany aftertaste to kick in, but it never did. I think the almond butter really saves it. Overall, I wouldn't run from this at a party."
"It definitely tastes like a healthy version of cookie dough...but that doesnt mean bad. If you are on a diet, I think it is a great alternative, but it definitely isn't as good as the real thing. Would I eat it if it was in front of me though? Absolutely. But, I miss the butter."
"I was really excited to try it because I've been known to make batter and just skip the cooking part, but it's a bit of a let down. Right off the bat it has a promising hint of cookie dough taste, but the texture is too runny and the endnotes have a lackluster flavor. Basically, I can taste that this isn't as bad for me as real cookie dough and my taste buds are in revolt."
"Sort of tastes like cookie dough, but I do get the bean flavor. Kind of gritty and too sweet. No idea what I would dip in it."
After further research, we found that healthy cookie dough dips seem to be a thing. We found a handful of recipes that sneak healthy ingredients in with sweet ones to make a dessert-y type of dish. You can make it with potatoes, with chickpeas or with white beans (like we did).
In the mood for an actual cookie? Check out these recipes.