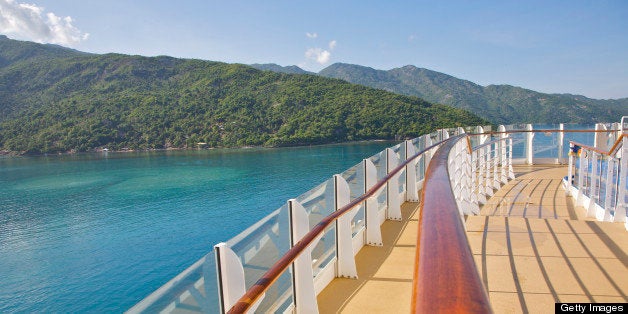 Weight-A-Minute: "The secret to eating while traveling is to identify the difference between eating and over-eating. Eating is enjoying food. Overeating is when you no longer taste the food. You are stuffed yet continue to eat." - Margaret Marshall
I just returned from a ten-day cruise where I was the guest lecturer presenting a six-part wellness series on board. My husband and I love to cruise and this was our 30th cruise. This time since it was a working vacation, I looked at my fellow passengers quite differently.
I met with the activities planner upon arrival to the ship. In our preliminary meeting I learned that my programs were scheduled for 9:00 AM, six out of the ten days on board. My original thought was, "Who will get up and attend a program by 9:00 AM six out of ten days on vacation? I was convinced I would be speaking to myself each morning. But I was prepared with my programs and anxious to meet those who chose to come.
The first day at 9:00 AM I had about fifteen people attend. I thought, this is fantastic...there is an audience! Fifteen passengers out of 3,000 came. Each day my program title and my name appeared on electronic boards around the ship and in the cruise line's printed itinerary left in the stateroom the previous evening.
Each morning it seemed the audience doubled. Attendees told me they heard about my programs at dinner or speaking with others on the ship. By the last day, the lounge was crowded and people who told me they missed my first few programs wanted to be caught up on the information I had previously covered.
I was in awe of the passengers who came each morning. They participated, took notes, spoke, and listened. My hope is that they implement what they learned as they returned home. What I found so interesting was that my audience was comprised of healthy individuals.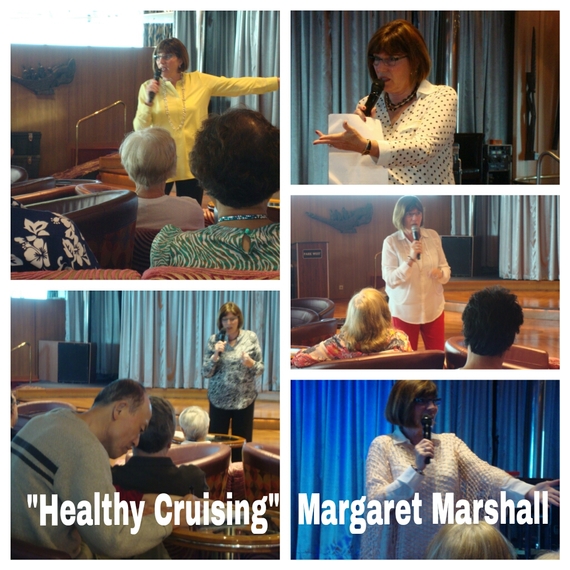 On any cruise it is apparent to me that many of the passengers are unhealthy. Many are overweight or obese, walking with a cane, or using a motorized cart to move around the ship. I've watched as family members waited on buffet lines to bring food to the person who cannot stand on line, or how a passenger's size made it impossible for them to sit in the small chairs around the cruise ship. When I cruise I feel for these individuals. I feel that they cannot enjoy themselves as much as others, and although I don't know their story or their background, I do believe it is their lifestyle that has brought them to this point. Not one of these individuals attended my wellness seminars that week, as I had hoped for. My seminars were filled with healthy people. Those who want to maintain good health, learn any new tips to implement, ask questions, and have a wonderful trip while facing the challenges of the abundance of food and alcohol. I decided I would people-watch differently on this trip. I would watch the passengers that can move freely, not necessarily thin people, but those who are not reliant on others. These are my observations:
Smiles and less heavy breathing on decks and stairs
Holding hands
Conversations with strangers
Participation in shipboard activities
Dancing
Excursions booked
Attendance at a 9:00 AM seminar
Leaving the ship to enjoy all ports
Using the gym facilities
Walking or running on the track
These are the traits that I noticed from those attending my seminars and others on board like them. If you are wondering why there is such a big dichotomy of passengers on board a cruise ship, consider the population of our country.
More than 2 in 3 adults are considered to be overweight or obese.
More than 1 in 3 adults are considered to be obese.
More than 1 in 20 adults are considered to have extreme obesity.
About one-third of children and adolescents ages 6 to 19 are considered to be overweight or obese.
More than 1 in 6 children and adolescents ages 6 to 19 are considered to be obese.
If you live an unhealthy lifestyle at home it follows you on vacation, but if you have healthier habits, that too will follow you while you travel.
Vacation eating is different from everyday eating, but if you treasure your health and you think and live healthier, cruising or any vacation will be a healthy experience.
Learn every tip and technique you can to help with your healthy lifestyle. Not all of them will be a good fit for you, but listen and experiment.
One thing to remember as you return home after a vacation is to get right back to your normal eating patterns. Vacation is over until next time!