Have you eaten a cucumber today? If not, go do it, because they are freaking magical.
Since it's cumber season and we are having some luck in our garden this year, we're picking at least 3-5 per day – which is awesome! Outside of putting slices in our water, snacking on them constantly, and giving them away to neighbors, we thought we could make pickles. But then we came to our senses and realized we are too lazy to do that, and that this was way more fun: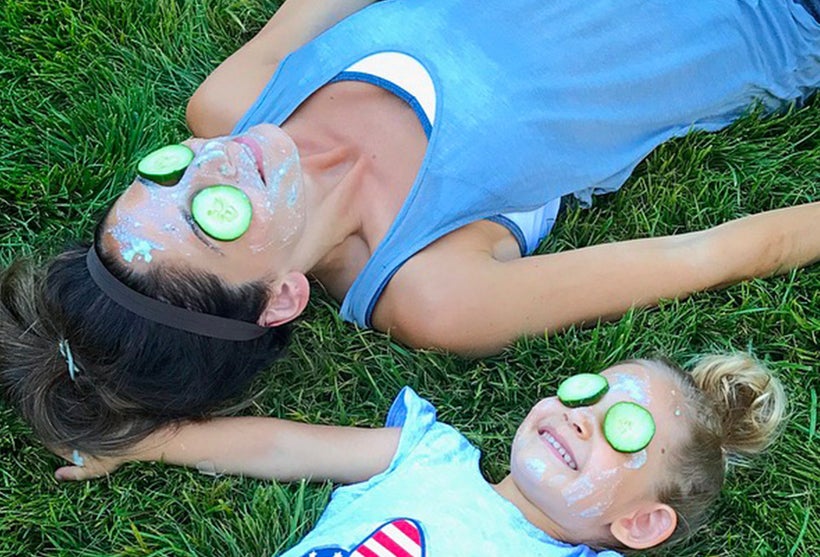 And they are so good for you, these cucumbers, in all their crunchy, refreshing glory. So I have some easy healthy cucumber recipes to share!
First, here are some health benefits of cucumber:
Cucumbers have anti-inflammatory properties
They contain potassium
They have anti-wrinkle properties and protect your skin against aging
You don't really need me to go on after the one I just listed, but I will
Good source of vitamin K for bone protection
Contain both fiber and water, and can help constipation
Naturally hydrating
Naturally detoxifying
You get the idea – cucumbers are super healthy for you. Whether you slice them, juice them, put them in your water or on your face, you are doing a solid for your body and overall health when you incorporate them into your diet.
So! Here are my favorite cucumber recipes.
Cucumber Water. We always have a pitcher of cucumber water in our fridge. It is so refreshing and it makes me feel like I'm at the spa as I savor each cool sip, until my daydream is broken by someone needing their tushie wiped and I'm reminded of all the perfect imperfections of the day.
Directions: Slice cucumbers thin, place in pitcher, fill with water and refrigerate. Sip and enjoy.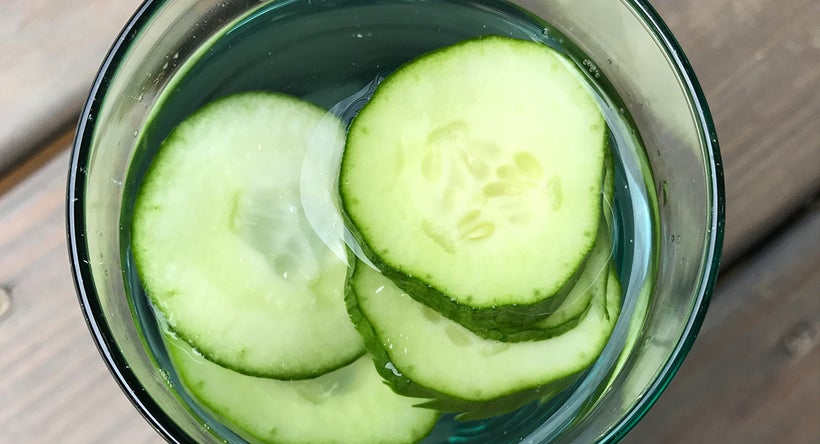 Cucumber Feta Salad with Fresh Lemon Dressing
This is my absolute favorite fresh summer salad because it's crunchy, creamy, and super easy to toss together.
2 medium cucumbers, chopped
1 package of feta cheese, cubed
1 tablespoon fresh dill, chopped
1/4 cup juice from fresh squeezed lemons (about 2 lemons)
1/4 cup olive oil
1 clove garlic, minced
1/2 shallot, chopped
1/4 tsp fresh cracked pepper
1/2 tsp salt
Place all cucumbers and feta in a medium sized bowl, stir together.
Place all dressing ingredients in a small bowl and whisk together. Drizzle the dressing on the salad and toss together. Top with fresh dill. Enjoy!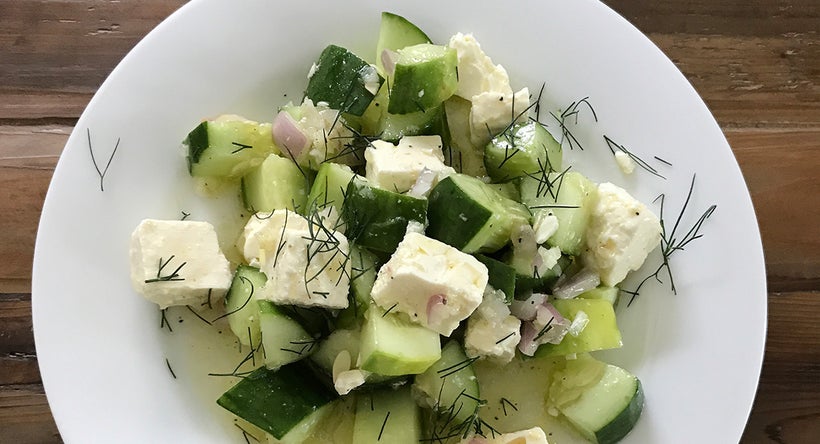 This was my favorite part of the day. One of the best uses for cucumber is skincare, and if you read my bullet points up there, you know why: they are excellent for your skin. Here's our face mask recipe:
One cucumber, loosely chopped
4 tablespoons plain Greek yogurt
2 tablespoons honey
slices for your eyes
Place all ingredients in blender or food processor and blend until creamy. Apply to your face, put slices of cucumbers on your eyes, and let sit for 5 – 10 minutes. Rinse. Done!
Alessandra is mom to two toddlers and a twenty-five pound Maine coon cat who believes he is a dog. She spends her time driving her OCD husband completely nuts with her constant rearrangement of scenery in their home. Learn more at AlessandraMacaluso.com and follow her on Facebook, Twitter, and Instagram.
Calling all HuffPost superfans!
Sign up for membership to become a founding member and help shape HuffPost's next chapter
This post was published on the now-closed HuffPost Contributor platform. Contributors control their own work and posted freely to our site. If you need to flag this entry as abusive,
send us an email
.