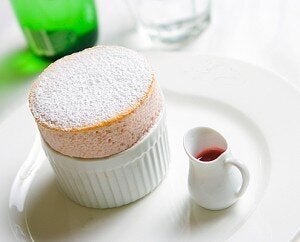 For most of us, vegetables are something we reluctantly scarf down before dessert. But imagine what would happen if the two courses were combined into one?
Before you turn your nose up at the very thought, consider this: Professional chefs and home cooks have long been experimenting with vegetable-based desserts -- many with delicious results. After all, savory desserts are popular the world over. So, aren't veggie desserts essentially a not-so-distant cousin of things like bacon, ice cream, and salted caramel cupcakes?
Check out these seven desserts that call for vegetables as a main ingredient, and go way way beyond the classic carrot cake and pumpkin pie. We bet you never realized vegetables had this much sweet potential!
Of course, the vegetable-dessert that's getting the most attention of late is the Neopolitan Eggplant and Chocolate dish served up at Del Posto in New York. It's eggplant crostada served with stracciatella ice cream and a drizzle of chocolate. You can combine the two deliciously bitter flavors yourself in these Eggplant Chocolate Chip Muffins.
Cauliflower and Raspberry Cheesecake sounds frightening, right? Well, not if you think about it: When paired with homemade ricotta cheese, the cauliflower lends a really light, not-too-sweet essence to the dessert -- it's the perfect way to break out of your boring cheesecake routine.
Chocolate and avocado is a popular combination particularly in pudding because the avocado adds creaminess. Take this idea one step further and freeze the pudding for refreshing Chocolate and Avocado Fudgesicles. The best part? They're dairy-free!
Sweet Potato Cupcakes would remind you of a traditional spice cake flavored with cinnamon, nutmeg, and other autumnal spices -- except they're better! Ice them with tasty Toasted Marshmallow Frosting.
Don't be disgusted by this suggestion, but beets can go a long way in terms of making your dessert very moist and rich. This recipe for Beet Chocolate Bundt Cake With Ganache Glaze sounds absolutely velvety and divine.
Bakers have been putting black beans in chocolate brownies to make them more decadent and fudgy. This particular recipe for Really Awesome Black Bean Brownies gets the ratio of bean-to-chocolate just right!
Would you eat vegetables for dessert?