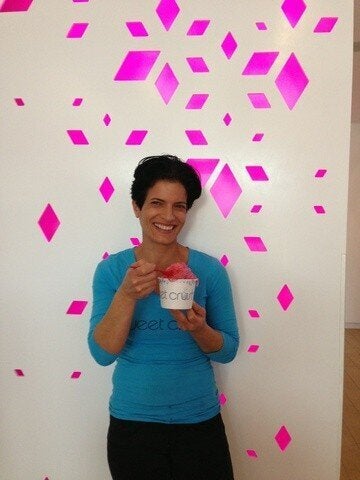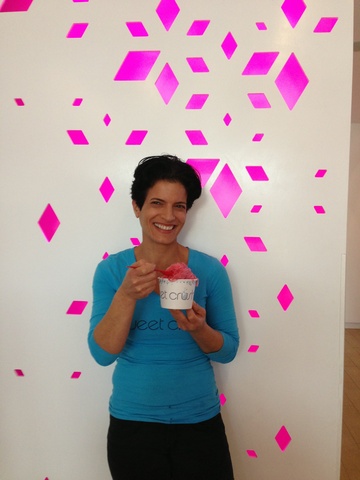 Many moms would consider the words "healthy dessert" to be an oxymoron. The healthy options usually taste "healthy" and garner complaints from our kids. But leave it to a mom of three girls to create an option that is healthy, delicious and what people want in a dessert.
Yael Lustmann is a prototypical risk-loving entrepreneur. She left a successful career in the corporate world to stake it all on a new venture she wholeheartedly believes in called Sweet Crush. She describes it as "a frozen dessert concept that offers a contemporary spin on traditional Asian snow and shaved ice desserts."
Yael is positioning Sweet Crush in what she sees as "an unsatisfied market niche for customers who want a low calorie light alternative to ice cream but are stuck with a glut of not-so-tasty and artificially-flavored varieties of frozen yogurt." These days there's also a large contingent that wants even more, so she offers a bevy of non-milk-based flavors for the vegan and lactose-intolerant market.
The Journey Behind Yael's Healthy Dessert Mission:
You were a corporate lawyer for quite a while on Wall Street and on top of that you have an MBA. How did all of that education translate to shaving ice in Los Angeles?
Yael: As a corporate lawyer in New York (and later in L.A.), I had an extremely busy and enriching professional life negotiating M&A deals with clients from around the world at a nonstop pace. But I often found myself wanting to be on the other side of the table -- not servicing clients or helping them buy or sell a business but being the one that built something from the ground up. In between negotiating rights of first refusal, drafting option formulas and other fun stuff, I almost unconsciously brainstormed ideas to improve the client's business model. Occasionally I even dared to share those ideas with the client, who surprisingly welcomed the input. In my spare time, friends with new start ups sought my business advice, which I gladly shared. But in the end, the "baby" was of course theirs. I wanted one of my own.
When did you leave your legal career? Tell us about the path once you left.
I left practicing law four years ago (and haven't looked back). I got the entrepreneurial itch. The path is a bit "long and winding" and goes like this. I have always had a deep interest in architecture and urban planning. So when I left corporate law, my first instinct was to enter the business world through real estate. After about a year, though, I realized that my passion for architecture did not translate into a passion for the real estate business--in hindsight, two quite different things entirely. So I sought another outlet for my entrepreneurial energy.

The next step falls under the category of serendipity. By now, a mother of three young girls, I was always torn between my kids' nagging for sweet desserts after meals and my motherly instinct to give them healthy, low-fat, low-cal foods. Not to mention my history of anorexia that always led me to the low cal alternative. By chance, we went with Ryan Craig, a friend of mine from law school to an Asian restaurant. There I encountered traditional Asian shaved ice. It is ground ice drenched in condensed milk and covered with fruit or chocolate. The kids were in heaven, gulping it down and loving each bite. But it was definitely not healthy or low cal. Ryan and I were talking about how there is no dessert that is yummy, healthy and has a low calorie count. Frozen Yogurt is everything but healthy, has lots of artificial ingredients and has that lingering aftertaste.

Now you should know that my friend Ryan is a serial entrepreneur who founded one of the country's leading schools and camps for obese children. To him it was clear: I was looking for the "next big thing" and we had just found it--or at least, the start of it. Not to sound too dramatic, but from that point, I ventured on a quest to create a new frozen dessert category that is delicious, healthy and low calorie all at the same time. A real yummy, healthy, low calorie alternative to ice cream, frozen yogurt, and traditional Asian and Hawaiian shaved ice.

Immediately I started researching the frozen dessert space extensively. The Internet is obviously a great resource for this kind of thing. After doing my homework and making some initial contacts, I went right to the source. Literally. I traveled to Korea and Taiwan and spent about a week there speaking with the people who make the ice shaving equipment, learning how to use the equipment, understanding the different methods out there, and trying out the local versions of snow and similar desserts. It just so happened that my best friend was having a major family event in New York at the time so I traveled to Asia via NYC and made it round the world to and from L.A. in less than seven days. I guess that's obsession for you.

How did you navigate starting up a food biz without prior experience?
I was forewarned by lots of well meaning friends (and strangers) that I had no business being in the food business. That it was too complicated, too hard, too many hours and I would fail miserably. I remember a chef being particularly distressed that I didn't even know the difference between two varieties of cilantro. Given my contrarian personality, that kind of "advice" had precisely the opposite effect on me. The obsession deepened.

Having no friends or contacts in the food business, I had to make it up as I went along. Today the Internet has really lowered the entry barriers for dedicated newcomers into almost any business. But it's not a substitute for the type of experience that allows you to distinguish between two varieties of cilantro. Sometimes ignorance is an advantage though -- sort of like a form of beginner's luck. My lack of knowledge and prior assumptions, which might have held back a more informed food veteran, sometimes worked to my advantage. For example, I was told many times that what I wanted to do in terms of food or design was too expensive or too complicated. But I really had a vision in my head of how the store and the product would look and I just believed in myself that I would somehow make it work. If you're short on resources and under pressure, you know you've just got to come up with a solution -- and, most of the time, you do.

What advice do can you offer others like you who have a food/beverage idea?
Obsession is not enough. You've got to put that together with organization. Resources are limited and things have to be prioritized. In getting the business up and running, I see three core objectives. I nailed the first two and missed on the third.

Number 1: Yummy product: Obviously this has got to be the absolute priority in food. If your product is not good, no one will come -- no matter how comfy or how cool a design you have. The goal was to create a product that is so over-the-top that customers will crave it and keep coming back. To do this, I was lucky to find a really talented chef to assist in product development. I also decided not to skimp on the cost of ingredients. We used the best ingredients with the notion that I will figure out a way to make it cost effective at the end and refused any suggestion to use powder or other artificial ingredients. When we started using a ton of real vanilla beans for our vanilla flavor, because vanilla extract and paste did not taste that great, I almost fainted at the $80/lb price tag but I figured, let's do it right. It was a long journey and took us almost 6 months and about 400 ice blocks to get to the right texture, but when we got it we knew we had something good. Same thing for chocolate. Same thing for all my fruit flavors.
Number 2: Beautiful Packaging:. This may sound strange for an "ice cream store" type retail space, I could have made my life one thousand times easier and gone with the generic white walls and hardwood floors that you usually see in ice cream/frozen yogurt shops. But I really wanted to create a memorable sensory experience for anyone who visited my store. When we moved to L.A., I bought a bulb that changes lights like a disco club, it was my girls' night light. I wanted the whole store to be like that--basically, a girly version of the fortress of solitude. Once again, I was told over and over that the design was too complicated and too expensive. But I was able to do it within our very limited budget and an amazing designer and contractor. The result is a perfect match between the design experience and the culinary experience -- light, airy and delicate. Going forward, I think the design + eating experience is going to make a really indelible impression that is key in establishing our brand in the crowded marketplace.
Number 3: Location, Location, Location: . It's cliché but so true. Food and retail in general is 80 percent location, so make sure you are in a place that has a lot of foot traffic, a central neighborhood that people like to visit (tourists are always a plus) and PARKING! This is L.A., not N.Y., people will valet to avoid walking three blocks! Beverly Hills, Abbot Kinney are good examples. I thought I knew better, and on this particular point, I didn't know everything. For every bit of beginner's luck you get, I guess you have to pay for it in some errors due to lack of experience. As good as your product is, if you make it hard for people to get to you, they won't!
Do you have any partners?
Yes, my business partner is Ryan Craig, my friend from law school. Ryan is the geekiest guy (plus a former McKinsey consultant) and wanted to have an ice cream shop because he thinks it is cool (and might make some money on the side). Plus, as a health freak, he now has a dessert place that he can take his kids to without hyperventilating or worrying about the calories and ingredients.

Since the biz is just 6 months old, what was has been the biggest challenge?
On a personal level, it's managing to have a normal family life with three little girls (4, 6 and 8 years old) and the most demanding job I've ever had. Having your own business means you are on 24/7 365 days a year. No downtime. I even dream about work. My kids had to pay a price but luckily my business is a kid-friendly place so they hang out there frequently.

On the business front, it's an uphill battle for one person with a lemonade stand budget to compete with the Pinkberrys and Yogurtlands of the world. Sweet Crush is a new business and a new concept but I'm confident we will penetrate the market. The product and design are great but it has been challenging to educate people about an unfamiliar product and market it to a large audience without a huge budget. Plus I have faced an ongoing obstacle given the less-than-ideal location and lack of parking.
What's been the single best reward?
I can't decide, so I'll pick two.

The first reward was when the store was finished and I was there on my own for the first time and turned the lights on. It was amazing. It was just as I had envisioned it in my dreams. It was finally something that I had built literally from scratch. It was amazing and terrifying at the same time. Amazing because I had built something myself just like I had dreamed. Terrifying because now there's no turning back -- I have to get my hands dirty and make it work.

The second reward was when I got to serve Sweet Crush at the Governor's Ball, the official dinner for the Oscars awards. This was another case of serendipity. Fairly shortly after I opened, I was offered the opportunity to serve at a benefit event. I felt that I was perhaps not ready to "go mobile" with my product but I went for it anyway. At the event, I happened to introduce my product to Sherry Yard, at the time the Executive Pastry Chef to Wolfgang Puck and Spago's in Beverly Hills, now on her way to opening her own bakery. She loved it and invited me to serve Sweet Crush at the Governor's Ball. The event went great and everyone loved it. My only regret is that I didn't know more about pop culture so I could tell you the names of all the stars I met. I do believe I met Ben Affleck!

It goes without saying that the absolute biggest reward comes every day when I get to introduce a new customer to our product. When I really connect with a customer, I feel that it's always been worth it.

Being an entrepreneur is hard work. What keeps you going?
My total belief in this product! I love it like my fourth child. It did take nine months from start to finish. There's really nothing like it in the frozen dessert space. We have transformed the shaved ice category.
Life has a funny way of working out when your education, life experience and passion come together in the form of a unique frozen dessert. Yael has found the sweet spot between healthy and delicious and she's out there showing people, one sample spoonful at a time.
Popular in the Community