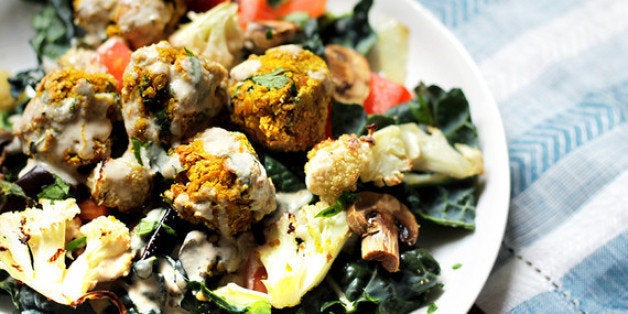 Late winter is an awkward time for healthy eating. There is an heightened wish to eat healthier since the New Year--in theory. But the weather outside is colder than ever, and in reality your body still needs warming and nourishing foods. If you just *can't* bear to stick to a raw cleanse or have a cold salad for dinner, don't worry--seasonal, weather-friendly eating is essential to maintaining a balanced diet.
I like to make this healthy falafel salad with warm roasted vegetables for when I need something hearty and comforting, but still vibrant and light. I've made this low fat baked falafel recipe a number of times--it's so easy and satisfying. It's full of good-for-you benefits too: turmeric (anti-inflammatory), parsley, cumin (warming), nutritional yeast (B vitamins and more protein). This time, I roasted a medley of "Mediterranean" vegetables right along side it for one sheet dinner. Drizzled with creamy tahini-miso dressing, it's as gorgeous to look at as it is delicious.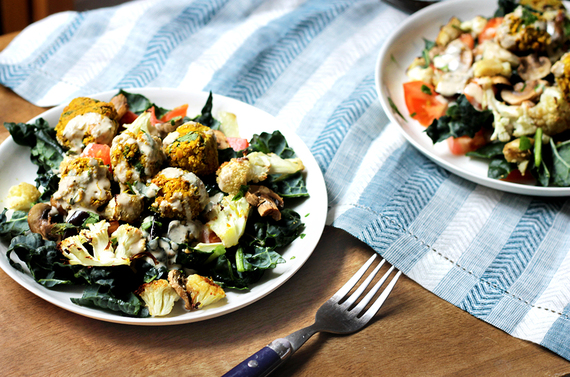 Healthy Falafel Salad with Roasted Vegetables
Serves 4
1 can chickpeas, rinsed well and drained
3/4 cup Italian (flat leaf) parsley, chopped fine and packed
1/8 tsp turmeric
1/2 tsp cumin
1/2 tsp coriander
1/2 tsp garlic powder
1 tbsp nutritional yeast
1/4 onion, chopped fine
salt and pepper
1/2 cup breadcrumbs
2 tbsp extra virgin olive oil
1 medium Italian eggplant, cubed into 3/4" pieces, salted for 10 minutes, then dabbed with paper towels
1/2 cauliflower, cut into chunks
about 10 button mushrooms, sliced
1 red bell pepper, sliced
1/2 medium onion, sliced
4-5 leaves collard greens, ribs removed and chopped coarsely
Tahini Miso Dressing
1/4 cup tahini
2 tbsp white miso
1 clove garlic, minced fine
1/3-1/2 cup water
salt and fresh black pepper to taste
-In a medium bowl, whisk all ingredients together until creamy. Start by mixing 1/3 cup water and add tablespoon at a time to the desired consistency.
1.Preheat the oven to 400 degrees F.
2. Chop up the onion and parsley. Put them in a blender or food processor, along with chickpeas, spices, and nutritional yeast. Process until the consistency turns pasty. Salt and pepper generously.
3. Spread the breadcrumbs on a plate. Take about 2 tbsp of the chickpea paste in your hands, roll into a ball over the breadcrumbs so that it is coated evenly. Place on a baking sheet lined with aluminum foil. Repeat until all the chickpea paste is used up.
4. Sprinkle 1 tsp olive oil over the falafel balls. Put in the oven and bake for about 20 minutes, or until one side is golden brown and crispy. Flip them over, and bake for another 8-10 minutes or until the other side is also golden brown.
5. In the meantime, toss the cauliflower in about 1/2 tbsp olive oil in a large bowl. Lay flat on a baking tray (either next to falafels or on a different tray), sprinkle coarse sea salt, and bake for 10 minutes.
6. Meanwhile, toss the rest of the vegetables in the same manner with remaining olive oil. When cauliflower has baked for 10 minutes, add the rest of the vegetables and bake for another 30-35 minutes.
7. To assemble, place the collard greens in a large bowl. Add roasted mixed vegetables and dressing. Toss to combine. Plate the salad, then top with falafel balls. Drizzle with more dressing, and enjoy!
__
Photo: Peaceful Dumpling