INDIAN WELLS, CALIF. -- Like so many other parents of picky eaters, Victoria Phillips cooked two dinners every night: one with "kid foods" like chicken nuggets or macaroni and cheese, and then a more grown-up dish for her and her husband once the children had gone to bed. It had fresh vegetables and healthy proteins in it, but was finished way too late in the evening for the couple to feel nourished and relaxed after work.
"Two meals every night was just exhausting and not sustainable," Phillips told The Huffington Post. "I'm a working mom full-time, so it's just busy, busy." But now Phillips is taking steps to make dinner a singular event for the whole family, thanks to a brief bootcamp with James Beard award-winning chef Tony Mantuano, who owns Spiaggia and Bar Toma in Chicago.
"My kids like pasta, so [Tony] taught me how to make a pasta dish that brought in salmon and fresh vegetables," said Phillips, also from Chicago. "These are things that they normally wouldn't try, but they would try the pasta -- so when I brought it all together, they're more apt to try something new and different."
The two were paired up for the America Cooks With Chefs competition, which pitted six teams made up of a "home chef" and celebrity chef against each other to create a delicious, easy and healthy dinner under 800 calories. After meeting with their mentor chefs in late 2014, the home chefs got a chance to showcase what they learned at the 2015 Clinton Foundation Health Matters Summit in Indian Wells, Calif. last Sunday, where they served bites of their 800 calorie-and-under dinner to hundreds of conference attendees who then voted on their favorite dish of the night.
In the end, Mantuano and Phillips' easy, "made under" version of an Italian American meal -- tender, flaky salmon, al dente orecchiette pasta and barely-sauteed zucchini and cherry tomatoes -- bested the five other dishes at the conference.
See Phillips' and Mantuano's award-winning recipe below.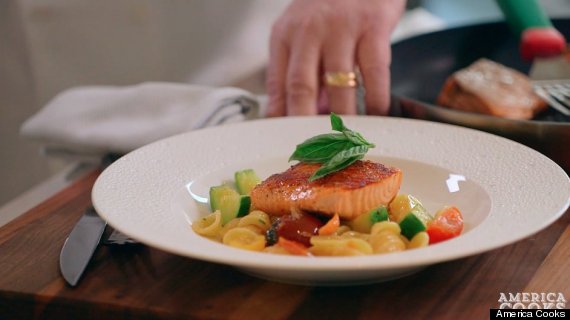 2 medium zucchini, sliced into coins ¼-inch thick
1 garlic clove, smashed and peeled
2 cups halved cherry tomatoes
4 leaves fresh basil
1 teaspoon dried oregano leaves
1 tablespoon red wine vinegar
4 tablespoons extra-virgin olive oil
Sea salt and freshly ground black pepper
¾ pound orrechiette pasta (Chef recommends Barilla® orrechiette, penne, conchiglie, or gemelli shapes)
Four 5-ounce Salmon filets
1. Bring a large pot of salted water to a boil. Add the zucchini to the pot and cook for three minutes or until tender, but not falling apart. With a slotted spoon or hand strainer, carefully remove the zucchini from the pot shaking off any excess water and transfer to a large bowl.
2. To the bowl, add the garlic, cherry tomatoes, basil, oregano, vinegar and 3 tablespoons olive oil. Stir gently to combine. Season with salt and pepper to taste. Cover with foil to keep warm and set aside until ready to use.
3. Bring the pot of salted water back to a boil. Add the pasta to the pot and cook, stirring frequently until the pasta is al dente, about two minutes less than what is recommended on the box. Drain the pasta and transfer to the bowl with the zucchini mixture. Toss well to combine and allow the pasta to absorb the sauce. Quickly cover with foil to keep warm.
4. Meanwhile, heat a large non-stick saute pan over medium-high heat. Rub the remaining tablespoon of olive oil on the flesh side of the salmon filets and season with salt and pepper. Place the filets in the preheated pan, skin side up, cover tightly and cook until the bottom has a toasted brown crust, three to four minutes. Remove the cover and gently peel away the skin.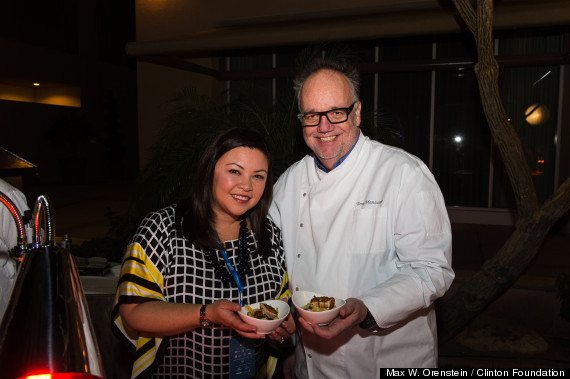 Victoria Phillips and Chef Tony Mantuano at the Clinton Foundation Health Summit with their winning dish.