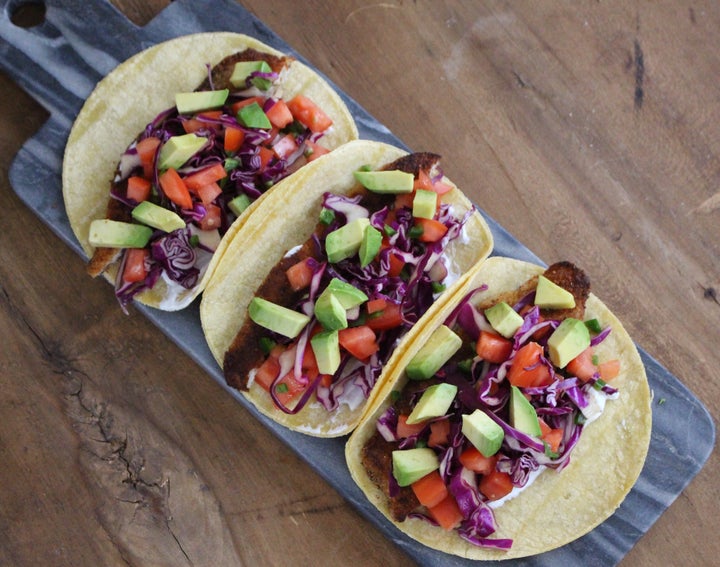 Willpower will not create healthy eating habits.
With food temptations at every corner in our fast paced society, we all struggle with making healthy food decisions at some point. We often tell ourselves, "If I just try harder I will lose the weight" or "I will do better NEXT week". However, each desperate attempt generally ends up in failure as we slip back into old habits and are left with sense of defeat. We then find ourselves feeling as if we simply don't have the willpower to eat, feel, and look the way we want to.
So many people assume eating healthy, losing weight, and cooking requires sheer willpower. Willpower to choose the right foods and spend large amounts of time meal planning, putting together grocery lists, grocery shopping, and cooking. However, you don't need copious amounts of willpower to do these things. The key to getting control of your diet and food choices is to understand the psychology behind it and find a way to make "healthy" fit into your life... not the other way around.
Too many choices result in overwhelm and poor decision making.
Every single day we are faced with a huge number of choices related to what we eat.
What should I eat today? Do I want to eat healthy? Do I want to lose weight? Should I cook? Do I have groceries? How do I cook it? Should I go out? What restaurant do I want to go to? Do I have time to go to a restaurant? Can I get healthy nutritious foods at the restaurant? How much will it cost? Should I start saving money and eat in?
We eat three to five times a day which results in having to repeat this vicious cycle of decision making over and over again. Amidst a busy day, this many decisions are bound to overwhelm anyone. In fact, having an abundance of options and decisions can actually cause paralysis in the decision making process or even cause people to make decisions that aren't in their best interest. Therefore, the overwhelm from so many food-related choices, has people reaching for the phone to order takeout for the 3rd night in a row instead of making a healthy food choice.
In one study, a tasting booth at an upscale grocery store gave customers a selection of either six jams or 24 jams. Of the customers given 24 jams to choose from, only 3% actually made a decision and purchased a jar of jam. Of the customers given six jams to choose from, a whopping 30% of customers purchased a jar of jam. If you are looking to make forward progress or reach a goal, having many choices isn't necessarily a good thing.
Automate your meal planning.
We are going to focus on the psychology of automation and how automation can make your eating and health goals not only attainable but enjoyable. Automation requires you to do less but gives you more. Over the years, I have built a system and come up with many strategies to automate decisions related daily prep and meal selection. I did this so I could spend more time on the things I care about while still eating, feeling, and looking the way I want to without having to be a slave to my personal health and diet goals.
Automation can be used in the form of an automated meal plan that will make all the decisions for you and save you large amounts of time by outlining you meals, organizing your grocery list and recipes, and still leaving room for guilt-free meals out. Automation ensures healthy decisions are already made for you without consuming all your time. Also, overwhelm and stress brought on by dozens of food related decisions are eliminated.

Imagine flipping through different "weekly menus" and choosing one at your leisure that looks particularly appealing for the week. That is it. Your meal planning is complete, your grocery list is good to go, and your recipes are right there for when you need them. All you need to do is get your groceries (or have them delivered!) and you are set for an entire week of healthy eating. Now you can get back to doing whatever is important to you.
How to setup an automated meal plan
A few years ago, I spent a Saturday putting together 10 weekly meal plans. After a little upfront work, my automated meal system made it possible to eat a different meal every day for 10 weeks! You absolutely do not need to come up with 10 meal plans. However, I do recommend having 3 to avoid boredom and "meal burnout". Once your automated meal plan is setup, you can use it over and over for as long as you like. There are two different ways you can do this.
Option 1: Find a pre-assembled meal plan online that fits your lifestyle, time availability, health goals, and food preferences. This is particularly important because to make a healthy diet a habit, you have to like what you eat. Look for meal plans that include a menu (meals for the week), grocery list, and recipes/instructions. You can find one of my quick and easy meal plans HERE. Otherwise google should do the trick! Save your meal plans (electronic or paper copies) for future reference.
Option 2: Create your own meal plan by putting in a little work upfront and reusing it. I've outline a few steps below to get your started.
Eat Out or Eat In:

Determine how many "eating out" meals you want to include in your weekly plan. I usually leave two lunches and two dinners open for eating out. Choose a number that fits your lifestyle and your health goals.

Choose Meals

: Pick out the meals you enjoy and want to include in your meal plan "menu". Keep them quick and easy. To save time, energy, and ingredients, use the

2-for-1 Strategy

by cooking double portions for dinner so you are able to eat the leftovers for lunch the next day (cook/clean once and eat twice!).

Make Grocery List

: Accumulate all the ingredients needed for each meal into a single grocery list.

Assemble

: Gather your menu, grocery list, and recipes into a single packet. You can do this on a computer or with good ole pen and paper as long as it is organized and easy to reference in the future.

Enjoy Automation:

Now that you have put in a little work upfront, you have an automated meal plan you can use over and over again.
The stress and decisions that cause you to make poor food choices are eliminated when you automate your meal planning. Automation can make your health and eating goals attainable and enjoyable with less time.
Everyone deserves to eat deliciously healthy food, have tons of energy, and feel amazing. Checkout Zested Lemon for meal plans, healthy recipes, and other time saving strategies. Rachel (founder of Zested Lemon) would love for you to be part of the #squad.
Related
Popular in the Community