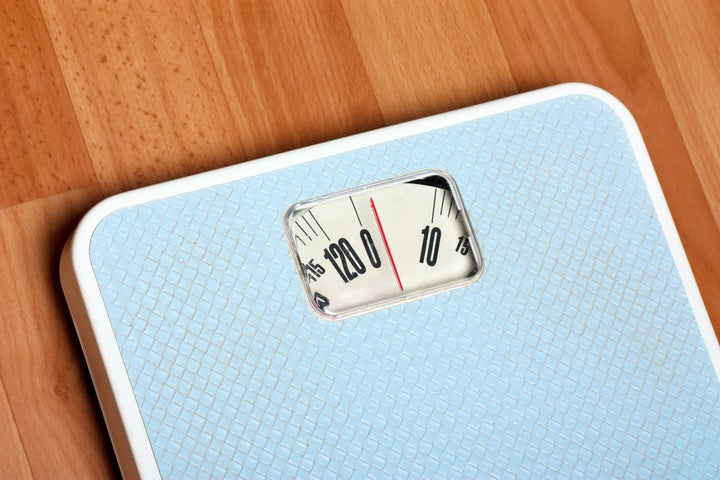 Use a different scale: You already have this scale, so it won't take up any more precious bathroom space. The hunger scale is your body's own built-in scale of hunger and fullness. Before you think about what to eat, determine if you need to eat. Using the hunger scale creates a more intuitive relationship with your body and can help you shed unwanted pounds in a less stressful, more positive way.
At your happy weight already? Using the hunger scale can keep you there for the long-term. At one on the scale, you're light-headed and hangry (hungry + angry). At 10, you've eaten so much that you are nauseated and uncomfortable. Between the extremes lies the key to the scale -- the hunger scale sweet spot of three through six. At three, your stomach is rumbling and you feel a bit hungry -- your internal signal to eat a meal or snack. At six, you're satisfied -- you won't be hungry again for several hours but could eat more. No matter where you are -- a road trip, restaurant, party, work, home -- eat when you're at a three and stop when you're at a six.
Ditch white flour: You have $300 to spend on a winter coat and have two choices. Both look super warm, but only one will actually keep you warm. Huh? What good is a winter coat that doesn't provide warmth? Eating white flour is like buying an expensive winter coat that doesn't keep you warm. It's pointless nutritionally, delivering nothing to your body other than a steep caloric price. Whole grain flour, on the other hand, provides B vitamins, necessary for the processes in your body that convert food to energy, and fiber, to help you feel more satisfied and maintain steadier blood sugar levels.
Better yet, swap out flours altogether for cooked whole grains (Hello, 2013, we made barley for dinner!), starchy veggies (winter squash, sweet/regular potatoes, corn, peas), and beans (an incredibly under-appreciated food that delivers protein, fiber, antioxidants, vitamins, minerals).
Eat two meals a week from the sea: Fish has major health benefits, especially omega-3-rich fish like salmon, sardines, herring, trout, tuna, shrimp, and oysters. A large body of research supports that eating fish just a couple times a week may reduce the risk for heart attack and stroke and even age-related mental decline. From a purely practical standpoint, fish is fast and easy. Canned salmon or tuna can be mixed with mirepoix (a mix of chopped carrots, onions, and celery), mustard, and vinaigrette to make a filling for a sandwich or used to create our salmon tacos. Fresh or frozen fish can be loaded with herbs and a slice of fresh lemon and baked in a foil packet (very little fishy smell with this one) or spread with our favorite combo of maple syrup and mustard and broiled. Healthy and easy... fish is a winner.
Eat veggies at breakfast: Fitting veggies into the early part of your day makes it more likely you'll meet your daily requirement of at least two cups a day. Not only are veggies nutritional powerhouses, linked to lower rates of most chronic diseases, but they also offer more volume for fewer calories. Our favorite AM meal additions: a handful of kale and a carrot added to a fruit smoothie, sauteed spinach and mushrooms in a breakfast burrito, salsa on an egg sandwich, or a vegetable-based veggie burger (like Dr. Praeger brand) topped with an egg and avocado.
Treat yo' self daily: You cannot have cake. Or that French bread slathered in brie. Or a glass of wine. Suddenly want all of these things? Telling yourself you can't have treats makes them seem like the crown jewels of food. There's no reason not to have treats daily -- just keep them to around 150-200 calories.
However, there are reasons to treat yourself daily. If you don't feel deprived, you're less likely to overdo it when you do finally eat the food. Consider eating 150 calories of dark chocolate daily and savoring it (1,050 calories worth of treats for the week). Now consider depriving yourself of your sultry sweet for a week and then on Sunday afternoon walking past a bakery, seeing a ginormous chocolate cupcake, and devouring it all (around 650 calories). Sure, you may have saved 400 calories... if you stop at the cupcake. But you've already done the damage, so later you nibble on a chocolate bar and get your fave fast food for dinner. Suddenly, a week of deprivation is reflected on what many people deem a "cheat day." But the math doesn't add up. One "cheat day" each week often adds up to more weekly calories than including, and enjoying, a reasonably-sized treat daily. Also, treats enhance our enjoyment of life... and that's a good thing.
Plan it out, eat it up: Here's a stat that no one will refute: You're 100 percent more likely to do something if you don't forget to do it. That's why planning your meals and snacks for the week is such a vital step to healthy eating. Why is that wilted lettuce, slimy cauliflower, or decomposing pint of blueberries in the fridge? How do you not have anything to go with the chicken you decided to make for dinner?
These are questions that won't come up if you take 30 minutes every weekend to plan what you will eat during the week. Then take another hour to hit the grocery store. Factor in days you have plans to dine out, busy nights when a frozen or super easy option is necessary, dinner leftovers for work-week lunches, and nights you might have time to try out a special recipe. Not only can planning save you time and money -- you won't be making last minute trips to the grocery store or opting for dining out as much -- but it will also help your waistline and your health, since you'll be preparing more meals at home.
For more by Stephanie Clarke, MS, RD, click here.
For more by Willow Jarosh, MS, RD, click here.
For more on diet and nutrition, click here.