There's a product at Mark's Food Market in Greenville, N.C., that sells out every few days.
Folks who walk over from a mobile home park crave it so much that convenience store owner David Rizek expanded his selection. City employees pop in during their lunch hour to raid the shelves. Students from a nearby college have become regulars. A long-haul truck driver got so hooked on the stuff that it's become his constant companion, whether in his rig or on his sofa.
Rizek is in awe. He, too, is loading up on the stuff, while the entrepreneur in him is fueled by the profit margin -- vastly better than cigarettes and pretty much everything else he sells. He's urged several fellow convenience store owners to follow his lead and, he reports, "it's working for them."
Fruit, mostly. Some vegetables, too.
That's right: bananas, grapes, oranges, apples, strawberries, potatoes and onions. Those are the magical new products people can't get enough of. At Rizek's shop along the Pactolus Highway in Pitt County, these products top candy, chips and other convenience-store staples.
How did these-naturally grown items that have been around forever suddenly become "the thing" at Rizek's store? It began as a pilot program as part of the Pitt County Healthy Corner Stores Initiative, and it's still going strong nearly three years later. For instance, just last Thursday, a first-time visitor ordered a hot dog off the grill. While Rizek was getting ready to serve it up, the man canceled his order.
"He changed his mind when he saw the oranges," Rizek said. "It happens a lot, especially with new customers who don't know we have it."
As our nation battles an obesity epidemic, leaders rely on large-scale studies and statistical models to fund programs and guide public policies. Two important things happened in this realm last week: On Tuesday, a government report showed that the obesity rate for children ages 2 to 5 dropped 43 percent over the past decade, and that there was no significant change among older children, teens and adults; and on Thursday, the Food and Drug Administration proposed changes to update and improve nutrition labels on food packages. Those are tremendous strides applauded by the American Heart Association, Voices for Healthy Kids (a joint initiative of the Robert Wood Johnson Foundation and American Heart Association that works to help all young people eat healthier foods and be more active), and by First Lady Michelle Obama: "Healthier habits are becoming the new norm," she said.
Yet even with these major developments, there's something uniquely special about the real-world, real-time evidence from Mark's Food Market. The popularity of fruits and vegetables shows that people want to eat healthy if given the option.
To better appreciate why this is such a stunning example, understand a few things about Pitt County:
More than 25 percent of all residents live below the poverty level.
More than 75 percent fail to eat the recommend amount of fruits and vegetables daily.
Greenville has more than 100 fast-food restaurants for fewer than 90,000 residents.
So, how did Mark's Food Market come to have a produce section?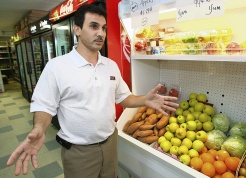 It started in 2010, with Pitt County receiving a Communities Putting Prevention to Work grant from the Centers for Disease Control and Prevention. Local officials wanted to invest in their "food deserts" -- areas where affordable, healthy food is tough to find -- to end that isolation.
County officials and students from East Carolina University studied various candidates, eyeing the food offerings and clientele. In April 2011, they decided Rizek's place was perfect, partly because it's so close to the mobile home park (filled with people who don't drive, limiting their ability to go grocery shopping) and partly because of the owner's willingness to participate.
Rizek -- who's been in the convenience store business about 30 years, and also owned a grocery store in Greenville -- liked the idea of selling fruits and vegetables, but had good reasons for not having done so already. Customers never asked for it, and it required proper refrigeration, which was costly.
Once the Pitt County Healthy Store Initiative offered to buy the fridge, Rizek took it from there.
The unit came with only one shelf, so he bought three more, loading them with grapes, oranges, apples and bananas. He also bought a scale so he could sell everything by the pound.
That was his only misstep.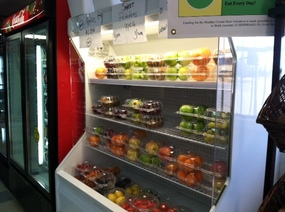 People shop at Mark's for quick, easy food options -- not to buy in bulk. So Rizek changed his approach. He bought small, clear containers and began offering items as single-servings. That small change has paid massive dividends.
"Customers started asking for more items -- 'Can you get this?' 'Can you get that?' When I did, they would buy it," he said. "I started seeing big ol' trucks pull up just to buy a container of grapes or oranges."
Another secret to his success is the location of the refrigerator.
"As soon as you walk in, it is 4 or 5 feet away, in the main aisle," Rizek said. "Over 99 percent of the people who walk into my store will see it."
Everything about this venture makes Rizek feel good. He likes knowing that his customers are eating healthier, and of course he loves the profit. Selling bananas at 50 cents each can double his investment. That blows away his 8 to 10 percent markup on cigarettes.
What really makes Rizek feel good is the 10 to 15 pounds he's lost since the fruits arrived.
"I used to eat chips as a snack," he said. "Now I have oranges and apples. Those 10-15 pounds make a big difference on your back."
Rizek shared another such tale from one of his long-haul trucker customers.
"He's lost almost 50 pounds," Rizek said. "He told me it started with him buying one small container of green grapes from me. Now he's buying them in big bundles from other stores. He eats them when he's driving and when he's home watching news or football on TV. And that's just one person I know about because he's talked to me about it. There are many more."
One last tidbit worth sharing involves what used to be in the prime location now occupied by the produce refrigerator -- an ice-cream freezer that's been relocated to the back of the store.
"The people who sell me ice cream, they don't like it much," Rizek said, laughing. "But, hey, this is healthy food and I can make more money off it. Of course it's going to be in front."
So, did this guy just get lucky? Was it simply the right food at the right place at the right time?
"I can guarantee that anywhere you put it, it's going to work," he said. "If it's not 65 to 70 percent of my customers moving to fruits, it's a minimum of 50 percent. Moving people from hot dogs, chips and cake, we can save a lot of money in health insurance and help a lot of people who are diabetic. We can save the human beings. This makes us all winners in the long run."