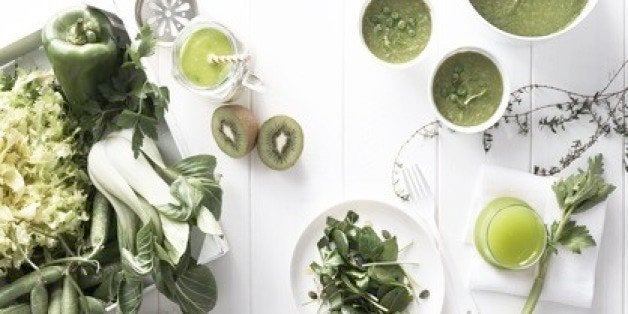 Recipes by Luigi F. di Biagio
Photos by Enzo Truoccolo
Artwork Cristina dal Ben
A light break from normal habits, with a completely green menu. These recipes are strictly organic, of course, and even better: they're supremely tasty.
Rice Tagliatelle With Vegetables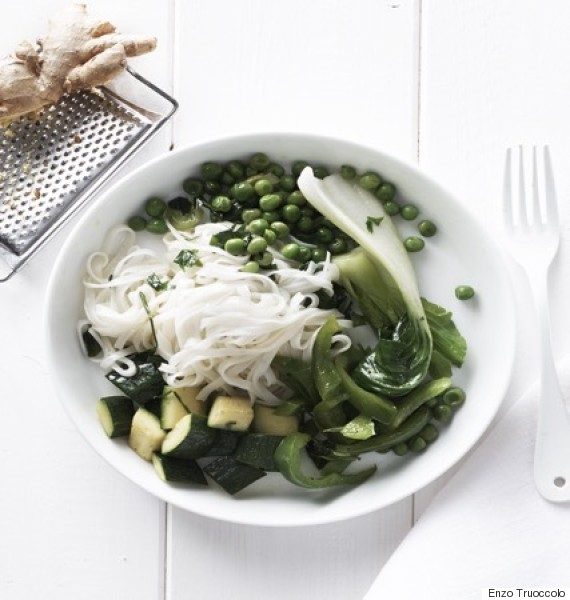 Serves 4 people
200g rice tagliatelle
2 zucchini
200g peas
2 heads bok choy
1 green pepper
2 chopped spring onions
2 tablespoons soy sauce
juice of 1 lime
1 teaspoon brown sugar
1 teaspoon anchovy paste
½ teaspoon chilli powder
2 tablespoons oil
Prepare the bok choy, cutting away the hard part of the base and slicing the rest into strips; wash well. Bring a large pan of lightly salted water to the boil, turn off the heat and put the tagliatelle into the water. Leave it to soften, not cook, for 3 minutes. Drain and rinse with cold water until the tagliatelle is cold. In a bowl mix together the soy sauce, lime juice, brown sugar, anchovy paste and chilli powder. Prepare and slice the pepper and the zucchini. Heat the oil in a hot frying pan, add the spring onion, and, after 30 seconds, and stirring constantly, the zucchini, peas and pepper. After 2 minutes add the bok choy, the tagliatelle and sweet and sour sauce, stirring well to coat all the ingredients. Serve immediately: garnish with coriander if desired.
Pea, Lettuce And Spring Onion Soup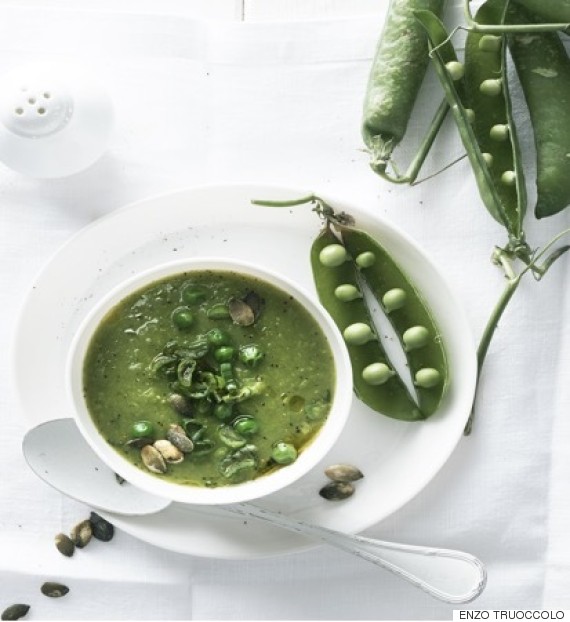 Serves 4 people
500g peas
1 head of lettuce
2 spring onions
1 potato
a small piece of ginger, grated
½ teaspoon curry powder
1 liter vegetable stock
pumpkin seeds
extra virgin olive oil
salt to taste
Carefully wash and separate the lettuce leaves. Peel the potato and cut into cubes. Toast the curry powder and ginger in a pan with some oil. Add the sliced spring onions and the potato and mix well. Add the peas, the lettuce and stock and bring to the boil. Cover, lower the heat and leave to cook for 30 minutes. Salt to taste, then blend to the required consistency. Sprinkle with pumpkin seeds, drizzle with oil and serve warm.
Kiwi, Avocado and Fennel Smoothie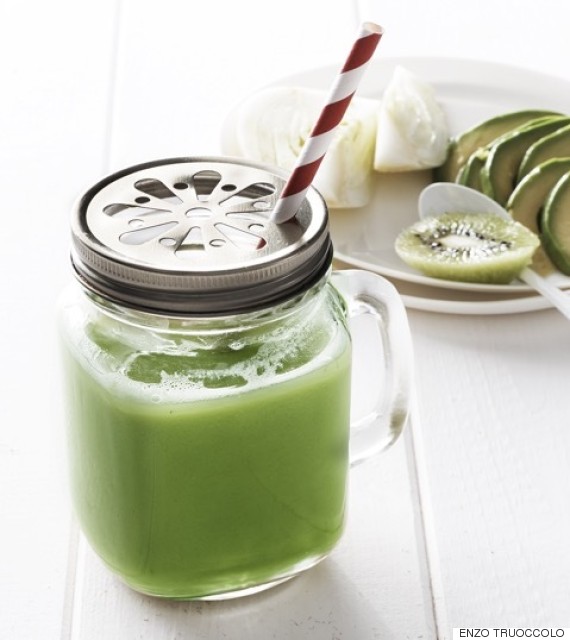 Serves 4 people
4 kiwis
1 avocado
1 head of fennel
2 ripe pears
200g natural yoghurt
8 leaves of fresh mint
juice of 2 limes
1 tablespoon honey
Clean and cut the kiwi, fennel and pears into small pieces. Cut the avocado in half, removing the stone and the peel and cut the flesh into cubes. Put everything into a dish and pour over the lime juice. Cover with the honey and garnish with the mint, leave to rest in the fridge for 30 minutes. Put the fruit, vegetables and yoghurt into the food processor, blend, adding a little water if necessary, to the required consistency. For an iced dish use frozen fruit.
Note:
Cooking foods can alter their nutritional value and destroy "good" enzymes. A simple, easy way to eat lots of fruit and raw vegetables is by using a juicer or by preparing smoothies. To make a smoothie, blend together fruit and vegetables according to taste, adjusting the consistency by adding water when necessary. Don't drink it quickly, but take sips to avoid a bloated stomach.
Artwork credits:
Glass with handle, Fleux. White pot, ABCT collection, KN Industrie. Plates and bowls, Paola Paronetto. Napkin, Zara Home. Glazed fork, Varlopinte.