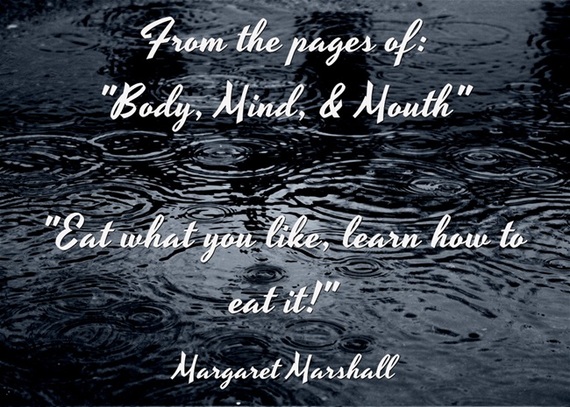 Often I hear people lament that they throw out the fresh produce they purchased but never ate.
Two things could be happening:
They buy more produce than needed.
They ate too many cookies, chips, etc. and never ate the produce.
Buy only the produce you need until your next trip to the market. Fresh produce is not something that you will overeat, but the other items are. Be mindful of how many items you purchase that have no nutritional value and that you mindlessly eat. Don't convince yourself that you are buying these packaged items for a family member, when in reality they are for you.
The grocery store can be the key to your health or the downward spiral to poor eating. Before you purchase food items, consider not only what you want to eat but also how you want to feel after you've eaten. You always want to think before you eat to insure your after-eating feelings will be of well-being, satisfaction, and good health. This process will help you choose food on the supermarket shelves wisely.
Use these 10 easy-to-follow tips for grocery shopping:
There are thousands of items in a grocery store: 80 percent of them are not conducive to a healthy eating pattern, but that means 20 percent are, and that is enough for you to choose from. Look for items you enjoy and that will promote your healthy life.
Shop the perimeter of the store. All of the processed food is usually housed in the interior aisles. But be on guard, because as grocery stores have grown, they also placed their bakeries, beer, and other departments around the perimeter along with the fresh produce, meat, milk, and eggs on which you want to base your eating.
If you are going to walk down the interior aisles, keep your cart at the end of the aisle. Carry the item you want in your hand as you walk back to your cart. This will help you bypass items that you may otherwise have thoughtlessly thrown into your cart.
Eat something before you shop. If you shop hungry you will be enticed by every marketing ploy the grocery store will use.
Always shop with a list, and throughout the week jot down items you need. If you accidentally leave your list home, the items will still be fresh in your mind. You are more likely to only purchase items you need when you have a list.
Avoid the free samples of food being offered. Representatives touting these items want you to purchase their product, and often these are the products people overeat.
Grocery stores will entice you to purchase unwanted items with aromas, sights, and specific music. Be aware, and purchase only what you need.
Impulse-buying items are placed at eye-level or visibly at the register. Avoid the product placement trap. You are stronger than that!
Many diet food items are candy bars or cakes with a different title. Be very careful when choosing any "diet" food.
Avoid packaged food whenever possible and try to purchase mostly fresh food. If you do buy the packaged item, read the food label carefully and fully. They can trick you.
The more steps you take in a grocery store the more you'll buy. Go in, get what you want, and get out. The store can be a minefield of impulse buying and unhealthy eating or you can grocery shop your way to good health.
Related