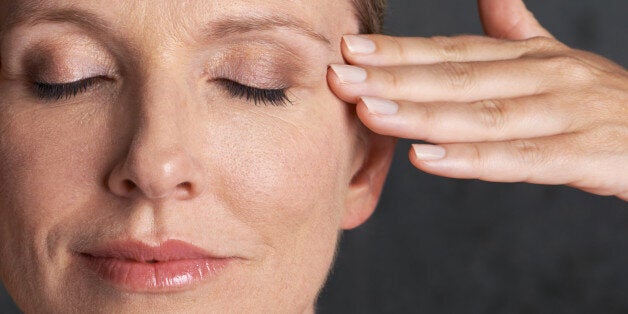 The fountain of youth may be a mere myth, but some of the very best anti-aging secrets lie in simple behaviors anyone can adopt for a revitalized routine. In partnership with COVERGIRL, we asked a group of exceptionally vibrant women over 50 to share their surprising health habits for a youthful lifestyle. From maintaining a positive perspective to indulging in outdoor time each week, the wholesome habits of these 11 remarkable doyens prove that age is nothing but a number.
1. Ena Cratsenburg, Senior Vice President of Consumer Sector, Intrexon Corporation "I strive to take care of myself physically and mentally. I run, jog, or walk at least three miles a day on average -- it's not only a way for me to get some much needed exercise but it's also my form of mediation."
2. Mary Poland, Board of Directors, San Francisco Opera Guild "My weapon against aging is exercise. I started to work out every day about six years ago. I focused on flexibility, mobility and the core. I really did not do it for muscle building or for losing weight. My objective was to be able to wear my favorite stilettos anytime with confidence. No Birkenstocks for me!"
3. Elizabeth Birka-White, President, University of California Press Foundation "I don't exercise in a formal sense. I have such a scheduled, calendared existence that I love being able to simply walk out the door, usually with my dog, and hit the streets -- either walking or running. I find -- and perhaps this has something to do with getting older -- that I am much more attentive to the seasons. I notice the fragrance of blooms; the chirping of birds; a tiny bit of green unfurling on the branch of a tree.
4. Karen Giblin, President, Red Hot Mamas "It may be time for you to spruce up your wardrobe. Yes, do a little R&D and redo it, if necessary. Discover which clothes work best for you [and make] you feel sensational and confident. Looking good lifts your spirits. Don't be afraid to go for a bit of flair and glamour -- you'll look utterly gorgeous! … [And] keep a twinkle in your wrinkle; a good sense of humor; and indulge in a love affair with life."
5. Sue Andersen-Berger, D.M.D., Orthodontist "I do a lot of things to stay healthy: exercise every day, always use sunscreen, avoid sodas, sugar and processed foods, etc. But the most important thing I do is to eat as organically as possible, vegetables and fruit, lean meat and fish."
6. Pamela Stefan, Executive Board Member, Children's Hospital Branches, Inc., UCSF Benioff Children's Hospital Oakland "In addition to being diligent my entire adult life about washing my face every night before bed, using a high-percentage glycolic peel, and making sure to always use moisturizer, I think the most potent secret to looking one's best is having a positive attitude and being fully engaged in life."
7. Sandra Farris, Co-Chair, San Francisco Opera Ball 2016 "I do the treadmill every morning while reading the latest bestseller… . A mask is on my face and a conditioner is on my hair. I like doing multiple things to save time and accomplish more. This makes me start the day with energy and enthusiasm, which reflects in my face."
8. Jennifer Snowdon, HD Makeup Artist "My philosophy and approach to living is that, 'Beauty is the outward expression of your inner intention.' Having that authenticity in your living is always attractive. I start the day with meditation, breath and gratitude, and then I listen for what the day is calling forth. Daring to be the answer is so energizing… . It's like spiritual exfoliation! Care and honor yourself, eat organic, drink lots of water and use products with integrity."
9. Joan Cannon, Executive Board Member, Children's Hospital Branches, Inc., UCSF Benioff Children's Hospital Oakland "I like working and playing outside, listening to the birds, meeting my neighbors enjoying my dog and cats. I keep moving and try to learn something new. And a little tinted moisturizer with sunscreen and a dusting of blush helps cover the spots!"
10. Cynthia Schreuder, President and CEO, CLS Printing Company, Inc. "Remember to breathe. We cannot avoid stress -- it is always around us. Breathe in and out slowly, fully, and do not hold your breath."
11. Carla Cossette Zuber, Event Planner "Caffeine is a necessary part of my anti-aging regimen. I use coffee bean eye cream to reduce dark circles and minimize fine lines. I also love to use coffee bean body scrub to arms and jaw line before a night out to smooth out the lumps and bumps. I am devoted to caffeine collagen masks to slim my face. And drinking a strong cup of coffee or tea certainly brightens my eyes and puts color in my cheeks."
Combine healthy habits with COVERGIRL's Simply Ageless collection. Because although you're aging, you don't necessarily need to seem like it.