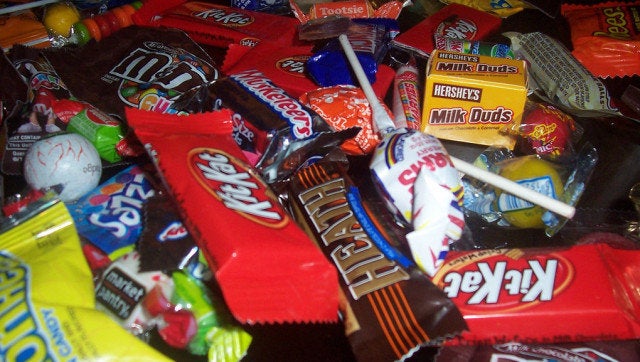 It's that time of year when autumn leaves are falling, the air turns brisk and biting, and people start thinking about Halloween. I don't know about you, but I'm never too old for donning a costume and holding out a hand for treats. But as a healthy living advocate, the problem I have with Halloween is all the candy. I don't want my house to get egged, but I hate the overly-processed ingredients that come in with the usual candy. At the same time, if I reject candy altogether, my kids (and my husband!) will revolt.
There have long been concerns about the safety of kid's candy; but beyond urban legend, lead and GMOs are at the top of the list of ingredients in candy that can do harm.
Sugar (GMO sugar beets)
High fructose corn syrup (GMO corn)
Corn starch (GMO corn)
Soy lecithin (GMO soy)
Soybean oil GMO soy)
Modified food starch (GMO corn)
Fructose, dextrose, glucose (GMO corn)
Cottonseed oil (GMO cotton)
Canola oil (GMO canola)
"Other" ingredients: isolates, isoflavones, food starch, vegetable oil
The infographic points fingers at popular items including the beloved Hershey's Kiss, Snickers, Kit-Kat, Twix bar, Butterfinger, Mike & Ike, Reeses, M&Ms -- and the list goes on. They say it includes pretty much every mainstream candy bar made in the U.S. According to the
Green Halloween organization's "Guide to a Non-GMO Halloween," over 80 percent of the packaged food in America contains GMOs. And that includes candy.
What a lot of people are asking themselves is -- if I have to get rid of these conventional candies, what can I replace them with?
A lot of advocates would argue that we should try and shift the cultural values away from one that prizes candy. EatRight.org says that when kids are presented with a choice between treats and toys, they prefer the toys.
Dr. Kevin Strong, founder and CEO of Dunk the Junk, a national organization to get kids to switch from soda and junk food to healthier options, suggests cool fruits such as clementines, starfruit, and ugli
fruit if your budget allows. However, when pressed on the issue of candy, he concedes that some choices are "healthier." Those are candies containing nuts or coconut, which contain protein. Strong explains:
The protein in the nut will help offset the sugar crash as these nutrients have a longer metabolic life. One of the reasons the junk food epidemic has become so severe is the decline of protein and fat in many diets. We are lacking nutritional endurance -- sugar blast, crash, sugar blast, crash, sugar blast, crash. Smooth out the ride with some more protein and your pancreas and liver will thank you dearly.
Personally, I'm glad to hear that there is a time, place and even a healthier way to consume candy. It's not every day and it's not all the time. When I select treats, I try and eat them after a balanced meal and to keep out the artificial ingredients, GMOs and other toxins in order to minimize the burden of what my body has to metabolize.
As for your choices? Either 1.) you can carry this ingredient list around with you and screen all candies before buying them, 2.) you can try to stick with organic items (which can't guarantee non-GMO or better for you, but they should be a start), or 3.) you can carefully look for items that display the "Non-GMO Project" label.
Or, to make it super-easy for candy givers and candy eaters alike, just buy from this list that Veritey developed. (Full disclosure: I'm the founder and we source products for healthy living.) Goodbye, candy conundrum and hello, delicious and reasonably healthy treats!
1. Endangered Species individually-wrapped chocolates -- in dark chocolate, rainforest mint, chocolate cashew and more. These chocolates are good-tasting (some even have nuts), individually-wrapped, and reasonably priced. The company donates 10 percent of net profits to supporting species, habitat and humanity.
2. Maple candies -- the positive thing about these treats is that they're 100 percent made from organic maple syrup, which has some potential health benefits, and is nutritionally better and less processed than refined sugar. However, it's also still a very sweet sugar to your system. And these candies are not individually-wrapped, so you'll have to save them for trick-or-treaters you know well.
3. Yummy Gummy Candies -- this is a candy that's free of common allergens like peanut, gluten and soy and is also free of dyes, corn syrup, GMOs and more.
4. Annie's -- gummy snacks or pretzels or cheddar crackers in snack-size packs for something savory. All Annie's items are non-GMO.
5. Trader Joe's Organic Pops -- these are individually-wrapped lollipops that use natural food coloring from vegetable colors, specifically red cabbage, purple carrots, tumeric and annatto, to keep their candies real.
Just do me a favor and remember that candy consumption should be kept to a minimum. As the saying goes, "All things are good in moderation..."