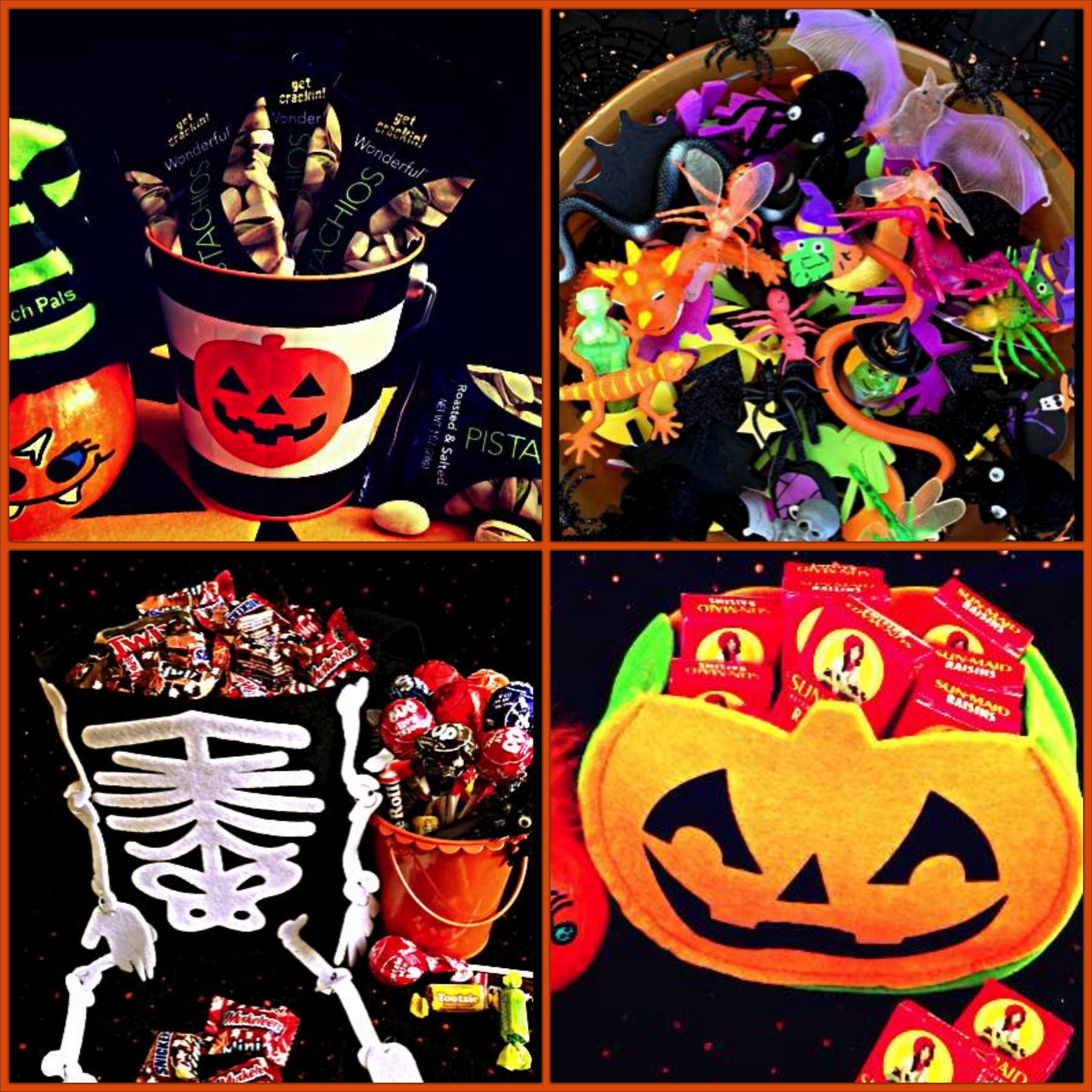 Photo credit: Julie Upton
To kids, candy rocks! No wonder a holiday that's based on free candy and dressing up in costumes is so popular with children.
As a result, many adults are looking for healthier options to give to treat-seekers at their doorstep. I've been doling out healthier alternatives for years, and so far so good. My house hasn't been egged or TP'd and kids keep coming back. Here are some of my go-tos for All Hallow's Eve:
Fun Fruit-Based "Leathers" or "Squeezers"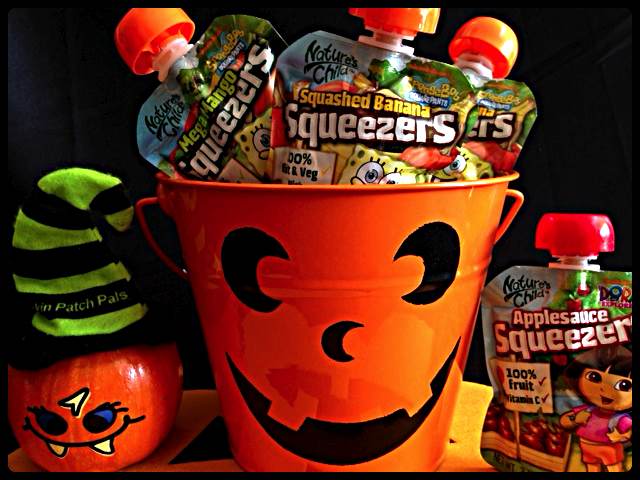 Photo credit: Julie Upton
Look for fruit-based options that have kid appeal, too. Fruit leathers, ropes and squeezable pouches are all good as long as they don't have any added sugars. I bought Fruit Squeezers by Nature's Child that feature kid cartoons on each package and are made from 100-percent fruit. Each pouch has 60 calories, is a good source of vitamin C and counts as a fruit serving.
Pint-Sized Packets of Jelly Beans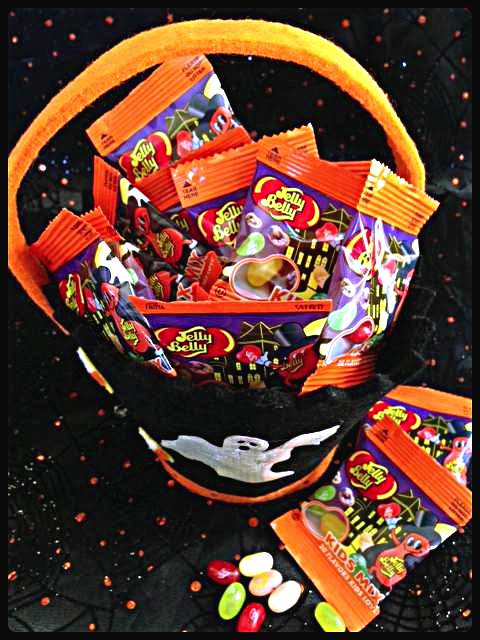 Photo credit: Julie Upton
Jelly beans are a great option because they can satisfy a sweet tooth without as many calories as traditional chocolate candies. Jelly Belly's Kids Mix includes beans includes the flavors children love most, like watermelon, very cherry, sour apple and bubble gum in a pint-sized package. Each mini packet has just 28 calories.
Single-Serve Packs of Nuts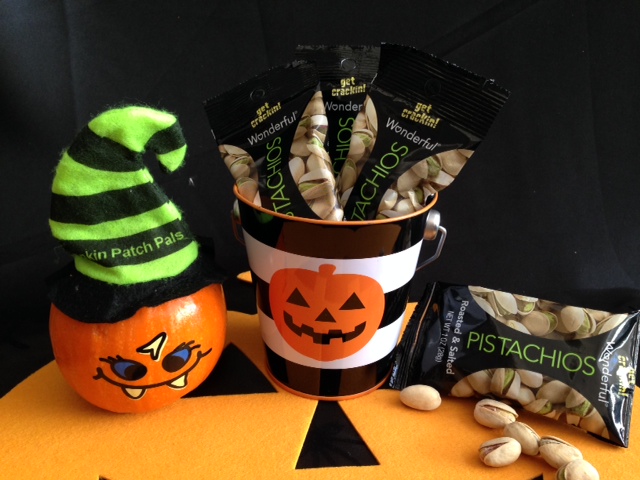 Photo credit: Julie Upton
Nuts are a great snack to keep tiny tummies satisfied with the fiber and protein they provide. Since nuts are high in calories, look for the single-serve packages that keep calories in check. For example, a mini-sized (1 oz) pack of Wonderful Pistachios has 80 calories, 3 grams protein and 2 grams fiber. Kids also have fun cracking them open.
Downsized Chocolates and S-L-O-W Sweets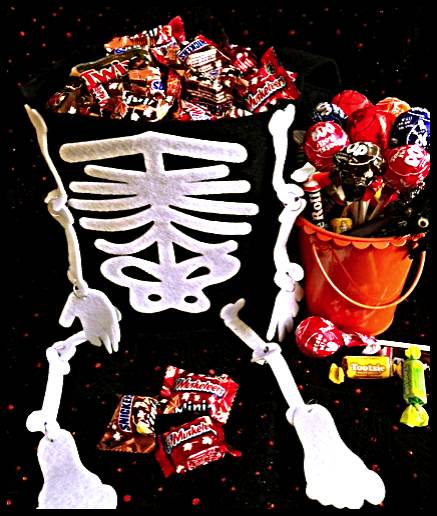 Photo credit: Julie Upton
If you're going with chocolate, never hand out full size candy bars and opt for fun-sized or miniatures to cut calories, sat fat and sugar. For example, a mini Three Musketeers has 24 calories; the fun size, 63 calories; and the full-size, 240 calories. Some of the lowest-calorie options include Three Musketeers, York Peppermint Patties and Junior Mints.
Treats that take time to eat help curb calories. I like lollipops or Jolly Rogers or chewy choices like Laffy Taffy, Tootsie Rolls or Starburst. These choices are also lower in calories than chocolates because they are made primarily with sugar little or no fat. For example, a mini Tootsie Roll has 23 calories.
Snack Packs of Raisins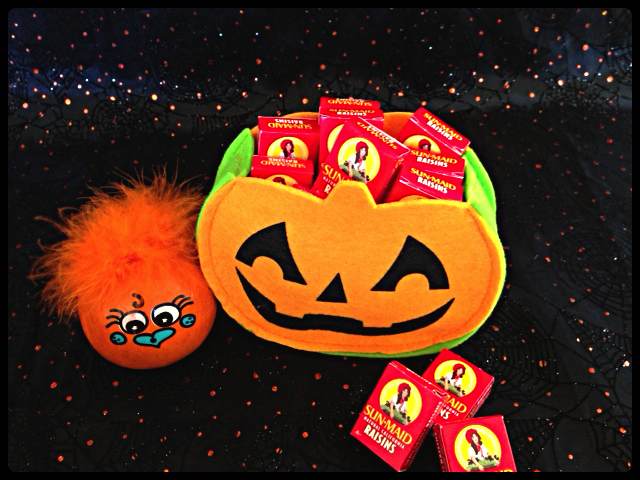 Photo credit: Julie Upton
You can't go wrong with mini boxes of raisins for pint-sized pirates and princesses. For example, Sun-Maid's mini boxes of California raisins have just 45 calories, no added sugar and are fat free. What's more, a recent University of Toronto study found kids reported feeling fuller and ate fewer calories at their next meal when they snacked on raisins compared to other popular snacks.
Flavored Milk Straws and Pudding Pouches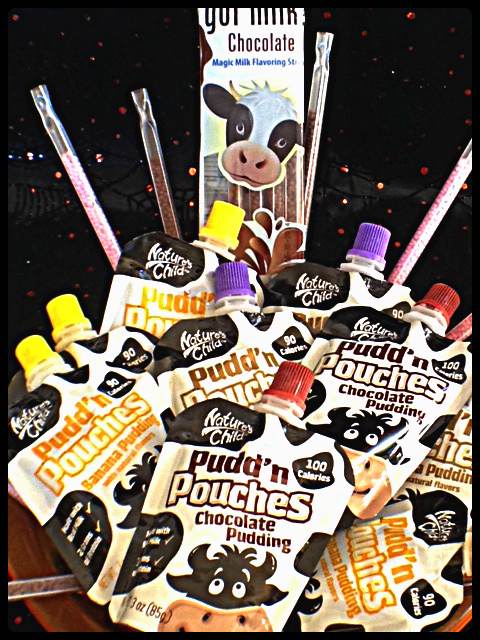 Photo credit: Julie Upton
One proven way to get kids to drink their milk is to flavor it, but regular flavored milk can be packed with added sugars. Got Milk? Magic Straws comes in many great flavors and transform plain milk to flavored with just 1 tsp (17 calories) per straw. Another great idea is to hand out shelf-stable, single-serve puddings that are made from milk. For example, Nature's Child Pudd'n Pouches come in great flavors and provide protein and calcium while keeping calories to 90 or 100 per pouch.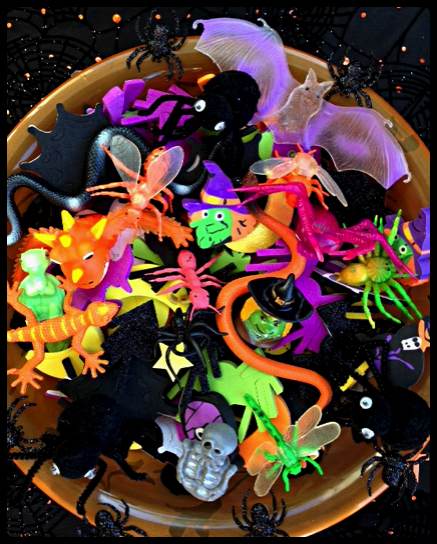 Photo credit: Julie Upton
I mix fun toy tricks with the healthier treats and let kids take both an edible and non-edible choice or the option of two tricks for incentive. I've done this ever since a study from Yale University found that children are just as excited about getting a toy as they are candy. Ideas:
•Halloween-themed pencils, pencil toppers, crayons or erasers
•Scary stickers
•Plastic rings and bracelets
•Temporary tattoos
•Glow sticks
•Bouncy balls