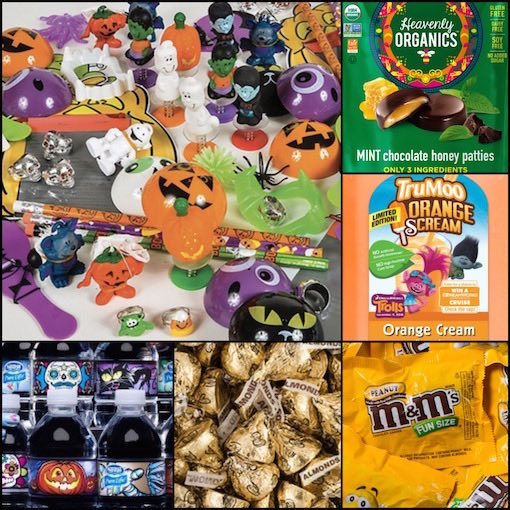 Halloween is nearly here, which means you've probably already started stocking up on candy and other treats for the neighborhood's little goblins and ghosts. According to the National Retail Federation, Halloween is one of the most popular holidays and it's estimated that more than 70 percent of U.S. households plan to give out candy this year and more than one-third will attend a Halloween party. Hold onto your wallet -- Americans will spend some $8.4 billion on Halloween-related purchases, including $2.5 billion on candy alone... ouch!
While so much sugar may seem scarier than a haunted house, you can make Halloween a little less sweet -- without being the house on the block that gets egged and TP'd!
Here are my dietitian tricks for a Healthier Halloween:
Better Bite-Sized Chocolates
Halloween should include some chocolate fun, but portion size is key. I offer 'mini' size individually wrapped chocolates. Some of my favorites? Fun-size Peanut M&Ms and Hershey's Almond Kisses because they provide healthy nuts, not just chocolate and both keep calories in check. Dark chocolate options are better too, like Heavenly Organics Mint Chocolate Honey Patties. These slimmer Peppermint Patties have 50 calories each, and are made from 100 percent dark chocolate--which is naturally lower in sugar and calories--and are filled with organic, raw honey.
Fruit-based Goodies
Kid-friendly fruit 'leathers,' 'ropes' and squeezable pouches are perfect in place of traditional candy. Look for ones made with real fruit and no added sugars. Mini packets of chocolate-covered raisins are also a great way to get the goodness of fruit.
Orange Milk
For a better beverage for your Halloween bash, skip sugary soda and energy drinks and opt for TruMoo Limited Edition Orange Scream low-fat milk. It has 11 grams of protein, is an excellent source of vitamins A, D, and calcium; and it doesn't contain any high fructose corn syrup or growth hormones. Kids will love the classic orange cream taste and parents can feel better knowing they're drinking milk.
Spooky H20
Water, not soda, should be kids go-to beverage. For a Halloween twist that will be sure to get kids drinking more naturally sugar-free H20, look for the Nestlé Pure Life Share-a-Scare bottles of water. Each bottle has a frightfully fun label and the convenient, 8-ounce size makes them great to have for thirsty trick-or-treaters or party-goers.
Nutty & Pumpkin-y Bar
A lot of parents have energy bars on hand for Halloween. A better option: Kind's Carmel Almond Pumpkin Spice, which 50 percent less added sugar (just 5 grams) compared to energy bars. Plus, it has a whopping 7g fiber and 4g protein to help keep tiny tummies satisfied.
Tricks Instead of Treats!
Kids have just as much fun with toys and non-edible novelties as they do with candy, according to research from Yale University. In the study, children were offered a choice between lollipops, fruit-flavored chewy candies, and other sweets and large glow-in-the-dark insects, Halloween themed stickers and pencils. Researchers found that the children were just as likely to choose the toys as they were candy. At parties and for trick-or-treaters, I make up individual bags that include a mix of better-for-you candies (like the ones listed below) and bouncy balls, spooky spiders, Halloween stickers and pencils and glow sticks.