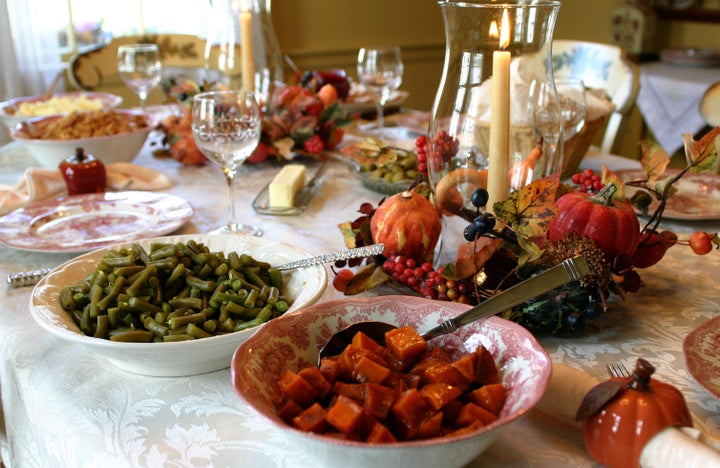 The holiday season is here! My favorite time of the year, and same for most people. It's a time that you get to usually have time off of work and spend cozy days with your family. Whether we like to admit it or not, we get a little lazy during this time, and we also love it because we get to eat all kinds of yummy foods that we don't usually eat throughout the rest of the year.
But unfortunately, that yummy food usually comes with lots of unwanted, unhealthy calories. My favorite happens to be my grandmother's "Southern Sweet Potato Pie" with whipped cream to top it off. It's definitely not the healthiest thing to eat, but it sure does taste great!
I'm a professional fitness trainer, but nowhere near perfect. I come from the South, where the food is covered in unhealthy yumminess -- some butter here, some sugar there -- so discipline is key for me during the holiday season with my family. It's okay to have a little taste, but you can't go overboard.
Usually, people also forget that they have to go back to reality after the holiday season is over -- and you don't want to go back sluggish with the extra unwanted pounds, so you come up with a New Year's resolution to get in shape. I have a solution for that! Don't overindulge in all of the tasty treats lined up on the buffet table in the dining room. Try making a healthier version of your favorite holiday dishes. For example, instead of adding a whole stick of butter to your favorite cake or pie, downsize the amount of butter in order to decrease cholesterol.
Another word of advice would be to stay active and disciplined through out the holidays so you don't have to feel guilty about your holiday season. Also, find fun things to do with your family that don't require you to sit around. Be active!
My absolute favorite activity to do with my family is to move! I get everyone together in the living room -- from my mother and sister, to my younger brothers, all the way to my grandmother, aunts and uncles -- I turn off the TV, turn on the music, and we dance the calories off together as a family! Not only is it fun, but it also brings everyone closer and helps everyone stay fit in a fun way without feeling like it's torture. It's is an awesome way to stay in shape and keep everybody in motion. You sweat and work muscles that you didn't even know you had!
I would dance for 15 to 20 minutes verses running on a treadmill for an hour any day. You have such a blast that you forget you are burning calories and toning muscles all at the same time. And everyone else forgets they are working out, too! Dancing is also very contagious, so make sure to come in close contact with everyone in the house -- before you know it, your family members go back home and they tell their friends and co workers about how much they enjoy it, then the words spreads and everyone is dancing toward a more fit lifestyle. What better gift to give during the holiday season!
I created a fun program with Daily Burn called "MOVE!" There are lots of different styles of dancing in the "MOVE!" series, from African to Latin, all the way to 90s hip-hop (which is one of my favorites), timed anywhere from a quick 15-minute dance all the way up to an hour! There's something for everyone -- whether you are a beginner who's never danced a step in your life, or a professional dancer who's danced for years. I choreographed fun, easy-to-follow dance steps along with great, energetic music that keeps you on your feet, motivated to get off and stay off the couch! I always say, if you can move, you can dance! Make sure to join me on DailyBurn.com so we can dance those holiday pounds off and keep them off! See you soon!
Related