We are preparing for the most thoroughly planned meal in America, and it's not Thanksgiving dinner. It's school lunch.
Once every five years school meals are put on the Congressional kitchen's front burner through reauthorization of the Child Nutrition Act. In the process of cooking up this legislation, school meals have been researched, reviewed, rallied for and railed against. And while the resulting stuffed turkey that is the Healthy, Hunger-Free Kids' Act, is not perfect, it's pretty darn good.
Congress must stick a fork in the Healthy, Hunger-Free Kids Act during the lame-duck session, get it done and finally serve the kids.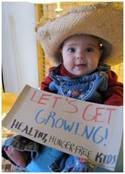 For the last two years, advocates, lobbyists, politicians, and celebrities from Rachael Ray to Michelle Obama have worked to craft a bill that will daily affect the lives of the 31 million children who clamor to the nation's school cafeterias to quell their grumbling bellies. For this bill to pass, over the next few days we the people must prove to our elected officials that the Child Nutrition Act is a national priority.
This past September marked our country's first National Childhood Obesity Awareness Month. Yet while one in three U.S. children are obese or overweight, one in four struggle with hunger. The U.S. Department of Agriculture's Economic Research Service (USDA-ERS) reported last week that more than 50 million Americans, including more than 17 million children, are food insecure - meaning they lack consistent access to a nutritious, well-balanced diet.
Simultaneous hunger and obesity may seem like a paradox, but the root cause is the same: lack of access to healthy food. Give children nourishing food in the cafeteria, nutrition education in the classroom, and hands-on learning through school gardens, and a lifetime of healthy eating can take root.
We need to show our support for House passage of the $4.5 billion child nutrition bill that passed the Senate earlier this year. If the bill isn't on the president's desk soon, supporters will have to start over in the new Congress. It's like dropping the turkey in front of all the seated family and friends.
The Healthy, Hunger-Free Kids Act offers a real chance to improve nutrition for all children. By improving opportunities for healthy meals in and out of school, the bill would take an important step towards addressing both child hunger and obesity.
Unanimously passed by the Senate and supported by more than 1,300 national, state and local organizations, the Healthy, Hunger-Free Kids Act (S. 3307) will:

• Improve school meals;
• Support farmers through Farm to School programs;
• Address skyrocketing obesity rates; and
• Feed more hungry children.
The bill would help reduce hunger and increase children's access to healthy meals by expanding the after-school supper program nationwide, better connecting eligible children with free school meals, and streamlining the certification process for the Women, Infants, Children (WIC) program.
The bill would strengthen nutrition standards for all foods sold in schools, provide schools with increased resources and training to improve meal quality, and support Farm to School programs and school gardens.
Last week, the House designated October as National Farm to School Month. Now they have a chance to walk the walk, in addition to talking the talk, by passing a bill that will increase access to quality food for school children, foster local farm job growth and generate local economic development. The Healthy, Hunger-Free Kids Act establishes a competitive grant and technical assistance program in the Department of Agriculture to increase the use of local foods from small- and medium-sized farms in schools, with $40 million in mandatory funding.
The competitive grant program would help create more Farm to School programs benefiting kids and communities alike. A recent study from the University of Minnesota found the potential economic benefit of Farm to School to the region ranged from about $20,000 if each school served one locally grown meal a month to up to $430,000 if they bought large amounts from farmers.
Now consider that the fast-food industry spent more than $4.2 billion on marketing & advertising in 2009 alone, according to the Yale's Rudd Center for Food Policy & Obesity. And our elected officials can't pass child nutrition legislation that provides almost an equivalent amount in $4.5 billion over 10 years to reduce hunger and provide access to healthy food.
What have you done to help reach the goals of ending child hunger by 2015 and solving childhood obesity in a generation?
Before you pass the turkey, consider helping to pass the Healthy, Hunger-Free Kids Act during the lame-duck session. You and your family can deliver a strong message to Congress to vote yes on this urgently needed legislation, by sending your photo as part of a nationwide photo petition. Go here for details.
A healthy school lunch for our children is something to be truly thankful for this holiday season.

REAL LIFE. REAL NEWS. REAL VOICES.
Help us tell more of the stories that matter from voices that too often remain unheard.