Access to quality healthcare is a basic human necessity, and the challenge of providing it with finite resources is particularly daunting for communities faced with large immigrant and refugee populations. Last year, as a USA Fellow with Eisenhower Fellowships, I traveled to Germany and Mexico to study their healthcare systems. Both countries face difficulties, but Germany, in particular, is feeling the strain of caring for immigrants and refugees, with more than 1 million having arrived in that country in 2015.
Trying to arrange healthcare for these arrivals, not to mention housing and employment, is incredibly difficult and the tension sparked by integration efforts is a key factor in the rise of far right groups, with their influence metastasizing across Europe. While the United States is not faced with a tidal wave of new arrivals, there are more than 42 million immigrants in our country, and like those in Germany or elsewhere, they are in need of essential services.
It is expedient to believe that this is a minor problem. It is not. By 2050, foreign born individuals will likely account for 20 percent of everyone who lives in the United States, and 82 percent of total population growth will be due to immigrants and their decedents. It is therefore absolutely crucial to the nation's future that these new Americans receive access to care.
Given the slow-changing nature of our hugely complex healthcare system, not to mention the political moment we live in, some of the progress will need to come via innovative solutions and community-level efforts.
Fortunately, some of this is already happening. The Centers for Medicare & Medicaid Services is currently testing the Accountable Health Community Model. It will have three program tracks, one of which especially caught my attention with regard to care for immigrants. This particular track focuses on what is known as "community navigation services" which ensure that a patient's needs are met after a medical referral. Based on direct experience at my clinic with the thousands of patients we help each year, navigation - the act of accompanying the patient to his/her appointments and acting as their advocate, then following up throughout their course of care - is a valuable tool to improve outcomes for patients. Navigators are particularly effective combating barriers like lack of insurance, limited English proficiency, poor health literacy and the unfortunate situations when immigrants are not treated with respect.
Another tool with which to serve immigrants is a medical home, somewhere they can access primary care and seek help to prevent disease. In this capacity, community clinics play a large role. They already serve over 23 million people at more than 9,000 sites located throughout all 50 states and U.S. territories, and it is likely that their importance will increase. Because of the barriers I mentioned earlier, immigrants tend not to seek help until they experience an acute situation. It is therefore especially important that they access care at a facility that spends significant time with them, doing a thorough intake so that potential problems (like diabetes) can be prevented through screening and wellness services.
Home visits are also effective. They eliminate one of the most difficult obstacles for immigrants - transportation - and have the added benefits of allowing a home assessment and incorporating family members in the health education part of the visit. Last year, diabetic patients enrolled in my clinic's program saw their hemoglobin A1c levels - a key indicator of blood sugar levels over time - drop by more than two points on average. Each point dropped represents a 40 percent reduction in the risk of developing eye, nerve and kidney disease. This is great for the patient, but it's also important for all of us. Diabetes and many other chronic diseases are extremely expensive to treat and manage. To the extent that we are able to bring chronic illness under control - or even better, prevent them from happening in the first place - we will lower healthcare costs and make care more affordable for everyone.
Perhaps what is most needed, however, is a change of mindset. Too many pundits and politicians continue pushing us to think of immigrants as "takers." The opposite is true. In fact, immigrants are actually among the least likely to use healthcare, and are net contributors to the Medicare trust fund.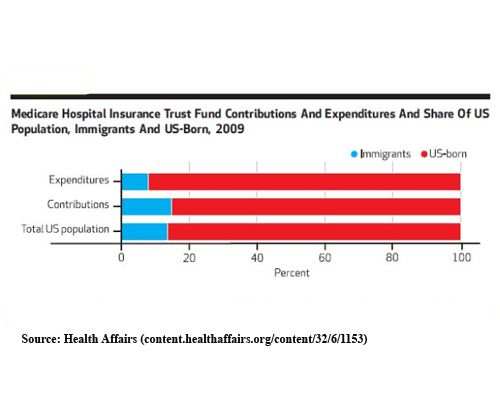 The experiences of the immigrants I meet today resonate deeply with me. My parents fled calamity in their home country of Cuba in the early 1960s for the promise of America. They came with nothing. When I was born here in the U.S., they faced dire circumstances due to my health problems. But through the generosity (read: investment) of doctors and hospitals, I recovered my health and my parents averted financial catastrophe. The result was a stable family that prospered - our country's formula for success. My story is like those of countless people who started as immigrants and refugees and then became Americans. It's a reminder that when we care for immigrants, we care for ourselves and our future.
Jorge Riopedre is president of Casa de Salud, a regional clinic for the uninsured, especially immigrants, serving a 28-county area around St. Louis, Missouri. The organization collaborates with more than 60 local and regional partners to create healthcare access for marginalized populations among other services for healthy living. Riopedre is a 2015 Eisenhower Fellow, a global network of dynamic change agents committed to creating a world more peaceful, prosperous and just.
Calling all HuffPost superfans!
Sign up for membership to become a founding member and help shape HuffPost's next chapter