When you've got a craving for Southern comfort food, the last thing you want to think about are the calories that typically come along with it. Buttermilk fried chicken, creamy mac and cheese, buttery pot pies -- it's all delicious, but registered dietitian Sharon Palmer has a much more calorie-conscious way to indulge in the rich Southern flavors without coming anywhere near unhealthy territory.
"Southern food can be really healthy when you look at the original traditions of Southern food, which included things like beans and greens and rice," she points out in the above video.
Palmer's version of Jambalaya is the perfect example. It's a simple one-pot meal packed with veggies and infused with spices, all for just 280 calories per serving.
Red Bean and Okra Jambalaya
Recipe from Plant-Powered for Life: Eat Your Way to Lasting Health with 52 Simple Steps and 125 Delicious Recipes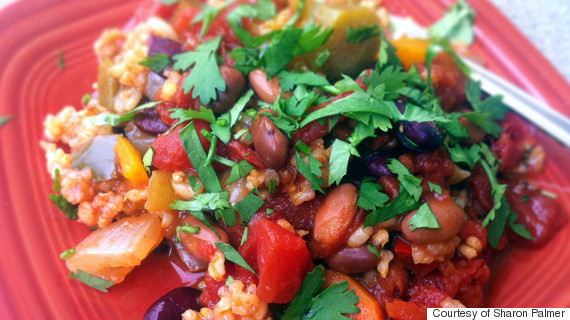 Makes 6 servings (1 1/2 c. each)
Ingredients
1 tsp. extra virgin olive oil
1 large onion, diced
3 medium garlic cloves, minced
1/4 tsp. cayenne pepper
1/4 tsp. sweet paprika
1/4 tsp. cumin
2 tsp. chili powder
1/4 tsp. celery salt
Hot sauce, optional
1 cup uncooked short-grain brown rice
2 medium bell peppers (red, orange, green or yellow), diced
2 medium carrots, sliced
2 celery stalks, sliced
2 cups chopped fresh or frozen okra
One 14.5-ounce can fire-roasted diced tomatoes, with juice
One 15-ounce can red beans, no salt added, with liquid (or 1 3/4 cups cooked, with 2∕3 cup water)
2 cups reduced sodium vegetable broth
1/2 cup water
1/4 cup chopped fresh parsley
Directions
Heat olive oil in a large skillet over medium heat. Add the onions and cook for 5 minutes.
Add the garlic, cayenne, paprika, cumin, chili powder, celery salt, hot sauce (if desired) and rice. Cook for 2 minutes, stirring often.
Add the bell peppers, carrots, celery and okra. Saute for an additional 5 minutes, stirring frequently.
Add the tomatoes, red beans, broth and water. Stir well. Bring to a boil, reduce the heat to medium-low, cover, and cook for 1 hour and 10 to 20 minutes, until the rice is tender, stirring frequently. Add additional water as needed to compensate for moisture lost to evaporation, but avoid thinning the consistency too much (it should be thick).
Remove from the heat and sprinkle with parsley immediately before serving.
Per Serving: 280 calories, 10 g. protein, 56 g. carbohydrates, 3 g. fat, 1 g. saturated fat, 12 g. fiber, 7 g. sugar, 424 mg. sodium
REAL LIFE. REAL NEWS. REAL VOICES.
Help us tell more of the stories that matter from voices that too often remain unheard.
BEFORE YOU GO