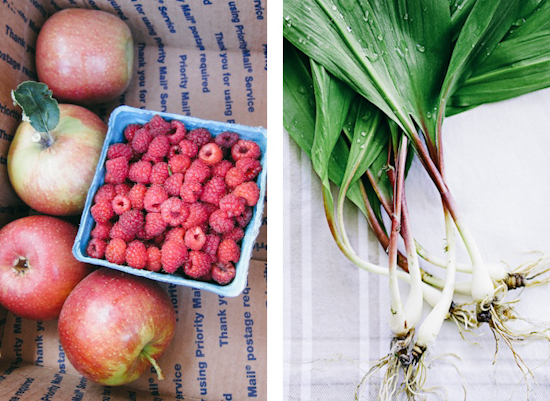 Photos by Anna Watson Carl (L) and Signe Birck (R).
March is an amazing month. Winter's ending, spring is in sight, and bathing suit season is just around the corner. But not to worry -- even if you've already backslid from your New Year's resolutions, right now is the perfect time to focus on getting healthy! This year, March is especially important in my household. My husband has been suffering from chronic Lyme disease for years now, and he's just a month away from potentially having a PICC line inserted from arm to heart to infuse daily intravenous antibiotics -- something we're hoping to avoid.
So we've decided to focus on getting healthy this month. We're calling it (drumroll, please!) #marchwellness and we'd really love for you all to join us. We're eating delicious, healthy, whole foods, committing to exercise, and really cutting back on potentially inflammatory foods like sugar, alcohol, gluten, dairy, and processed foods. Sort of a spring cleaning for the body, if you will. It's our experiment in just how healing food can be.
You may be asking, "What does 'healthy' even mean?!" It seems there are millions of opinions on the subject, many of them conflicting. If you've ever spent time researching the various healthy eating plans out there (Caveman or vegan? Whole grains or no grains? Raw or cooked?), you may end up convinced that there's nothing safe to eat. Though I certainly don't have all the answers, as a professional cook and recipe developer, the kitchen is my laboratory. And after years of living with a chronically ill spouse, I've made it my job to read everything I can on nutrition. The simple principles below are some that have worked for us, and that can hopefully help you feel your best as well!

Just to be clear: I'm not advocating a diet here. #marchwellness is not about weight loss, though once you start eliminating empty calories and foods that can cause inflammation, you may find that you lose a few pounds in the process. I just want to encourage everyone to start building good habits in March that will hopefully carry into the rest of the year (and beyond!).
I hope you'll join us for #marchwellness, and that you'll spread the word! Life is too short not to feel good.
(Note: Please consult with your doctor before embarking on any major lifestyle changes.)