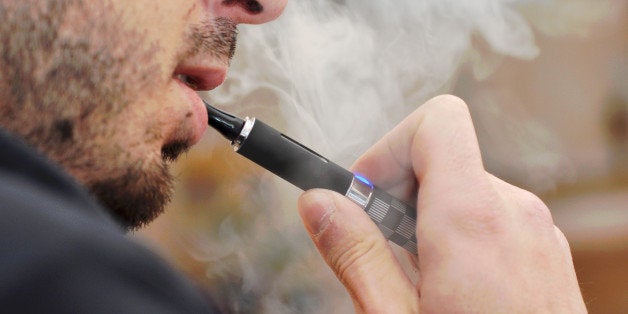 Under the leadership of Mayor Rahm Emanuel, Chicago was the first of the 20 largest U.S. cities to propose legislation to include e-cigarettes in their clean indoor air law. Following Chicago's lead, New York, Los Angeles and San Francisco also introduced and subsequently passed, legislation to add e-cigarettes to their smoke-free laws. All of these cities implemented their laws together -- in April 2014.
It is unprecedented for the three largest cities in the U.S. -- New York, Los Angeles and Chicago -- to implement an important new health law at the same time. Substantial support and technical assistance was also provided by Americans for Nonsmokers Rights, the Campaign for Tobacco Free Kids, the Big Cities Health Coalition, the National Association of City and County Health Officials and of course, our colleagues in other cities.
As of April 2014, a total of 172 jurisdictions have now passed similar laws. Across the country, that number represents more than 38 million residents and hundreds of millions of tourists and visitors being protected by these laws. These numbers continue to increase each week as more cities and towns take action.
Adding e-cigarettes to smoke-free laws is also practical. People who want to smoke e-cigarettes can continue to do so in the same places where regular cigarettes are smoked, while everyone else can continue to breathe clean air wherever they work, learn and play.
In addition to ensuring everyone has the right to breathe clean indoor air, smoke-free laws create an environment that encourages smokers to quit and discourages kids from ever picking up a nicotine addiction. Legislation to include e-cigarettes in Chicago's smoke-free law will preserve these benefits at a time that e-cigarettes are exploding in popularity among kids.
Use of e-cigarettes among youth has doubled between 2011 and 2012. A rapidly growing body of evidence suggests these new devices could be acting as a "starter kit" for youth -- leading a new generation into a lifetime of nicotine addiction and increased use of traditional cigarettes, which would reverse decades of progress. As the New York Times reported last week, the e-liquids behind e-cigarettes are "powerful neurotoxins... [that] can cause vomiting and seizures and even be lethal."
Even with this new evidence, manufacturers are allowed to market these products directly to youth. While traditional cigarette manufacturers can no longer sponsor auto racing or other events, e-cigarette makers can. Even worse, e-cigarettes come in dozens of flavors that are attractive for our children, like cotton candy, bubble gum, gummy bear and Atomic Fireball.
Last week, the FDA finally proposed new rules regulating e-cigarettes for the first time. This is a step in the right direction, but the proposals will likely be tied up in reviews and possible litigation for months or longer before they will be enacted. And they don't go as far as they should. There are no restrictions on advertisements to youth and no restrictions on the flavors they peddle. Fifty years ago, the Surgeon General issued a landmark report connecting traditional cigarettes to lung cancer -- but it still took decades until Washington passed the necessary laws to protect our children from these products.
We all know it takes a long time to get things done in Washington, D.C. and here in Chicago we aren't waiting. That is why we have been proactive and taken every measure we can to protect our children from the grips of big tobacco and their more modern companion, e-cigarettes.
Under Mayor Emanuel's leadership, Chicago acted, creating innovative policies to protect kids from e-cigarettes. For example, in addition to added e-cigarettes to our smoke-free law, Chicago has moved e-cigarettes behind store counters, out of the reach of kids. Retailers will be required to have a tobacco license. If a retailer in Chicago is caught selling e-cigarettes to children, they will be fined and can have their license revoked. And, uniquely, Chicago is currently the only jurisdiction in the U.S. that has passed legislation to restrict the sale of flavored e-cigarettes within 500 feet of schools.
Chicago is using every possible strategy to help keep our young people tobacco free -- and that effort is paying off. After several years of stagnation in the fight against tobacco, we're starting to see progress again here in Chicago. In 2013, only 10.7 percent of Chicago high school students reported smoking within 30 days -- a historic low, down from 13.6 percent just two years ago. But local jurisdictions can only do so much. The FDA must also do its part, not only by prohibiting sales to kids nationwide but also restricting advertising to youth. This is why Mayor Emanuel has called on the FDA to act with a sense of urgency. The health of our children depends on it.
But in Chicago we don't wait for others to act. We lead. In 2000, one-quarter of all CPS high school students smoked. Today, that number is just above 10 percent. That's leadership. That's Chicago. Today is no exception.
Related