In October, Hollywood trade publication Variety hosted its fifth annual Power of Women event, an incredible gathering that celebrated the philanthropic work of stars Elizabeth Banks, Nicole Kidman, Amy Poehler, Charlize Theron and Kerry Washington.
While spotlighting Banks, the program featured an airing of "Just A Little Heart Attack," the whimsical video she directed and starred in that delivers the serious message about heart disease being the No. 1 killer of women.
Among the viewers that day was Sheila Wenzel, a talent agent whose client list includes Amanda Seyfried, Aimee Teegarden, Katee Sackhoff, Britt Robertson, Rebecca Mader, Shantel VanSanten, Macaulay Culkin, Annabeth Gish and more. Instead of checking her phone or kibitzing with tablemates, as she admittedly might've been doing when the lights went down and an "educational" video began, Wenzel was captivated by the tale of a busy woman downplaying her health until it was almost too late.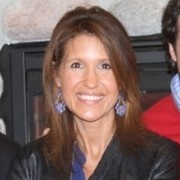 Like everyone else at the luncheon, Wenzel left the event with a gift bag of gorgeous goodies. Yet the real gift -- the one she gets to share with her 8-year-old daughter, her husband, family, friends and clients -- is the lifesaving information from that video.
Two months and two days later, Wenzel was the busy woman downplaying her health until it was almost too late. Feeling pain in her jaw and tightness in her chest, Wenzel was sweating so profusely that she peeled off layers of clothing. She was the real-life equivalent of Banks' character and, like the character, got the care she needed.
In true Hollywood fashion, the full story is far more dramatic.
It started "like an episode of ER," she recalled, with her heart racing around 300 times per minute -- five beats per second -- and paramedics screaming "We're losing her!" Wenzel's primary care doctor sobbed in front of other patients in her office because she, too, thought Wenzel was lost. Doctors eventually traced the problem to a heart defect Wenzel was born with, something called ventricular tachycardia, or "v-tach." The primary doctor realized Wenzel was "a ticking time bomb" and recruited a prominent surgeon to look at her case. Once he did, he immediately canceled a trip to China. The operation still proved to be more challenging than expected, lasting nearly seven hours. The doctor performed 10 "burns" to fix the trouble spot on her heart; he'd never done more than five on any patient.
The next morning, the first day of her life with a properly functioning heart, Wenzel thought, "This is how people live? Wow." She was soon breathing and sleeping better, which has led to her being more active and even more optimistic.
"This black cloud that I didn't realize was over me has been lifted," she said. "Even my colleagues have told me, 'You're different now.'"
Then she decided it was time for action. Time to alert more women -- and the men who love them -- to the dangers of heart disease. To harness the power of her industry to spread this message. And, she hopes, to do so in fun, whimsical ways, because that is why and how the Banks video reached her.
Thanks to Wenzel, Variety and the American Heart Association partnered to hold a "Women in Entertainment" luncheon in Los Angeles on Thursday. It was a chance for powerful women in the entertainment industry to hear her story for the first time and to use it as a call to action.
"My younger brother and his wife are anesthesiologists, and when I'd leave him a voice mail, I used to joke, 'It's your sister, the one who is just entertaining people while you are saving lives,'" she said. "Then I realized that in the entertainment business, we can actually save lives, too. An entertaining video helped save my life."
Banks' video is a great start. Wenzel already has shown it to her daughter and her friends, and they loved it. But, of course, the approach for 8-year-olds should be different from the approach to busy moms.
"I'd love to figure out a creative way for a series of videos that hit multiple demographics -- young girls, 13-year-olds, 18-year-olds and more," she said. "We've got to find some way that's going to catch their attention and get the message out there."
Wenzel has become active in Go Red For Women, the American Heart Association's movement that encourages awareness of the issue of women and heart disease, and also action to save more lives.
The candy dish on her desk is now filled with Go Red's iconic red dress pins, and her daughter distributed them to her friends' moms on Valentine's Day. On National Wear Red Day, Wenzel encouraged her clients to "text it, tweet it, social media the heck out of it," and they did. Many received gripping replies, such as a girl whose friend had been released from a hospital despite still having a racing heart, a message that hit Wenzel especially hard.
But she's only one person. She needs help from her peers -- the other women who have used their iron wills to get to the top of the entertainment industry and, she hopes, will now apply their steely resolve to this issue that should be of prime importance to them.
"If the right people pay attention, anything can happen," she said.
Wenzel knows her colleagues are tough because so many of them have stories of overcoming long odds, as she's done. And her story traces back long before her heart scare.
Raised on a pig farm in Minnesota, she decided at a young age that she wanted to work behind the scenes in television and film. She drove west in search of a job, living out of her car for two weeks. Once her career took off, her personal life seemed to blossom, too, with her pregnancy. That joy was tempered by a bout with preeclampsia. After delivering a 10-pound baby, she slowly but surely overcame another health issue -- obesity, losing 115 pounds over the next three years.
Sheila is clearly an amazing person. While I'm sorry a heart condition nearly took her life, I'm happy to have her as part of the fight against heart disease. This young, vibrant and beautiful woman is the face of heart disease. She inspired and encouraged her colleagues to join the fight and I can assure you that as she told her story to leaders in the entertainment industry, there was not a dry eye in the room. Inspired and with new knowledge and a new resolve, each woman left the luncheon with renewed commitment to their own health, and to helping Go Red For Women impact many women's lives through their powerful industry. I know that Shelia's energy and passion will touch many, many lives.