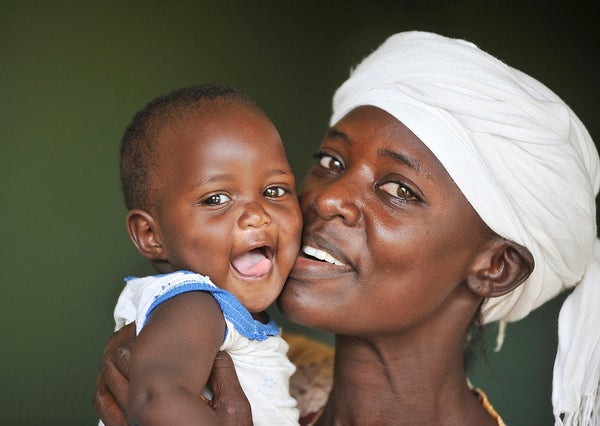 When Kamohelo's HIV test came back positive, she was devastated. What started as a routine prenatal visit for this 27-year-old pregnant mother in Lesotho had left her contemplating suicide.
Fortunately, a local mentor mother supported by the U.S. President's Emergency Plan for AIDS Relief (PEPFAR) was by Kamohelo's side. She informed Kamohelo that by consistently taking antiretroviral medications there was a good chance her baby would be born without HIV and both of them could live long, healthy, and productive lives.
Kamohelo, feeling encouraged, began her antiretroviral treatment, joined a support group, and ultimately delivered an HIV-negative baby boy. Eight months later, Kamohelo successfully applied to become a mentor mother herself. She is now sharing her experience and assisting other mothers to stay healthy and have HIV-free babies.
This Mother's Day, we celebrate the millions of mothers around the world who, like Kamohelo, stay AIDS-free, care for their children, support their families, and strengthen their communities. We also recognize the compassion and generosity of the American people who, through PEPFAR, have saved and improved the lives of mothers, children, and families around the world.
In 2016, PEPFAR supported life-saving antiretroviral treatment for 11.5 million men, women, and children. Last year, PEPFAR also provided HIV testing and counseling for 11.5 million pregnant women, enabling almost 760,000 HIV-positive pregnant women to receive antiretroviral medications both for their own health and to reduce the risk of mother-to-child transmission of HIV. In PEPFAR-supported countries, 99.5 percent of identified HIV-infected pregnant women were initiated on lifelong antiretroviral treatment. And thanks to PEPFAR and the support of American people, nearly 2 million babies have been born HIV free to pregnant mothers living with HIV.
At the height of the HIV/AIDS pandemic in the late 1990s, the picture was bleak. At that time, access to treatment was extremely limited, especially in sub-Saharan Africa where the rate of new HIV infections was exploding. Without treatment, the majority of pregnant women living with HIV died before seeing their children grow up, and many of their children were themselves infected with HIV, passing away before their lives had truly begun. Today, all pregnant women accessing PEPFAR services are immediately offered lifelong antiretroviral treatment if they are diagnosed with HIV, enabling mothers to thrive and watch their children do the same.
PEPFAR's support does not stop after mothers give birth. Even though Kamohelo's son was born HIV free, had she stopped taking her medication, she would have endangered her own health and risked a 15 to 25 percent chance of passing HIV to him while breastfeeding. In Kamohelo's case, the support she received during this critical time proved successful when her son's HIV-negative status was confirmed at age 18 months.
As a result of PEPFAR's and the international community's expanded efforts – largely through a Global Plan to protect mothers and babies from HIV/AIDS – there was a 60 percent decline in the number of new HIV infections among children in 21 high-burden sub-Saharan African countries between 2009 and 2015.
But our work is not done. In 2015, 150,000 children became newly infected with HIV and 1.8 million children were living with HIV/AIDS, only half of whom had access to antiretroviral treatment. Every year, over 390,000 adolescent girls and young women become infected with HIV – more than 1,000 a day. In sub-Saharan Africa, nearly three out of four adolescents newly infected with HIV are female, and in some countries young women are up to 14 times more likely to contract HIV than young men.
These startling statistics are why PEPFAR, alongside the Bill & Melinda Gates Foundation, Girl Effect, Johnson & Johnson, Gilead Sciences, and ViiV Healthcare, are leading the DREAMS public-private partnership, whose programs have reached over 1 million adolescent girls and young women.
They are also why PEPFAR and the Children's Investment Fund Foundation spearheaded the two-year Accelerating Children's Treatment (ACT) initiative, which helped nearly 562,000 children receive treatment in nine high-burden sub-Saharan African countries.
With focus, commitment, and impact, we can reach the day when every child is born HIV free, every child who is already living with HIV will receive life-saving treatment, every girl and boy will remain HIV free throughout adolescence and young adulthood, and every woman living with HIV – pregnant or not – will receive the treatment and care that she needs. PEPFAR, the Joint United Nations Programme on HIV/AIDS, and other partners are spearheading the Start Free Stay Free AIDS Free framework – a super fast-track approach toward ending AIDS among children, adolescents, and young women – to help make this vision a reality.
We have made tremendous progress, but this is no time to slow down or rest on our laurels. PEPFAR's commitment to mothers – #PEPFAR4Moms – remains stronger than ever, not only on Mother's Day but every day. Together, we have the extraordinary opportunity to control and ultimately end the AIDS epidemic as a public health threat – creating a world that is healthier, stronger, and safer for mothers and us all.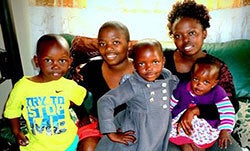 Related
Popular in the Community