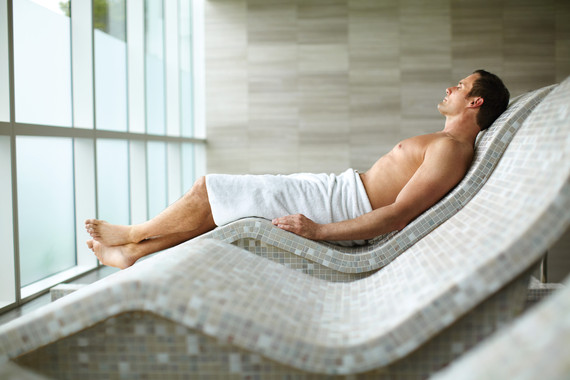 This year's New Years resolution to get healthy is easier than ever, if you happen to live near Baltimore, Maryland. The spa at the Four Seasons Baltimore has added a host of wellness options to its already health-centric offerings.
The 10,200-square foot spa at this Four Seasons has set the standard for the Mid-Atlantic and is often found on "best of" lists. Overlooking Baltimore's Inner Harbor, its very location is a study in relaxation.
From the moment you walk into the hotel spa, all blond wood and tame-hued textiles yanked back from the edge of bland by the use of textures and pattern, you are surrounded by visual cues to slow down and look after yourself.
The myriad water therapies alone could occupy even the most skitterish spa-goer for an afternoon. There's an aromatherapy steam room cloaked in mosaics; there's an ice fountain counterbalanced with a pristine sauna; there's a shower crowned with a galaxy of tiny lights that can be customized with tropical and arctic mists or massaging body jets; and there are inviting loungers anchored to individual vitality pools.
Although there's a comfy waiting room stocked with herbal teas and healthy treats, there's no better place to prepare for a treatment (and procrastinate before joining real life after a treatment) than in one of spa's warm contoured loungers, which radiate gentle heat from your head down to your ankles.
Book an early treatment and plan to stay through the day. In good weather, you can soak in the view of the Inner Harbor from an outdoor deck. Any time of year, you can order a healthy lunch from Michael Mina's trendy Wit & Wisdom, which is located in the lobby and have it delivered to a private room in the spa.
New, innovative treatments round out the vast spa menu, including a few New Age-y treatments that feel so good you don't have to be a believer to get the benefits. Here are few of the highlights:
+ Himalayan salt crystal treatments, where therapists manipulate the stones mined from a primal sea beneath the Himalayan Mountains to balance the body's electromagnetic field, central nervous system and meridians.
+ "Bar therapy," where a massage therapist's body weight is used to knead tight muscles and jumpstart the lymphatic system.
+ The spa maintains that ginger has healing properties, so it's combined with minerals to create an invigorating full body exfoliation. That's followed by targeted acupressure along the ear and scalp.
+ There is an entire section of the spa menu dedicated to "Energy Work," including Reiki healing, which leaves you calm and centered, chakra balancing, designed to increase the healthy flow of energy through the body, and a treatment called "reconnective healing," which promises to connect you with the fullness of the Universe. For a limited time , until January 15, Cyndi Tryon, a spiritual advisor will be on hand, at the spa to do private 45-minute, in-depth readings.