Busy New Yorkers often settle for store bought lunch and the excuse they give is time or lack there of. I get it, New York is hectic and the kitchens are small, but using leftovers to create a simple and nutritious lunch is easier than one might think.
Last week I served, the staff at the Branding Agency Ro New York and the Fashion Brand Title of Work, a healthy and fresh New York lunch at their stunning office in the Flatiron District.
I recommend buying all groceries for the week ahead on Sundays and then use a couple of hours to plan and prep. Wash all the salad, make two different dressings, cook barley, make soup and plan you dinners so that you can more easily plan your leftover lunches.
All the dishes are made with simple every day ingredients, definitely something I have in the fridge and pantry drawer at home.
Remember, you do not have to follow my recipes to the letter, use them as inspiration and experiment with your own ingredients.
I made four tasty dishes for the staff at Ro New York and Title of Work;
Kale Salad with Vanilla, Kelp Noodles with Miso Beets, Lentil Soup and Zucchini Spaghetti with Pistachios.
Yes, I did say Kale with Vanilla!
My friend Ditte at the beautiful Danish Blog The Food Club taught me to add vanilla to bitter greens such as Kale and Brussel Sprouts, and let me tell you it is some of the best advice I have ever received. I know this sounds a little weird, but it is super yummy!
Kelp Noodles are raw noodles made of an edible brown seaweed that contains high amounts of iodine. They are a great low carb alternative and their crispness is a party for your mouth. Get them at your local health store, Whole Foods or other large organic markets.
For the Miso Beets I use leftover miso soup from my Japanese take out the night before!
You need a spiralizer to make vegetable Spaghetti, they come in various sizes and versions, I use this one.
Here is my recipe for Baked Tomatoes, I always keep a jar in my fridge and throw on to sandwiches and pasta dishes.
Voila, a New York Lunch is served!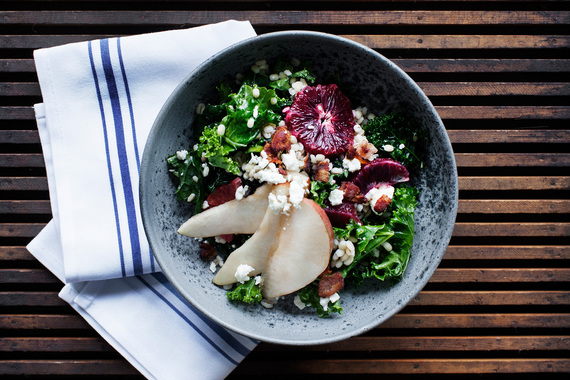 KALE SALAD WITH VANILLA
Handful Kale
1 tbsp. Olive Oil
1 tsp. Apple Cider Vinegar
1 tsp. Lemon Juice
1/2 tsp. Pure Vanilla Essence
1/2 tsp. Maple Syrup
1/2 cup Pearled Barley
2 slices Smoked Bacon
1/2 Blood Orange
1/2 Pear
2 tbsp. Crumbled Feta Cheese
Trim the stems of the Kale, then cut into small pieces
Make the dressing; oil, vinegar, lemon juice, syrup and vanilla and then massage it into the kale
Cook the pearled barley using the instructions on the package
Fry the bacon on a pan or in the oven until crisp
Peel and slice pear and blood orange
Mix everything in a large bowl and sprinkle with feta cheese (and pommegranits if you have it)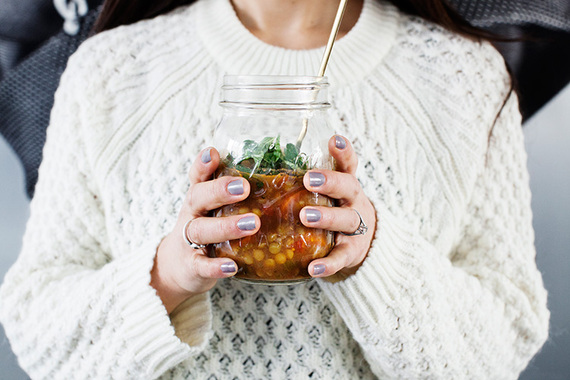 LENTIL SOUP
2 tbsp. Olive Oil
1/2 tsp. Ground Cumin
1/2 tsp. Ground Coriander
1/2 tsp. Paprika
1/2 tsp. Chili Flakes
2 Yellow Onions
3 Cloves Garlic, pressed or finely chopped
4 Carrots
2 Stalks Celery
1 cup Broccoli
12 oz Green Lentils
6-8 cups Water
2 cubes or 2 tsp Vegetable Boullion
1 can Crushed Tomatoes
Salt and Pepper to taste
Fresh Parsley and Mint for garnish
Heat the olive oil and spices together over medium heat in a large pot
Chop the onions and add to the spices. When the onions are clear add the garlic
chop carrots, celery and broccoli and add to the pot
When the vegetables start to soften add the lentils. Give it a good stir
After few minutes, add water and boullion (or vegetable stock), crushed tomatoes
Let simmer for 15 minutes or until the lentils are cooked. Salt and Pepper to taste.
Garnish every plate with finely chopped parsley and/or mint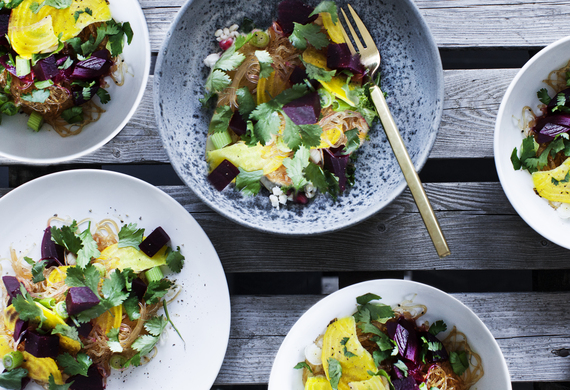 KELP NOODLES WITH MISO BEETS
1 Beet
Miso Soup
Kelp Noodles
1 tsp. Sesame Oil
1 Spring Onions
Fresh Cilantro for garnish
Peel and cut the beet into small pieces, then boil in miso soup until tender. Then sift and discard soup. Place beets in a box and store in the fridge.
Mix sesame oil, fish sauce, lime and sugar together. Then throw the noodles in there and let them soak.
Take the noodles out of the marinate and mix with the beets.
Chop the onions and cilantro and sprinkle over.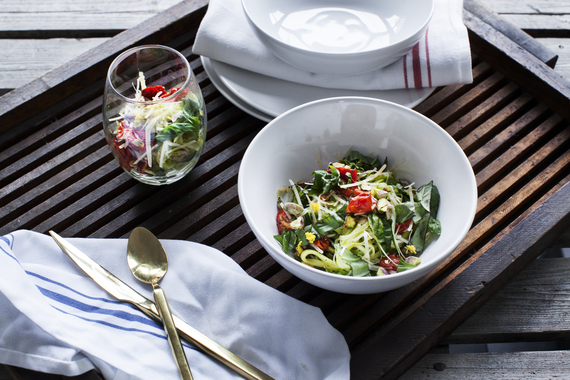 ZUCCHINI SPAGHETTI WITH PISTACHIOS
1 Zucchini
2 tbsp. Lemon Juice
1 tbsp. Pesto
1/2 cup Pistachios
1/4 cup Baked Tomatoes
1/4 cup Shaved Parmesan Cheese
Handful Fresh Basil
Salt and Pepper to taste
Usa a spiralizer or mandolin to make zucchini spaghetti
Mix everything together and eat right away
I recommend dressing the spaghetti at the office to avoid it becoming soggy. Place the noodles in a zip lock and the other ingredients in a box or separate bag.