Maybe you're the kind of person who lives for your next recipe -- you pore over cookbooks to find your next project, and you take painstakingly styled Instagram photos of each plate you build. Or maybe you're the kind of person who can't even be bothered to throw a packet of instant ramen into a boiling pot of water, so you just munch on it raw (which is delicious, by the way).
But no matter who you are, the last thing thing you want to do at the end of a long day is stand in front of a stove one second longer than you have to. And if you're feeling that sort of way, you probably hate doing dishes even more. Enter: one-pot pasta.
The magic of one-pot pasta isn't just that you make it all in one pot -- it's that you never have to clean out the pot or drain the pasta until the entire recipe has been completed. You throw all your ingredients in, bring it to a simmer, and wait 9 minutes for your dinner to be done.
Here's our favorite way to keep it healthy, but you can alter the recipe to suit your tastes. Want to throw in some olives? Go for it. Add a little cream? Sure. Toss in some diced hot dogs? Please don't, but fine. You can. Watch the video above, then give it a shot and let us know how yours turned out.
Healthy One-Pot Pasta
12 ounces cherry or grape tomatoes, halved

1 onion,

diced

1 cup

canned artichoke hearts, drained

1 cup

frozen peas

4 cloves garlic,

minced

1/2 teaspoon red pepper flakes

A big handful of fresh basil

,

chopped

2 tablespoons extra-virgin olive oil

Salt and pepper

12 ounces dried pasta of your choice (we used linguine)

4 1/2 cups water

Freshly grated Parmesan, for serving
Combine all the ingredients in a large pot. Bring to a boil, uncovered, over high heat. Once it's boiling, lower to a simmer and cook for about 9 minutes, or until all the liquid has been absorbed. The most important step of this entire process: STIR OFTEN. Otherwise it'll stick to the bottom of the pan. Stir every minute or so, if you can. Serve with a little Parmesan sprinkled on top, and enjoy!
Related
Before You Go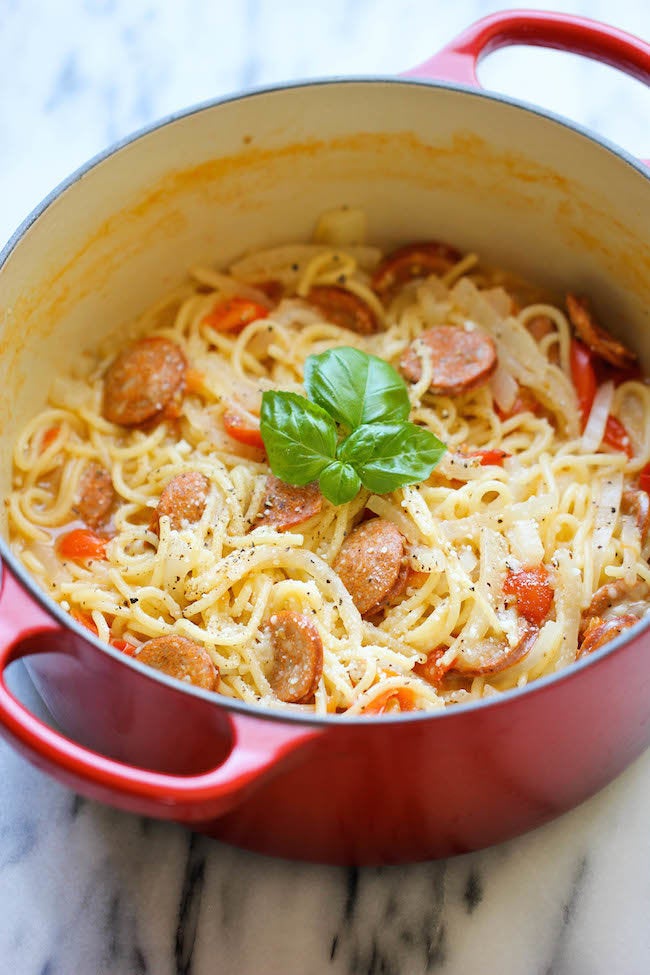 One Pot Pasta