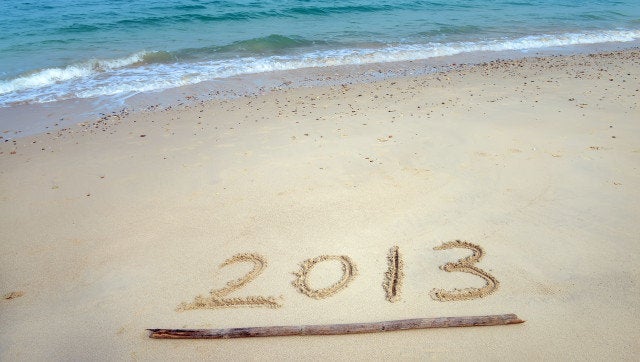 I write to you today while sitting in the midst of a hopping little coffee shop. I chose this place not because of its cozy ambiance or powerful brew... but for a different reason altogether.
I hate sitting in that perfect little office -- the one I so enthusiastically set up in my house a few months ago -- and attempting to work through a project. It's isolating and too quiet. I find I'll do anything to get up and distract myself, including walking over to the fridge to soothe myself with something carb-ish.
I've always hated working alone, but for most of my life I just told myself to suck it up. I'd tell myself that I could be happy and efficient if I just forced myself to sit in the office and work through the pain.
And all that time it wasn't true.
We kid ourselves all the time.
We kid ourselves about the satisfaction or mandatory obligations we have around our jobs, our friends, our families. We tell ourselves things are fine or -- if they're not -- that there's nothing we can do about it anyway.
And sometimes that's true. But not nearly as much as we like to believe.
Every year I engage in a simple little test that helps me figure out just how I'm kidding myself. This year's process led me directly to the bright, airy and busy little place I sit in right now. No carbs necessary.
As you gear up for the new year, you might just want to test this out for yourself. Therefore, I present to you now...
Deirdre's Guide to Tell If You're Kidding Yourself
The process is quite simply, really. It's a series of short, straightforward questions. Let us begin.
Question #1: What were my top three moments of the past year?
We start out nice and easy, allowing you to reflect on your highs of the past 12 months or so. Did they happen at work? With a loved one or friends? Was it while traveling? Relaxing? Engaging in a hobby or sport? I actually break out my calendar and look through my projects, meetings and trips. Every year I'm somewhat surprised by what rises to the top, and even more surprised by what doesn't even come close.
When you figure out what your moments have in common, you'll figure out not what you think you should be doing, but what you love to do, both professionally and personally. It'll also tell you who you like hanging with. Important, as you'll see.
Question #2: What were my three least favorite moments of the past year? These aren't about those monumental moments like grieving a loss or losing a job. They are more simple, like certain projects, meetings or tasks you had to do on a regular basis.
Cleaning the house, attending a certain committee meeting and -- of course -- sitting in my office alone have all been on my list. Facing your least favorite moments helps you recognize what (or who) is not working well for you -- and what's just sucking that life right out of you.
Question #3: How do I feel on a Sunday?
This one is about your job. (For those of you who don't work the standard schedule, ask yourself how you feel on the day before returning to the work week.)
Do you find yourself a bit cranky? Extra tired or low on energy? Anxious? Is there a particular project you're dreading? People you're dreading? Or are you eager and excited? Look for some consistency from week to week. It'll tell you what you need to know... and if you need a change.
Question #4: What do I want to do more and what do I want to scrap forever
Look at your answers to the first three questions. What themes bubbled up to the surface? What tasks or memories delighted you more than any others? What projects filled you with dread? Recognize what fills you with energy and what brings you down. Then make a decision to add more of the first and subtract some of the second in the coming year. Know that you do have choices, even if it scares you.
Question #5: Who do I want to see more and who needs to exit my life pronto
You had to know this one was coming. Look again at your best and worst list and listen to your mind and heart. Then make the choice to surround yourself with those who inspire, support and energize you.
Phase out the others as you can. Lose the guilt. Yes, these choices can be painful. But in the end, life's too short to be around negative, energy-sucking people all the time, yes?
No, this process isn't easy -- there's a reason that ignorance can feel like such bliss. Because when you kid yourself, then you don't actually have to do anything that causes change or ill feelings.
But... Just think of what might happen if you add in some more good stuff and subtract some of the stuff you hate. Imagine it. Then make it so.
I did. That's why I'm out of my home office -- and sitting next to a woman who is working quietly and giving me all kinds of energy without even knowing it.
Today, take 20 minutes and answer the questions honestly. Recognize how you're kidding yourself. Then plan a few changes for a better year to come.
Pick one or two to start. Don't think about the immediate pain that might follow your decision. Focus on the good stuff that comes after it... then act. And see how great your 2013 can really be.
Now go do good... and do it well.