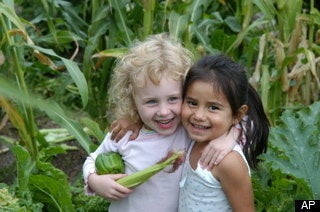 Earlier this month, First Lady Michelle Obama addressed hundreds of school nutrition professionals from across the nation to advocate for adequate funds for healthy school meals. The event was part of the School Nutrition Association's (SNA) 38th annual Legislative Action Conference and took place in Washington, DC. SNA represents 55,000 school nutrition professionals and is committed to further improving the nutritional quality of school meals and advancing nutrition education for America's students. Miguel Villarreal, Director of Food and Nutritional Services for the Novato Unified School District, in California, attended the conference and answered some of my questions.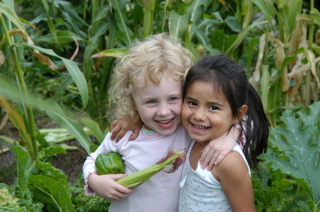 To do your job, you are handed about a buck per student and expected to feed them a nutritious lunch. How often do you want to curl up in a corner of the cafeteria and ease your frustration by devouring a Chocolate Beer and Whiskey cupcake
For each free and reduced-price lunch served, the Federal government provides $2.68 and $2.28 respectively. In 2007, Senate bill (SB) 80 set the state meal reimbursement rate for all free and reduced price meals at $0.2195, and tied state meal reimbursement to meeting certain nutrition standards. However, this rate was reduced to $0.022 for June 2008 because meal participation exceeded the appropriation cap for 2007-08. This year will be even worse with the California Department of Education projecting a rate reduction to less than $0.01 for June 2010. The State reimbursement is supposed to offset the state meal mandate as well as the increased cost to food service due to enhanced nutrition standards in California. Bottom line, we have about $1.00 for food expenses to provide a healthy, well-balanced meal for all students, ages 5 - 18. I don't have to tell you that an 18 year old does not eat like a five-year-old, but I have to make it work with the same $1.00!
Because of the meat scares and safety issues publicized at slaughterhouses in 2008, you took beef off of the school lunch menu in your district. How many death threats did you receive and did you hire Oprah's lawyers to defend you?

No death threats. Actually, I have not served any beef products to the students in Novato for the last 3 years. The Beef Council contacted our Child Nutrition State Director located in Sacramento when I first took beef off the menu. They wanted to know what she was going to do about me not serving the students beef. She supported my decision and I never heard from them. The day a local beef grower can sell me organic, grass-fed beef at the same price that the USDA sells to the schools, is the day you'll see it back on the menu.
What can California parents do, besides complain, to support you and school lunch programs nationally?

Only thirty percent of the students in my district qualify for free or reduced meals.
An increase in students who can afford to buy the school lunch allows us to continue to purchase and provide all students healthier products due to the economies of scale.
In the Novato School District we've eliminated all foods that contain Trans Fats, chocolate milk in elementary schools, all juice products and all beef. We offer vegetarian meals and fresh fruits every day, many locally and organically grown. However, the healthier our menus get, the less students we serve! We need parents to use our menus and website as an educational tool to help guide and teach their children about healthy, nutritional choices. Remember, many of our children were eating chicken nuggets and other processed foods long before they entered the first grade. We as parents, have a huge influence on children's eating behaviors. We have to be good role models for our children in order for them to develop healthy, eating behaviors for life.
Novato schools just recently began composting cafeteria leftovers. This new thinking is reducing organic materials (and methane) in overcrowded landfills and is teaching the next generation to recycle and reuse. Everyone thought it was a 'wacky-wormy' idea till they realized it would save the school district $55,000 annually in trash removal. Now everyone thinks it's brilliant!
This reminds me of the old saying, how do you eat an elephant, one bite at a time. The composting program is a start to a very important project, composting in general. We have started with composting the food scraps in the Central Kitchen and will be expanding the program to all the sites. This is where we will realize the true benefits of composting and the savings in true dollars.

You seem optimistic about this year's conference. So, maybe you won't need that Chocolate Beer and Whiskey cupcake after all?
Our theme is always Child Nutrition and this was the 38th Legislative Action Conference. Many of us who have been in this industry (28 years for me) are excited that the First Lady has decided to make 'Childhood Obesity' her platform. The message that the First Lady delivered and is promoting in her "Let's Move" campaign are the same initiatives that many of us been promoting for years, such as healthier meals in schools, involving parents on proper nutrition and ensuring that children and families are being physically active. The First Lady spoke at one of our LAC general sessions and we're glad that she's championing this very important national crisis of childhood obesity and the many chronic illnesses that are attributed to poor dietary habits.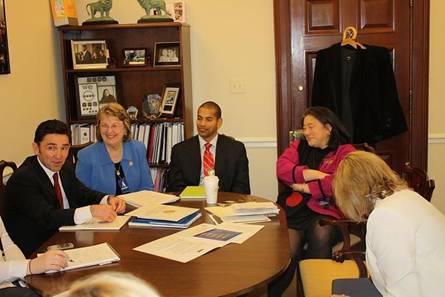 Related