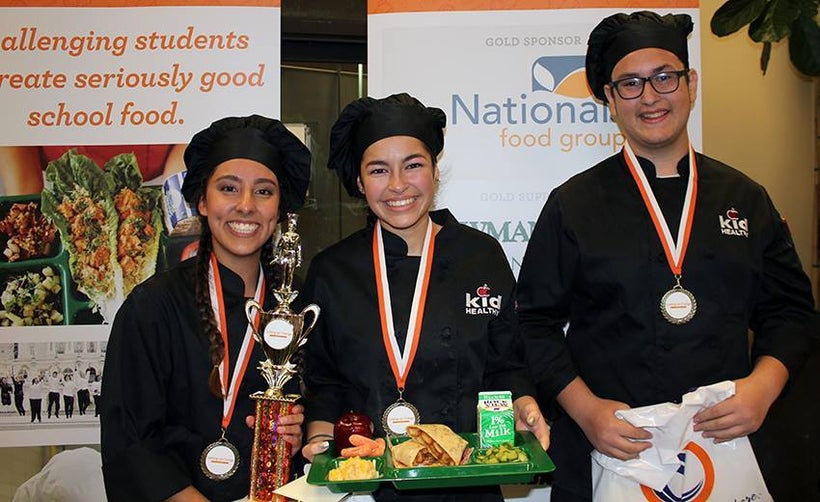 Twenty-two high school students, from seven cities across the country, were in Washington, D.C. recently to prove that school food can be good for you and taste great. Competing in the Healthy Schools Campaign's Cooking up Change National Finals at the Department of Education, teams of student chefs created healthy meals that meet the real-life requirements of the national school meal program.
"I was impressed that they took a bold approach to create a school entree students would enjoy. They presented well and deserved to be winners," said Audrey Rowe, a consultant and former administrator for the Food and Nutrition Service of the U.S. Department of Agriculture.
After Rowe and the other esteemed judges tasted all of the team's dishes, the Greater Orange County team took first place with Detroit and Phoenix finishing second and third respectively.
"We're gardeners, not culinary students," said Kyle Davis of Frederick Douglass High School in Detroit. Not considering himself to be a chef, Davis turned what he grows into a meal wanting to "see more nutritious meals in schools, overall — having healthier options for students," he said.
Meals were judged on their originality, taste, texture and appearance, earning additional points for the quality of their presentation to the judging panel. The dishes were required to adhere to the current school lunch standards and had to include a grain, a meat or meat alternative, a fruit and a vegetable. They also had to be between 500-600 calories, stay under sodium limits, cost no more than $1.25 a person, and be easy to replicate on a large scale.
"You don't have to sacrifice flavor to eat smart," Education Secretary Betsy DeVos told the students encouraging them to "think big and act boldly" when it comes to their futures.
While in D.C. the students also met with senators and representatives to share their experiences and talk about the importance of healthy school food. Senator Dick Durbin, of Illinois and the national honorary co-chair of Cooking up Change; Senator Ted Cruz from Texas, and Representative Barbara Lee from California were among the legislators that interacted with the students who voiced their thoughts on the importance of quality school food.
"Cooking up Change provides students with the opportunity to impact the food being served at schools across the country and engages them in the national dialogue about school food, making it an impactful learning experience for everyone involved," said John Hanner, president of Aramark's K-12 business.
"Aramark is committed to enriching and nourishing the lives of the millions of children we serve each year and is proud to be the National School Nutrition Partner for Cooking up Change," said Hanner.
Aramark, the award-winning food and nutrition partner with more than 380 school districts nationwide, is Cooking up Change's national school nutrition partner that provides almost 370 million meals annually to 2+ million children. The company also tailors facility services programs to meet the needs of more than 130 school districts across more than 2,700 buildings, and is the only provider that generates insights & actions based on direct feedback from over 100,000 middle and high school students annually.
Healthy Schools Campaign launched Cooking up Change in Chicago in 2007. More than 1,800 students from 20 cities have participated in local contests since the inception of the program.
Cooking up Change National Finals 2017 Competing Teams
Boston | Boston Public Schools: Madison Park Technical Vocational High School | Joahnaliz, Jennifer, SaiAnna and Ashley | Sauteed Chicken, Onions and Peppers with Brown Rice, Fresh Tomato and Corn Salsa and Banana Bites
Chicago | Chicago Public Schools: Richards Career Academy | Jeffrey, Naheishia, Raudel and Edgar | Vesuvio Chicken and Spaghetti, Chopped Caesar Salad and Caramelized Pear-pone
Dallas | Dallas Unified School District: Conrad High School | Jorge, Trishna and Karla | Crispy Chicken Tender Wrap, Sassy Italian Corn and Banana Delight
Detroit | Detroit Public Schools Community District: Frederick Douglass High School | Kyle, Gerald and Andre | Zesty Chicken Rice Bowl, Tomato Lime Cucumber Wheels and Yogurt Splash
Oakland | Oakland Unified School District: Ralph Bunche High School | Jaye and Jimmy | Thai Chicken Roll-up with Dipping Sauce, Steamed Broccoli and Spiced Applesauce
Greater Orange County | Fullerton Joint Union High School District: La Habra High School | Carlos, Yasmin and Isabella | Chicken Kashmir, Pepino Curry + Tropical Kheer
Phoenix | Deer Valley Unified School District: Barry Goldwater High School | Jason and Michael | M&J Curry, Zesty Curried Corn and Potatoes and Darn Good Bananas
Cooking up Change National Finals 2017 Honorary Chairs
U.S. Senator Dick Durbin | Chef Daniel Giusti
Cooking up Change National Finals 2017 Judging Panel
Cathal Armstrong - Owner and Executive Chef, Restaurant Eve | Deborah Delisle - Executive Director and Chief Executive Officer, Association for Supervision and Curriculum Development | Samuel Ebbesen - Lieutenant General, U.S. Army (Ret.), Mission: Readiness | Daniel Giusti - Founder and Chef, Brigaid | Robert Jaber - Director of Food and Nutrition Services, District of Columbia Public Schools | Yvette Jackson - Acting Deputy Under Secretary of Food and Nutrition Service, U.S. Department of Agriculture | Paul Kesner - Group Leader with the Office of Safe and Healthy Students, U.S. Department of Education | Myeta Moon - Director of Health, United Way Worldwide | Mary Cathryn Ricker - Executive Vice President, American Federation of Teachers | Audrey Rowe - Consultant and Former Administrator for the Food and Nutrition Service, U.S. Department of Agriculture | Rwaida Saeed - Student, MERIT Health Leadership Academy | Dr. Heidi Schumacher - Deputy Chief of Student Wellness, District of Columbia Public Schools | Kyle Serrette - Director of Education Justice Campaigns, The Center for Popular Democracy | Kathy Siever - Grants, Newman's Own Foundation | Mercedes Thompson - Student, MERIT Health Leadership Academy
REAL LIFE. REAL NEWS. REAL VOICES.
Help us tell more of the stories that matter from voices that too often remain unheard.
This post was published on the now-closed HuffPost Contributor platform. Contributors control their own work and posted freely to our site. If you need to flag this entry as abusive,
send us an email
.