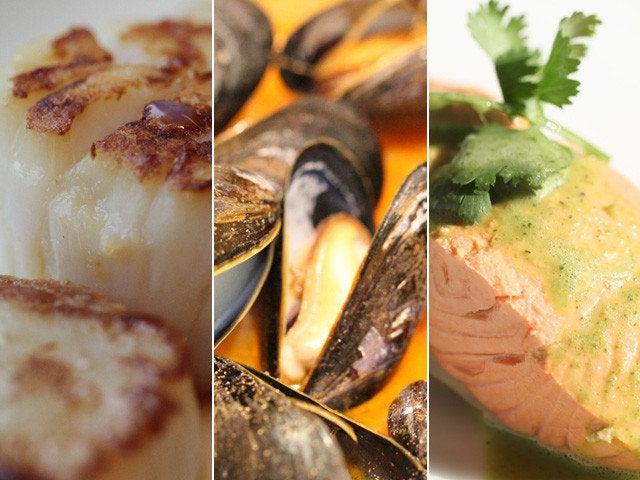 It doesn't get much better than seafood in the summer! And to honor the season's end, here are three healthy and delicious recipes you can make for yourself or to show off to friends in 15 minutes or less! Using quick cooking techniques such as poaching, simmering and pan-searing, these dishes can also become your go-tos during dinnertime rush hour.
Maximize Taste. These dishes don't sacrifice an ounce of taste. When it comes to flavor, I don't espouse to the notion that "healthy food" can't taste as good as foods made with butter, cheese, cream and sugar. On the contrary, healthy food, when prepared as in the recipes below, not only embodies deliciousness, but takes taste to the next level. That's primarily because the healthiest foods are those made with ingredients that are the most fresh and the most unaltered from their natural origins -- and these types of ingredients always deliver the most flavor. Combining high-quality ingredients with the art of simple seasoning and cooking techniques, will always yield a delectable forkful.
Maximize Healthy. Seafood in moderation can hold a special place in a balanced diet, particularly because of the density of heart healthy omega-3 fatty acids and protein that it contains per gram, as well as important B vitamins (particularly B12), and low levels of saturated fat (at least compared to land-based farm animals). While America's poultry and beef consumption is unhealthily sky high, we surprisingly consume less fish and shellfish than many other developed nations including France, Italy, Japan and Canada.
Before diving into the recipes, here are some of my basic Seafood Cooking Rules:
Rule #1: Choose sustainable seafood whenever possible. The oceans and seas -- like our land masses -- are continually being degraded by man, which, unfortunately, has not only caused some fish to carry harmful toxins, but has tampered with the sustainability of a breath of species. When picking out fish and shellfish, you want to make sure that your choices are good for your body, the species and the planet. The three websites below are great resources to tap into: Monterey Bay Aquarium, Marine Stewardship Council, National Marine Fisheries Service.
Rule #2: Always buy seafood from reputable sources. Fish should be on ice at all times and if fish smells "fishy," don't buy it! Eyes should be shiny and bright and gills pink or red. In the case of alive, "shell-on" products like clams and mussels, always look for an accompanying tag that indicates the date and location of harvest.
Rule #3: Learn how long to cook seafood. Always cook fish according to the 10-minute rule. Calculate a cooking time of roughly ten minutes for every inch of thickness of your fish (whole, fillet or steak). You'll know your fish is done when all of the flesh is opaque and begins to flake. Clams, mussels and oysters will open their shells as they cook. Remove them once all shells open.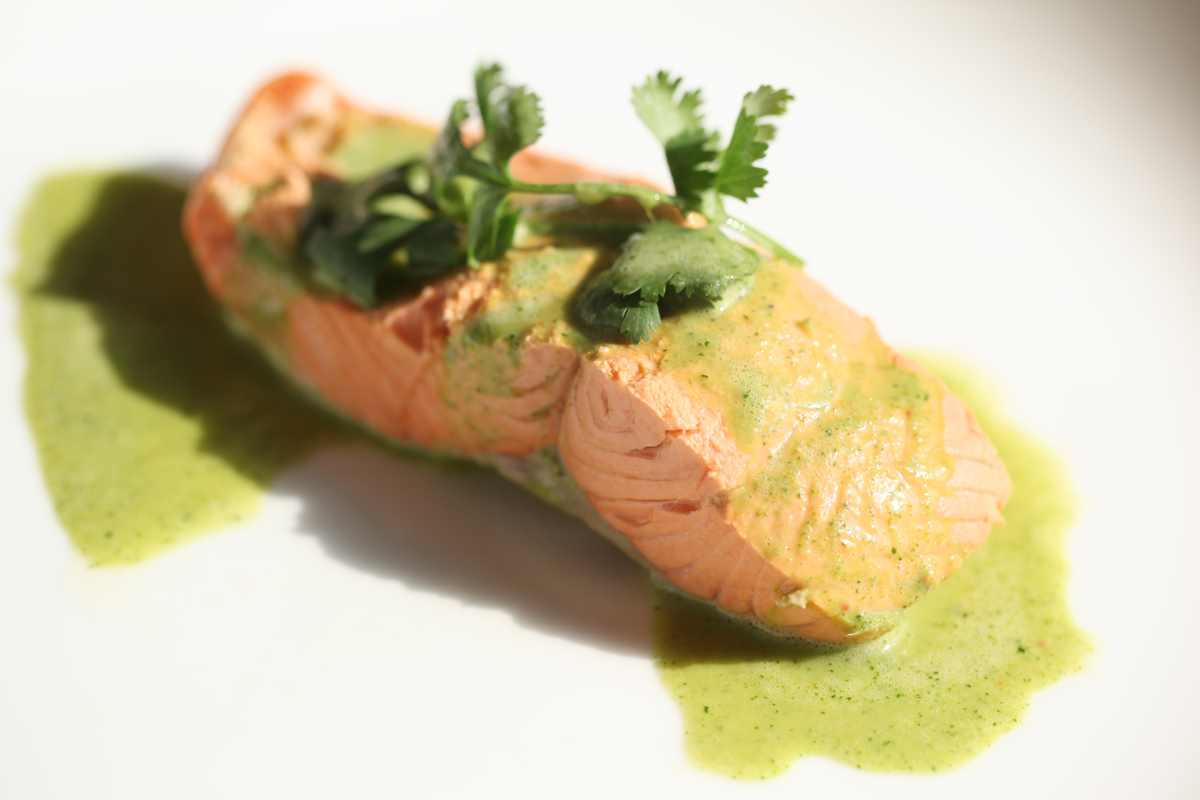 Rush Hour Poached Wild Salmon w/Chili Coconut Sauce
Yield: approximately 3/4 cup (sauce)
Servings: approximately 2-3 servings
Wild Alaskan salmon is a nutrient powerhouse, packed with immunity boosting omega 3's, Vitamin D, protein and B vitamins. This fish is both an ocean-friendly and health promoting choice and labeled under the "Best Choices" category according to the Monterey Bay Aquarium Seafood Watch Program.
Ingredients
For Sauce:
¼ extra virgin olive oil or coconut oil
2 large cloves garlic, peeled and roughly chopped
½ cup light organic coconut milk
1 ¼ to 1 ½ teaspoon roasted red chili paste (depending on desired heat intensity)
½ x ½ x 1 inch piece peeled ginger, roughly sliced
2 teaspoons lime juice
1/3 cup fresh coriander leaves
1 large pinch sea salt to taste
For Salmon:
1 cup organic low sodium vegetable broth
filtered water
½ lb wild sockeye salmon fillet, skin removed, and cut into 2-3 pieces lengthwise.
Procedure
1.In a small heavy saucepot, heat oil over medium-low heat. Then add garlic, stirring to coat all pieces with oil. Sauté under gentle heat for just a minute or two, until the garlic softens slightly, making sure it doesn't pick up any color.
2.Add coconut milk, stir and cook for 2 minutes over low heat, making sure liquid is not heated above a gently simmer.
3.Immediately remove mixture from stove and pour into blender glass jar. Add remaining ingredients for sauce and blend for 30 seconds or until coriander leaves are sufficiently chopped.
4.To begin salmon, pour vegetable broth into a heavy saucepan and add an amount of water to sufficiently cover salmon fillets. Bring to a boil, then lower to a simmer. Drop fillets into poaching liquid and poach for 5 to 10 minutes (depending on thickness of fillet).
5.Remove fillets, place on serving dish, drizzle with a generous amount of sauce, and enjoy immediately!
Copyright © 2010 Pooja Mottl. All rights reserved.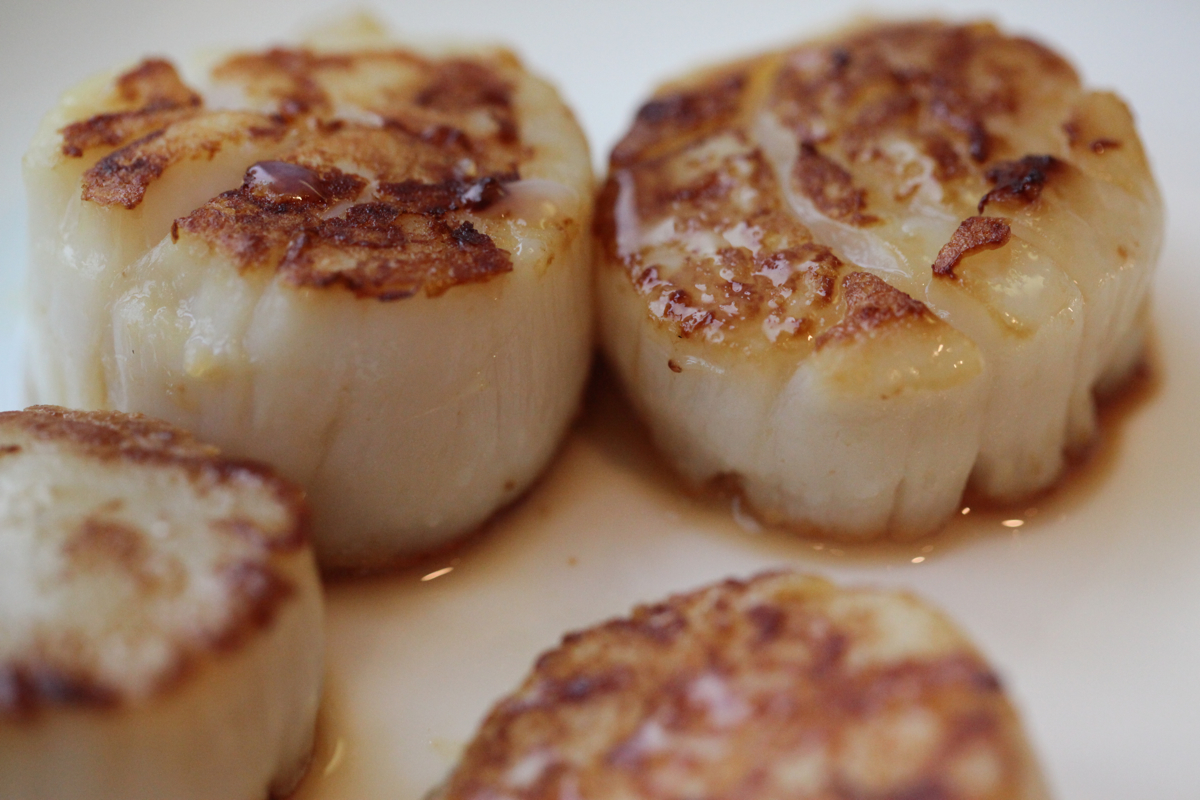 Pan Seared Sea Scallops
Yield: 8
Total Time: approximately 5 to 8 minutes
Scallops have a beautifully sweet taste and texture. Add them to salads or drizzle with your favorite citrus vinaigrette. Sea scallops are classified under "Good Alternatives" in terms of their ocean-friendly rating by Monterey Bay Aquarium Seafood Watch. The most favored types are diver caught scallops, which have the lowest environmental impact when harvested. Sea scallops are a good low-fat source of protein and are high in selenium and B vitamins. They're also a good source of omega-3 fatty acids as well as magnesium and potassium.
Ingredients
2-3 tablespoons organic expeller pressed canola oil or pasture/grass-fed butter
8 sea scallops (about ½ lb), preferably diver caught, rinsed and patted dry
sea salt to taste
Procedure
1.Warm oil in pan over medium-high heat, elevating it to a searing-ready temperature.
2.When oil begins to slightly smoke, add scallops, one at a time, using tongs. You should here a nice "sizzle" as you place each scallop onto the pan. And after placing each scallop onto the pan, remember not to move it.
3.When you begin to see browning/crusting about ¼ inch thick on the side you are searing, flip the scallop and repeat on the other side. You may choose to cover your sauté pan with a lid during this process if you'd like.
4.Remove each scallop using tongs after the top and bottom of the scallop is sufficiently seared which takes approximately 2-3 minutes for either side. The middle of the scallop should appear translucent. Be careful not to overcook the scallops, which can result in a rubbery bite as opposed to a soft and creamy texture.
5.Pat any excess oil off each scallop with paper towels if desired. Enjoy immediately with your favorite salsa, sweet corn, or sauce!
Copyright © 2010 Pooja Mottl. All rights reserved.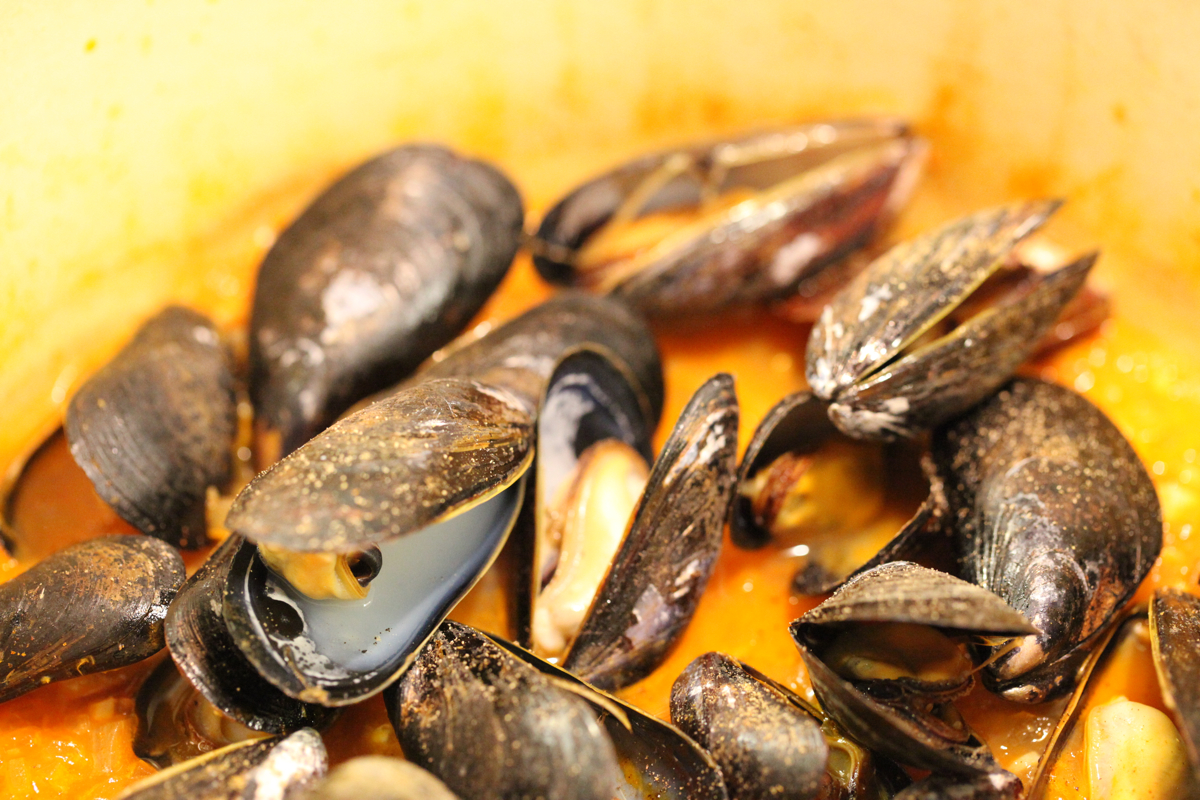 Pooja's "So Quick" Steamed Mussels in White Wine
Servings: 2
Mussels are an incredibly nutrient-dense seafood choice. They're a good, low-fat source of protein, and an excellent source of selenium and Vitamin B12. Monterey Bay Aquarium considers farmed mussels a "Best Choice" seafood pick.
Ingredients
2 teaspoons extra virgin olive oil
3 garlic cloves, minced
1 medium onion, roughly chopped into ¼ inch dice
1 tablespoon double concentrated tomato paste
½ cup inexpensive white wine or inexpensive champagne
½ cup low sodium organic vegetable broth
¼ teaspoon sweet paprika
sea salt to taste
ground pepper to taste
1 lb mussels, about 25, scrubbed clean and beards removed
Procedure
1.Heat oil in a heavy bottomed sauté pan over medium-low flame. Add garlic and onions and sauté until onions appear translucent.
2.Add paste, wine, broth, paprika, salt and pepper, and bring to a simmer (very gentle boil), stirring enough to fully incorporate paste.
3.Add mussels, cover and cook until all shells open. Remove mussels, transfer to serving bowls, and pour cooking liquid over mussels. Enjoy immediately!
Copyright © 2010 Pooja Mottl. All rights reserved.
Related