It's the first birthday - the time where your baby dives in and gets messy! But what if your baby is allergic to dairy, wheat, eggs, nuts, soy, or hasn't had sugar yet? Do you cave in? Fear not, I have got you covered. Introducing my very own idea and creation, the gluten-free, dairy-free, egg-free, nut-free, soy-free, sugar-free Smash Cake. Made out of brown rice, sweet potato frosting, and corn sprinkles. But since that is a longest title ever, I'll just call it the Allergy Free, Healthy Smash Cake. I'm tempted to call it THE Healthiest Smash Cake of All Time! But I'll be modest about it.
It all came about while I was Pinteresting one day for "healthy smash cake." Recipe after recipe I looked through and nothing was catching my eye. Must - find - the - healthiest - allergy friendliest - recipe! But then I began thinking, why does this cake have to be sweet in the first place? If I were to be honest about it, my daughters favorite foods at the time were rice and sweet potatoes. I started having thoughts about how I could form a cake out of those two foods because I knew she would defiantly smash around in her favorite foods.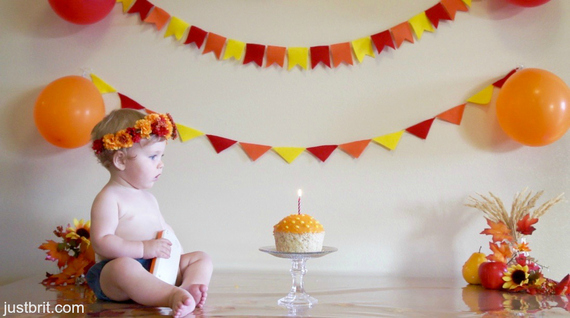 Then the experimenting began. The brown rice needed to hold it's shape so sticky brown rice ended up working fabulously. I pressed the warm rice into an oiled (coconut or olive oil) small glass dish, let it sit for a few minutes, turned it upside down and popped it out. After the so-called cake was formed, I tried whipping up some baked sweet potatoes in my KitchenAid mixer. But I couldn't seem to get it to the consistency that I wanted and I also didn't want to add any milk or butter. So I placed it into my Vitamix blender and pulsed it a few times and it instantly became smooth. Feel free to use a mixer though, maybe you'll have better luck than I did.
Alright, so rice base was formed, sweet potato frosting was spread on top, but something was missing. It was cute but not "super" cute. Then I remembered I gave my daughter some frozen corn kernels the day before and she surprisingly gobbled them up. I had used all my teething remedy ideas for the day and figured the cold would feel good on her gums. Yes! Corn sprinkles would be "super" cute! Place a candle on top and we were set.
All in all, I had fun making it and my daughter loved it. Win-win.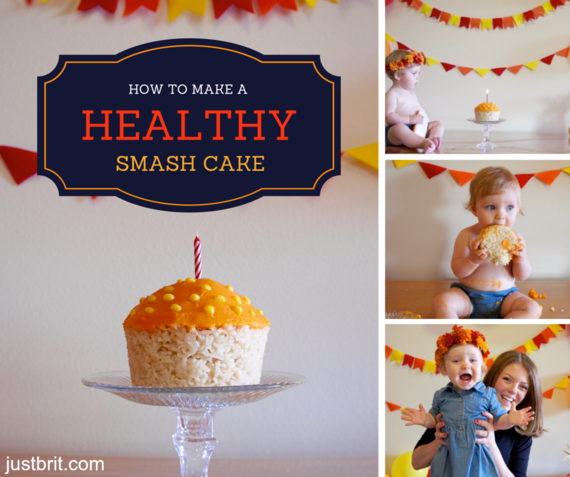 Allergy Free Healthy Smash Cake
Small glass dish or cake mold of preference
Blender
Crock pot
1 cup brown rice
1 Tbsp coconut oil or olive oil
2 cups water
2 sweet potatoes
¼ cup frozen corn kernels
Step 1: Sticky Brown Rice Cake Base
Lightly oil the bottom and sides of a crockpot. Rinse 1-cup brown rice with water. Place rice into crockpot. Add 2 cups water and 1 Tbsp of preferred oil. Stir around to incorporate oil. Cover the crockpot with lid and set it on High for 1 ½ hours. Prepare cake mold by oiling down the sides as well. Once rice is done, press and pack the rice firmly into the cake mold. Let cool. Turn upside down and pop the rice out (pound the bottom of the dish). Turn cake upright and place onto serving plate.
Step 2: Sweet Potato Frosting
Bake sweet potatoes in the oven for 1 hour at 400 degrees or until soft. Remove skins. Place sweet potatoes into a blender. Add a bit of water if needed. Be sure to pulse only. Pulse 4-5 times (every blender is different and may require more or less pulsing). If blended too long the mixture will get too runny, so be sure to check after every few pulses. Place desired amount of blended sweet potatoes onto the top of the rice cake. You can either smooth the frosting with spatula or pipe frosting on top of the rice base.
I used frozen corn kernels because they hold their shape better. Place desired amount onto sweet potato frosting in any pattern you desire. You can also you use frozen peas or berries, or whatever else you can think of.