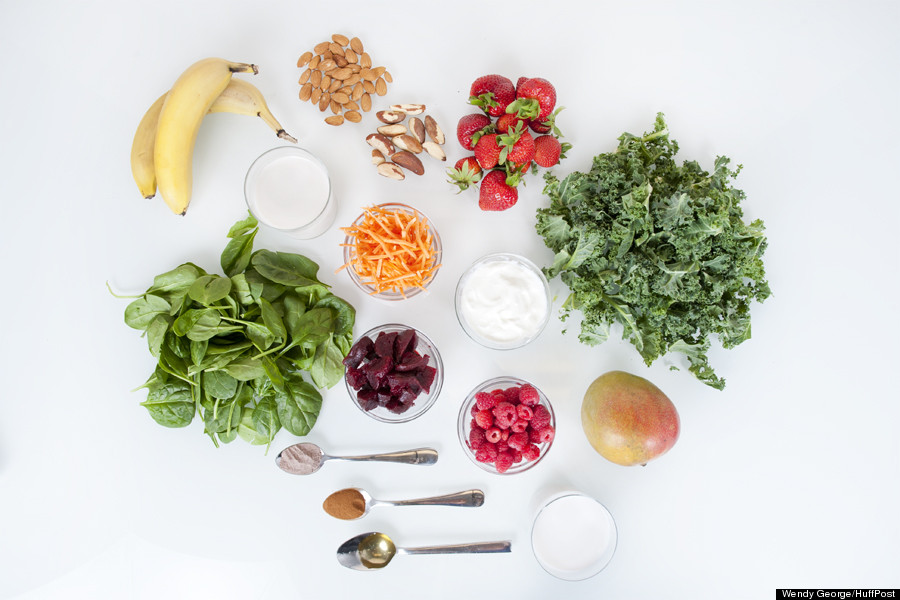 When's the last time you really considered what a culinary marvel the smoothie is? Think about it -- you can literally put a head of kale, an entire banana, half a box of strawberries, and a cup of yogurt into a blender, and get something you can slurp down in no time at all. And unlike with fruit juices, you don't lose any fiber from the fruits and vegetables -- it's just in a more "sippable" form. (Plus, it's nice to know you could be lowering your risk of premature death as you enjoy your concoction.)
To celebrate the smoothie, we asked nutrition and fitness experts to share their favorite recipes (and just in time for spring!). Check out five of them below.
Editor's note: We added a few ice cubes to each of these recipes to make them thicker, but feel free to add or omit ice cubes per your taste preference!

Green Smoothie1 cup spinach1 cup kale1/2 bananaA small handful of almonds3 to 5 raw brazil nuts1 teaspoon cinnamon1-2 tablespoons cacao or carob powder1/2 can of full-fat coconut milk
-- Ben Greenfield, fitness and triathlon expert, Get-Fit Guy podcast host

Carrot Mango Smoothie1 medium mango, peeled and cubed1/2 cup shredded carrots1/2 teaspoon cinnamon1/2 cup coconut water1/4 cup water -- Dawn Jackson Blatner, RD, CSSD, LDN, certified specialist in sports dietetics

Kale Banana Smoothie1 cup unsweetened vanilla almond milk1 ripe banana1 cup loosely packed chopped kale1/4 cup water -- Dawn Jackson Blatner, RD, CSSD, LDN, certified specialist in sports dietetics

Chocolate Beet Berry Smoothie1/2 cup peeled chopped raw beet1 banana1 cup strawberries (may sub blueberries or raspberries)1/2 cup coconut water1/4 cup water1 teaspoon unsweetened cocoa powder

Raspberry Almond Smoothie 1/2 cup almond milk1/2 cup low-fat plain greek yogurt1/2 medium banana1/2 cup fresh (or frozen) raspberries1/8 teaspoon almond extract1 tablespoon honey
Bon appetit!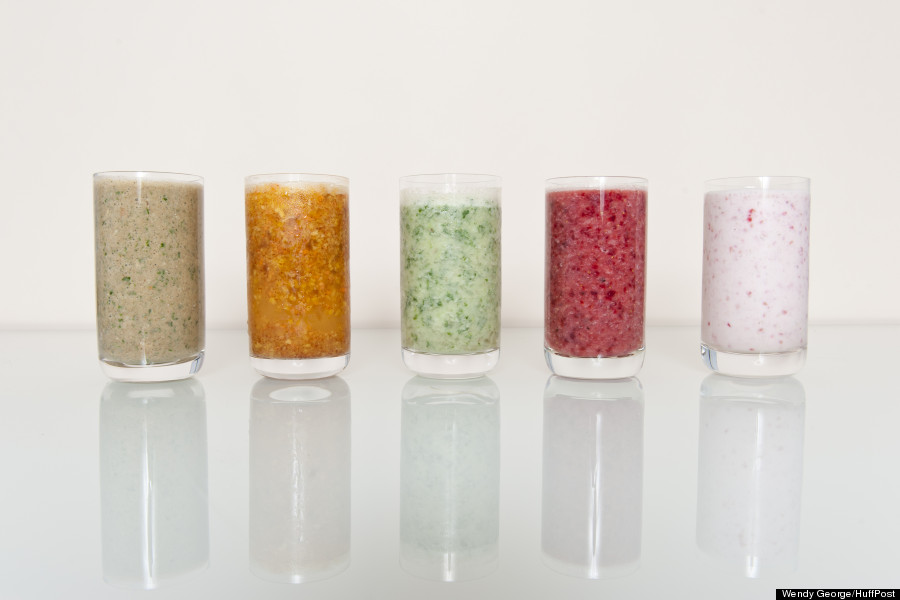 Related