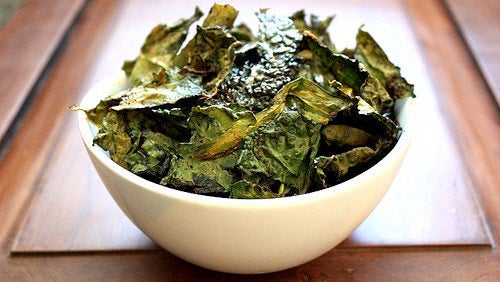 Organic snacks are ruining my son's diet. With so many junk food options now sold in health food stores, it's tempting to allow him to subsist on cheddar bunnies, super sweet yogurts and organic gummy fruits. While these choices are obviously better than artificially flavored cheese curls or trans-fat laden crackers, sometimes I feel that if I didn't have the convenience of these "healthful" options, I would be forced to slice up an apple or whip up some sprouted flour muffins when snack time rolls around.
The snack aisle at the health food store is full of products loaded with sugar, salt, white flour and extruded grains -- really not health food at all! (Two modern snacks are good choices: organic fruit pouches (if still not as healthful as an actual piece of fruit) and seaweed snacks (if a little salty).
In an effort to encourage Felix to eat more vegetables and truly healthful snacks, I turned to Suzanne Weaver-Goss, a certified holistic health coach with 30 years of experience in natural foods, who also happens to be my mom. Suzanne graciously provided me with a list of her favorite easy, kid-friendly snacks, most of which I've witnessed Felix gobble up when we visit Nana.
10 Easy Ways to Get Your Kids to Eat More of the Good Stuff
1. Kale Chips. If not for this crunchy, flavorful snack, I doubt Felix would have ever tried kale. Here are Suzanne's recipes for two kinds of kale chips. You can add nutritional yeast -- which is full of B vitamins -- for a cheesy flavor.
2. Salads. Yes, even Felix will try salads if I make them the right way. You can experiment with mincing the veggies really small or even grating them to make them easier to chew. Try adding sweets like berries, apples or any dried fruit. Suzanne recommends a simple dressing of olive oil, lemon, sea salt and a little maple syrup.
3. Sweet Potato "Fries." Sweet potatoes, full of fiber and beta carotene, are more nutritious than their white cousins, but even regular potatoes, if sliced and baked instead of fried, make a great snack and certainly better than the greasy alternative you'll get in a diner. Here's our recipe for sweet potato "fries."
4. Crunchy Shitake Sticks. Shitake mushrooms are known for their immune-boosting and cancer-preventing properties, and they are also a great source of iron. Slice the tops off of the mushrooms and roast them after coating with olive oil and sea salt. The result is a delicious crunchy snack or side dish that will be a huge hit with both adults and kids.
5. "Green" Smoothies. Felix is predictably fussy about the color of his smoothies; if it's green, he won't taste it. So, I make sure to include plenty of antioxidant-rich berries so the finished smoothie is purple or blue. What Felix doesn't see is that I add spinach and baby romaine for added greens, neither of which changes the taste of the smoothie (kale will, by the way). You can add banana, dates and frozen mixed berries to the blender with a little water, and for added protein I add hemp seeds, flax seeds, or chia seeds. Suzanne keeps bananas in her freezer at all times. She lets them get really ripe because they are then more antioxidant-rich, peels and chops them and puts them in a freezer bag. Here are some of Suzanne's smoothie recipes that will please even super picky eaters!
6. Buttery Winter Squash. There are so many varieties of squash, all of them rich in cancer-inhibiting carotenoids, and many of them quite delicious. Delicata is Suzanne's favorite for kids because it is especially sweet. You can slice it into sticks and bake it as is, and it's a great finger food. A little butter and maple syrup make it especially decadent, but some children will eat it even without. Other kid-pleasing squashes are butternut, buttercup and acorn.
7. Romaine Lettuce Wraps. Felix loves goat cheese and would eat it by the log if I let him. Instead, I wrap romaine lettuce leaves around the soft mild cheese and roll it up for a tasty finger food. Despite its mild flavor and relatively light color, romaine is actually a super healthy green, full of folate and vitamin K.
8. Trail Mix. Sunflower seeds, pumpkin seeds, cashew pieces, walnut pieces, raisins and a few carob chips tossed together in a bag make a great on-the-go snack for kids. Carob is sweet and Felix thinks it's a candy treat. It's not a super healthful food, of course, but a good chocolate alternative, as it's generally sweetened with barley malt. When paired with nuts and seeds, kids get a heavy dose of important omega-3 acids, protein, and fiber. Here are some of Suzanne's other recipes for delicious carob treats.
9. Mochi. This Japanese treat is made from pounded sweet rice, a variety of brown rice that is naturally sweet. When bought pre-made, mochi is a super easy, whole grain snack for kids. You can buy it in the refrigerator section of the health food store, cut it into squares and stick it in the oven -- kids love to watch it puff up! You can serve it with apple butter or fruit-sweetened jam. (Believe it or not, Suzanne used to make mochi from scratch by cooking pot of rice and then literally pounding it until it was the correct consistency and then baking it in sheets.)
10. Sliced Apples and Pears. Well, duh, we all know that sliced fruit makes a nutritious snack, but Suzanne has discovered a few fun additions that make it more appealing to kids. Felix loves to dip his apple or pear slices in fresh-squeezed orange juice for added sweetness or almond butter for a more filling treat. My mom also tops apple wedges with a slice of raw milk cheddar cheese for a protein-rich snack that brings me back to my childhood in Vermont.
If you have any questions about these snacks or would like other ideas, Suzanne is happy to set up a complimentary 30-minute Healthy Eating Strategy Session. You can email her at sweavergoss@gmail.com.