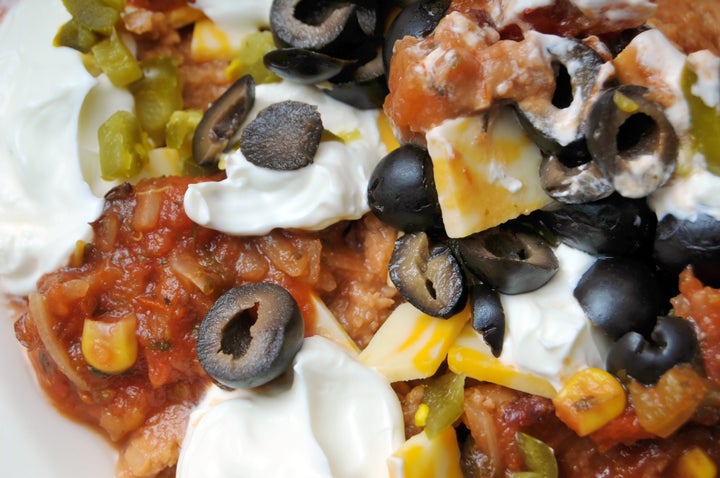 Super Bowl snacking is as much a part of game day as the actual game. Typical snacks are laden with calories, not to mention the countless bottles of beer you're washing it all down with.
A major fumble is that there isn't much redeeming nutrition in those calories. Lacking in lean protein, fiber, and heart-healthy fats (guacamole does save you here), you mindlessly snack away at foods that either won't satisfy you or will make you feel sick by the post-game report. There are plenty of ways to save on saturated fat, refined carbohydrates and excess calories, while still enjoying tasty snacks all day and night on Sunday.
Make the extra calories you eat on Super Bowl Sunday count with these more nutrient-dense and delicious snack ideas:
Prosciutto-Wrapped Figs
These are fancy pigs in a blanket with less fat and more fiber and protein.
Ingredients:
8 fresh figs, halved lengthwise
2 3-ounce packs of paper-thin sliced prosciutto di Parma
1 tablespoon honey or balsamic vinegar
Directions:
Wrap each half fig with a slice of prosciutto
Drizzle honey or vinegar on top
Nutrition Info (per wrapped fig): Calories 70, Fat 2.8g, Saturated Fat 1g, Carbohydrate 7g, Fiber 1g, Protein 4g.
Sweet Potato Chips With Coleslaw
Instead of all the refined, empty carbohydrates with your game-day chip, try this spiced-up, vitamin-rich version. Top with a lightened-up coleslaw and use Greek yogurt instead of mayo for a dose of lean protein.
For the sweet potato chips:
Ingredients:
3 large sweet potatoes, cut into quarter-inch-thick slices
One-quarter teaspoon cayenne pepper
2 tablespoons olive oil
Salt to taste, optional
Directions:
Preheat oven to 450 degrees F and line baking sheet with aluminum foil.
Mix together olive oil and cayenne pepper and brush onto sweet potato slices. Place on baking sheet. Sprinkle with salt to taste if desired.
Bake about 8-10 minutes on each side.
Ingredients:
Three-quarters of a cup nonfat Greek yogurt
3 cups shredded cabbage or broccoli slaw
1 tablespoon Dijon mustard
1 tablespoon white vinegar
Directions:
Mix together all ingredients and chill in refrigerator.
Serve with sweet potato chips.
Nutrition Info (per serving, serves 6): Calories 159, Fat 5g, Saturated Fat 0.7g, Carbohydrate 25g, Fiber 4.5g, Protein 5.5g
Turkey Burger Sliders
The best thing about sliders? Instant portion control. Top with avocado instead of cheese for a heart-healthy source of fat, which is also portion controlled (unlike guacamole).
Ingredients:
16 ounces lean ground turkey
1 tablespoon Parmesan cheese, grated
One-half cup whole-wheat bread crumbs
One-quarter cup egg whites or substitute
One-half clove garlic, minced
One-half teaspoon oregano, dried
One-half teaspoon salt
Freshly-ground black pepper
8 whole-wheat dinner or slider rolls
8 slices tomato
8 small lettuce leaves
1 small avocado, thinly sliced
Ketchup or mustard, optional
Directions:
Preheat oven to 375 degrees F and line a baking sheet with aluminum foil. Spray with non-stick cooking spray.
Combine ingredients from turkey to fresh ground pepper. Mold into 8 patties and place on baking sheet.
Bake for 10 minutes on each side or until cooked through.
Serve each patty on a dinner roll and garnish with lettuce, tomato, avocado, ketchup or mustard.
Nutrition Info (per slider): Calories 210, Fat 8.5g, Saturated Fat 1.5g, Carbohydrate 20g, Fiber 3g, Protein 15.5g
Crudité Display
Fill a platter with interesting veggies, such as artichoke hearts, red pepper, radishes, mushrooms, snap peas, grilled asparagus and, my personal favorite, jicama. The celery sticks served with your wings won't know what hit 'em. In addition to salsa, you can offer a variety of dips like hummus or black bean dip for an extra dose of fiber.