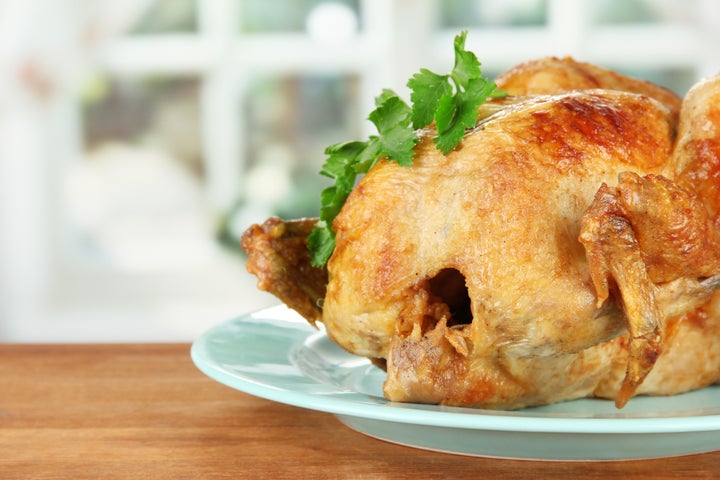 Thanksgiving: a joyous celebration of... overeating.
Turkey Day may only come around once a year, but it is only the beginning. The merry months that follow are filled with family feasts, business buffets, and celebratory cocktails. This holiday season, get jolly but stay healthy -- here's how:
Whether your Thanksgiving feast is in the afternoon or evening, it is important to not starve yourself in anticipation. Those who enter with an empty stomach are more likely to overeat, so don't skip breakfast. Try to incorporate mindful eating techniques by eating slowly and chewing well will aid in digestion.
Food coma? Don't blame it on the bird. Though turkey -- and specifically, the amino acid tryptophan -- has long been implicated as an agent of sleepiness associated with a big thanksgiving feast, the gobbler does not actually contain more tryptophan than meats such as chicken. Tryptophan absorption is limited when consumed with other food.
So if you're feeling sleepy, chances are overeating is to blame.
A healthy portion of turkey is about the size of the palm of an "average" hand. Among the plethora of options at Thanksgiving, skinless turkey meat is a safe bet -- as long as it is not deep-fried.
High in salt and fat, gravy adds moisture and flavor -- but not without consequences. Try measuring your gravy out onto a tablespoon instead of pouring it straight from the bowl. Use this measurement as a portion size guide: Don't help yourself to more turkey and potatoes than your gravy can cover. Or be really bold and skip the gravy altogether.
Potatoes are loaded with heart-healthy potassium, but mashed potatoes are often loaded with cream, which is as bad for waistline as it is for your heart. This year, opt for a traditional baked potato or mix and mash it with chicken or vegetable stock to add flavor and moisture without adding fat. People with a sweet tooth can swap white potatoes for sweet ones for an additional nutrient boost. Packed with vitamin A and vitamin C, sweet potatoes also have a lower glycemic index than white potatoes (so they cause less of a blood sugar spike, and will keep you full longer). Try throwing just baked sweet potatoes in a baking dish with a can of unsweetened pineapple for a nutrient-dense, guiltless treat.
Vibrant in color and deliciously tart in flavor, cranberries are also packed with phytochemicals that have been shown to promote heart and dental health as well as help prevent cancer.
The many health benefits of cranberries are often offset by the sugar content of cranberry sauce. To limit the amount of sugar, try cooking fresh or frozen cranberries with orange juice and applesauce to infuse with extra flavor from natural sugars.
Fill up on vegetables. Green beans, Brussels sprouts, and kale are great options as side dishes this holiday season. All three of these vegetables are packed with antioxidant vitamins A, C, and K. Kale and Brussels sprouts are part of a family known as cruciferous vegetables, which supports our bodies' natural detoxification system and may be protective against certain types of cancer. Additionally, kale is a particularly good source of fiber and calcium. Considering a vegetarian meal? Switch it up this year, and make the greens the main course. Steaming or roasting with olive oil is a healthy choice, sautéing in bacon is not.
Instead of making stuffing with bread, try substituting a nontraditional grain such as quinoa. Quinoa is a gluten-free grain that doesn't cause a surge in blood sugar levels. It is an excellent source of protein and contains all of the essential amino acids (the building blocks of protein that we must get through our diet). The small grain also contains manganese, a powerful antioxidant, and magnesium, which helps relax blood vessels. Substituting white bread with quinoa is sure to stir up interesting mealtime conversation -- and adding this fiber-filled grain instead of the simple carbohydrates makes satiety strike faster.
Hopefully following the healthy and tasty tips above is enough to fill up, but it is hard to pass up dessert altogether. Portions are key, so filling up the plate with fresh fruit so it looks full before adding a sliver of pumpkin pie will trick the brain into thinking you can have you cake and eat it, too. Canned pumpkin is a low-fat, low-calorie food, and with 40 calories in a half-cup, it still provides a good amount of fiber and vitamin A. Finally, a handful of pecans provides the satisfying flavor without added sugar. Pecans are an excellent source of a certain type of vitamin E (gamma tocopherol) that has been shown to reduce oxidation of cholesterol, which can help reduce inflammation -- a perfect way to top off the meal.
Kick off of a long, healthy holiday season this Thanksgiving. Give thanks to your friends and family with the gift of health-boosting foods.
Gobble, gobble in good health.
Dr. Gerry

Co-authored by Danielle Flug