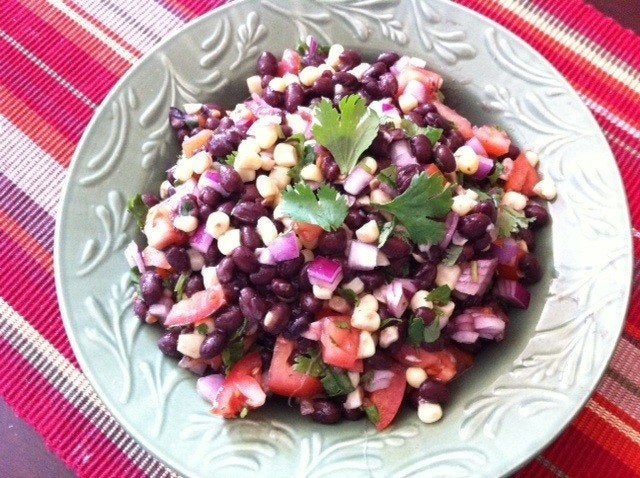 I'm lucky to have several relatives who, over the years, have become vegan and vegan-ish. It's really fun when this starts to happen, and I love when they teach me something new.
In August, during our yearly family reunion on Cape Cod, my sister-in-law Mary told me about a delicious bean and vegetable dish that she makes. She sometimes serves this (see recipe below) as a dip with good-quality tortilla chips. (To me, good quality means no hydrogenated fats, high-fructose corn syrup or GMOs.) But Mary also serves this as main dish on brown rice, which would be my choice. It even could be a topping for white fish if you're more vegan-ish than true vegan -- meaning you're adding more plant-based foods to your diet.
If you're leaning in a plant-based direction and would like to try something healthier than a slice of pizza or burger, this is a simple, delicious dish that will make you feel great. And it's super quick to put together.
Being on crutches and a prosthetic leg (I lost my leg to bone cancer 20 years ago) forces me to keep it quick in the kitchen. And no, quick doesn't mean unhealthy. For me, it's just a matter of streamlining and being creative. So when I learned about this bean and veggie dish, I knew it would be a keeper. And an excellent choice to use on a five-minute TV cooking segment I recently did in Portland, Ore. Take a look to see how easy, fresh and delicious this recipe is.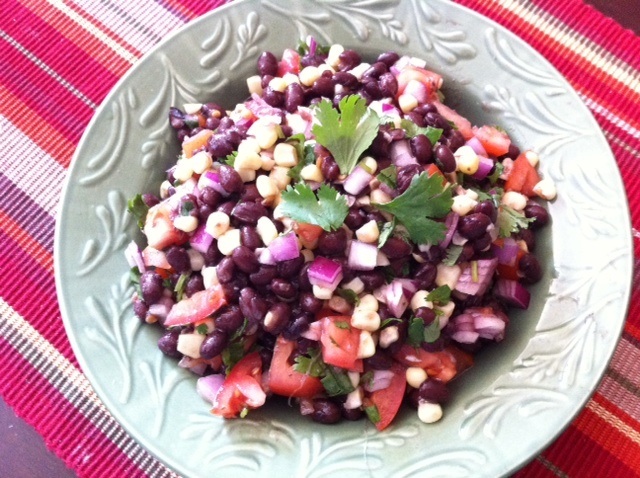 Southwest Salad
2 cans black beans, drained and rinsed
1 can corn, drained and rinsed
4 Roma tomatoes, chopped
1/2 Bermuda onion, chopped
1/2-1 cup chopped cilantro or 1 cup of chopped fresh basil
2 avocados, peeled and chopped
Juice of 1 lemon and 1 lime
Salt and pepper
Optional Dressing: Equal parts olive oil and balsamic vinegar (about 1/3 cup each). I say optional, though, because with the oil from the avocados, I could easily skip the dressing.
This dish is great as an hors d'oeuvres with good-quality tortilla chips, on salad greens, on top of cooked brown rice, as a topping or wrapped in a burrito. So many options!
To make it a full meal, you might add simple steamed vegetables as side dishes, such as kale, green beans and/or carrots -- and maybe a salad with rice vinegar and olive oil.
To keep it extra quick and simple, you'll see that I'm using canned black beans in this recipe. This is sure to beg the question from my purist friends, "Aren't canned beans less nutritious?"
Luckily -- and this is a great thing -- the answer is no! Canned beans tend to hold their nutritional content, unlike canned vegetables, which sometimes lose some of their nutrition. Does that mean I don't ever use canned vegetables? No! I'll occasionally use them, especially in a pinch to make it faster. Keep in mind that oftentimes frozen is more nutritious and fresh the most nutritious. Whether good, better or best, it just has to work for YOU. So if time is of the essence, do whatever works so that you can eat your veggies!
So, what's so especially healthy about this Southwest Salad? For one, black beans are excellent sources of plant protein, high in fiber, have no saturated fat and are high in nutrients -- one of the most notable being antioxidants, which may help prevent cancer.
Have you tried any easy, plant-based recipes? Please share your experiences here in my Comments section.