 If you want a luscious waffle that is both wheat- and gluten-free, and as close to a whole grain as you can get, then this waffle recipe is the very best! I get excited just thinking about these waffles as they remind me of the Belgian waffles that I used to eat, yet without the white flour, eggs, white sugar and dairy (milk and butter). Instead, they contain freshly-cooked brown rice, olive oil, creamy non-dairy almond milk and freshly-milled brown rice flour (thanks to my Vitamix).
There is also a great story behind these waffles. My sister Liz and I had them at her oldest son Harry's wedding breakfast, back in 2004. At that time, we were both a few years into our plant-based eating for health reasons -- me because I was eating to prevent invasive breast cancer recurrence, and my sister because of her son Stephen's esophageal reflux.
We were really trying to make this way of eating work for us without isolating ourselves from society, friends -- and especially family! We wanted to integrate this healthy lifestyle into our everyday lives,so that when we socialized it would still work. After all, vegan entrees on menus were virtually unknown at that time. So, we brought our own healthy breakfast waffles from home to the wedding, and as the wedding fare was served, proceeded to slip our delicious waffles (from bags under our chairs) to a spot on our plates. Our slick maneuver went unnoticed and we enjoyed our meal right along with the other celebrants on this joyous occasion. Now, every time I make myself this treat, I think about my sister and our desire to make this way of life work and how worthwhile the efforts have been!
In 1999 when we began, we had not yet heard the words "plant-based" or "vegan." At that time, we were simply following a way of eating that centered around whole, plant-based foods, consisting primarily of whole grains, vegetables, beans, small amounts of fruit, nuts, seeds and some fish. But, because of our purposeful choices -- whether it was carrying our lunches to work, eating before cocktail parties, or toting vegetables as snacks -- our perseverance paid off, big time.
A year after starting to eat in this mostly plant-based way, Stephen's GI and cognitive problems were greatly diminished, and today, as a happy, robust teenager, he has no trace of the esophageal illness. As for me, I've been totally vegan for five years now -- healthier than ever -- and 15 years cancer-free! Waffles, anyone?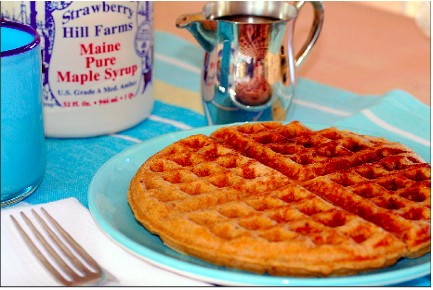 Big Treat Vegan Brown Rice Waffles
1.5 cups cooked brown rice (see below)
3 tablespoons olive oil
One-quarter cup brown rice syrup
1 cup organic soy, rice or almond milk
1.5 cups brown rice flour
2 teaspoons baking powder
Three-quarters teaspoon cinnamon
One-quarter teaspoon nutmeg
1 tablespoon egg replacer (I use Ener-G brand) mixed with 4 tablespoons of water
Combine the cooked brown rice, olive oil, brown rice syrup, and non-dairy milk in a medium saucepan. Heat on low, just until mixture is warm.
In a large mixing bowl, combine the brown rice flour, baking powder, cinnamon and nutmeg.
Next, take the warm brown rice mixture and stir in to the dry ingredients.
Whisk the egg replacer into the 4 tablespoons of water in a small bowl, and then fold it into the waffle mixture.
Spray waffle iron with olive oil cooking spray (this is a must!). My waffle iron takes 6 minutes to cook these waffles.
Makes 3-4 waffles (6-7 inch waffles)