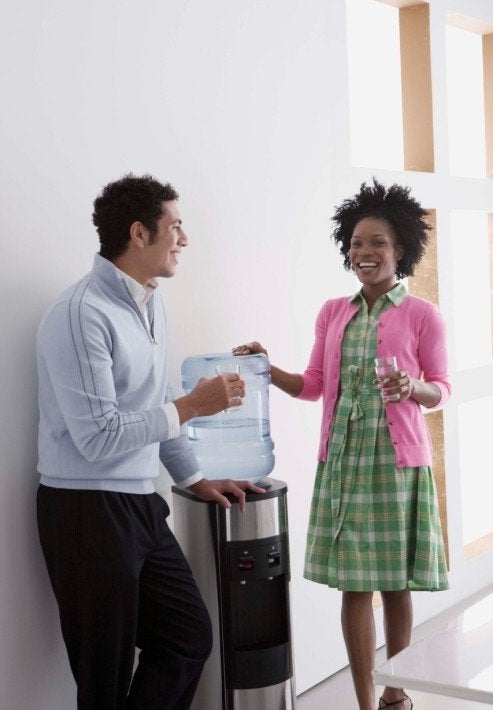 Many adults do two things for eight hours each day: Sleeping (if you're lucky to get that much) and working (if you're lucky to do that little).
Research has shown over and over that if you don't get enough restful sleep, your health can suffer in many ways. A new study finds that if the time you spend at work is isolating and stressful, it can also impact your health ... and could lead you to clock out of your life early, too.
In a new study, a team of researchers in Israel followed 820 healthy workers over a 20-year period. The participants answered questions about their supervisors and their relationships with others at work -- including whether their co-workers were friendly and approachable.
During this time, 53 of the participants died. The people who had little social support at work were more than twice as likely to die during this period. That was one of the interesting findings. The other connection that the researchers found was that men who had more control over their responsibilities at work had a lower risk of dying, but women with more control had a higher risk.
In today's world, companies tend to block Facebook and other social-networking sites, and employees often shoot each other emails through the computer rather than getting up for a face-to-face visit, one of the researchers pointed out in an interview. And women with more control at work (i.e. responsibility) may find the job particularly stressful -- especially if they're not getting much support.
These results are timely. In today's economy, many people who go to work may just be glad that they get to go to work, and once they get there, they may focus on plowing through their workload and worry less about connecting with their co-workers. Economists point out that companies are wringing a lot of productivity out of today's workforce, so clearly the average worker doesn't have a lot of downtime.
If your work is stressful, what could you do to solve problems rather than continuing to react to them? Organize your time or your workspace better? Delegate assignments rather than saying "yes" to everything? Streamline your processes to make them more efficient?
While you're at it, what might improve your relationships with your co-workers? Taking 15 to 30 minutes for a group walk at lunch? Meeting at a nearby restaurant after work on Friday? Having morale-boosting get togethers occasionally in the office or off-site? Team-building exercises?
While these kinds of activities are often portrayed on sitcoms such as "The Office" as a time-wasting hassle, in real life they could mean the difference between a job that makes you happy and a job that's a real killer.
For more on how to get better health and need the health care system less, check out Dr. Cynthia Haines' book, The New Prescription: How to Get the Best Health Care in a Broken System (HCI Books, Dr. Cynthia Haines and Eric Metcalf). This is a book about getting what you really want: better health on your own terms. More medical care doesn't mean better health. Dr. Cynthia Haines and Metcalf reveal some of the most egregious problems with a medical system gone awry, opening readers' eyes to how to better navigate the changes underway. Using solid research, insiders' insights, and patient anecdotes, they offer cost-effective and potentially life-saving ways to get more out of health care while using less of it. Find Dr. Cynthia Haines on Facebook @ www.facebook.com/DrCindyHaines, the Dr. Cynthia Haines YouTube channel, and www.drcindyhaines.com.
Related