Finding friendship through music, Banditos are a Southern-fried rock 'n' roll band that has built a circle of trust since moving into the same crowded house in Birmingham, Ala., about seven years ago.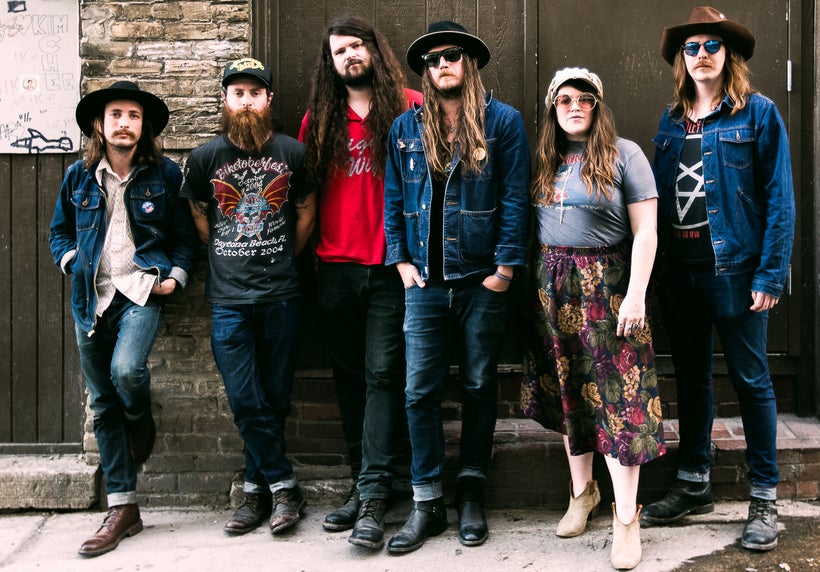 After listening to the complete album stream of Visionland, their superb sophomore effort that premieres exclusively at HuffPost today (June 20), you'll want to get to know them, too. Banditos like to give and take, though they aren't always willing to share their deepest secrets.
At least that was the impression that frontman-guitarist Corey Parsons and singer-songwriter Mary Beth Richardson — two of the six full-time members of the group — left during a breezy three-way conversation over the phone from Nashville on June 12 to promote the June 23 release of Visionland (Bloodshot Records). Hear it in its entirety here, then learn almost everything you always wanted to know about Banditos.
Asked what were the best and worst things about being together for seven years as a band, Parsons said, "The best thing is that you have five best friends. You have a family that will have your back in any situation, you know. You always have somebody to lean on. The worst things? Trying to fit on small stages." (laughs)
Or in a small house in Birmingham, where Parsons, Richardson and the remaining four members — Stephen Pierce (singer/banjo player), Randy Wade (drums), Jeff Salter (lead guitar) and Danny Vines (bass) — all lived for about the first 18 months of the Banditos' existence.
"It was good. It was an experiment," said Richardson, whose underground room had no windows. "We toured most of the time. We were touring over 200 days a year, so we figured we'd all just live together and save on rent that way. It was a little overwhelming at times because touring with six people, then living with six people … after it was over, it was nice to have everybody have their own little space to go back to after tours."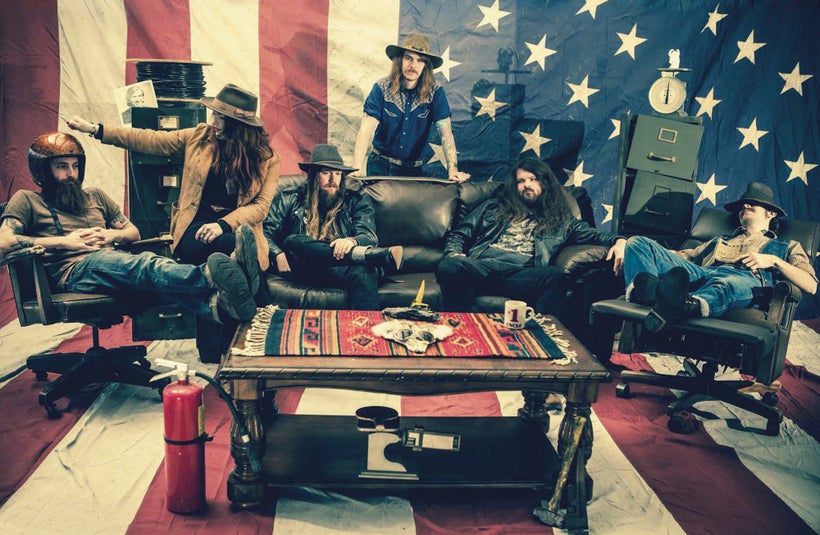 While Salter's room was a closet and Vines stayed in the dining room, Parsons lived in the garage adorned by a 50-foot American flag that graced the cover (above) of their self-titled debut album. "It was kind of the best option, I think," he said, finding privacy along with a sense of freedom just a garage door opener away. "We already knew each other pretty well. We know each other more than we want to now."
So much so that Richardson offered, "Sometimes you know each other too well to the point where you can call each other out before they even do anything." While laughing, both declined to cite an example as Richardson added, "Maybe we don't want to reveal too much of our secrets."
As Banditos begin touring behind their new release, the packed 15-passenger band includes a seventh musician — Matt Menold, a guitarist/keyboardist in Clear Plastic Masks.
Richardson likens the jammed stage situation to a game of Jenga, where one false move could topple the entire infrastructure. Banditos' core members have built a solid foundation, though.
The sextet decided to move to Nashville four and a half years ago and lived in separate quarters — "we're all out of garages and closets," Parsons interjected — then Vines and Pierce returned to Alabama about two years ago. Pierce, who has a home in Opelika, Ala., occasionally commutes between Birmingham and Nashville to do odd jobs.
Alabama is where the music started — and almost ended — for Parsons and Pierce, who met in Birmingham around the ages of 18 and 19.
"We had both been in bands (separately) and we were kind of sick of being in bands and people flaking on us all the time," Parsons said. "And we were pretty much giving up on it. But we were hanging out a lot. And we both loved playing music, so we were like, 'Why don't we just fuck around, write some songs, maybe go down the street, go downtown. … Maybe, we'll just go busk and see if we can maybe make a couple of bucks.' Most of them were covers."
He sounded embarrassed to mention their repertoire that included "See See Rider," Hank Williams' "My Bucket's Got a Hole in It" and "Wagon Wheel" before that now-standard cover made popular by Old Crow Medicine Show and Darius Rucker ran its course into the ground.
Yet the busking led to their first paid gig — along with the realization that their skills were somewhat limited — as the two became three.
"Steve had just started playing the banjo, and I thought that was pretty cool," Parsons said. "We were both country music fans, bluegrass fans. And we quickly realized there's no way we can be a bluegrass band because we can't play that well. So we just started writing rock 'n' roll songs on acoustic guitars and banjos."
Offered to perform at SpeakEasy, a bar Parsons and Pierce often frequented, they thought, "Shit, that's better than standing out here on the street," before deciding, "We can't play this show by ourselves. We suck."
So they recruited Wade, Parsons' roomie at the time whom he and Salter knew a couple of years before meeting Pierce. Wade, a percussion major at Alabama-Birmingham, played kick drum and a snare, as friends showed up and provided plenty of encouragement to turn this band into one all-American group of Banditos.
Parsons was reticent to discuss the birth of the band name, sheepishly saying, "It's just kind of a name for our friendship. Like mine and Steve's friendship. It's not a good story at all."
Richardson suggested, "I guess we're just kind of bad kids hanging out to each other. So we might as well be called something like that."
During this conversation, Parsons decided that band name needed a better origin story, even if it turned out to be one that wasn't true.
"We used to steal bikes and pawn them and that's how we got enough money to get a guitar and a banjo," he offered, laughing along with Richardson before admitting he made that up.
Watch for the expanded edition of Banditos bio soon. Or maybe never.
Richardson, who belts the blues with the grit of Lucinda Williams and the fire of Janis Joplin, became the fifth member of Banditos after first becoming an admirer.
Growing up in what she called "a religious, conservative, typical Alabama family," Richardson sang in church choirs, theatre and "any kind of vocal expression I could get my hands on," yet never joined a band until she exhibited nerves of steal.
The music fanatic enthusiastically followed the scene and enjoyed hanging out with young friends and budding musicians at all-ages DIY clubs like Cave Nine, where she met her future bandmates.
Now 31, Richardson is a couple of years older than the guys who are as young as 27 (Salter). Mature and already living with a boyfriend in 2010, she was comfortable enough to go on a road trip with the band that year to New Orleans and was asked if she would like to sing a couple of songs.
"There's this one song in particular they did that I wanted to sing on, so I learned all the lyrics and wrote them down in a Gideon Bible that I stole from the hotel room from the New Orleans trip," Richardson recalled. "And Corey played the guitar and I sang on the final drive back (to Birmingham), and as soon as we pulled into the parking lot of the venue that we played there, which was the Bottletree (Cafe) … we played it that night.
"And the next morning, my boyfriend was not happy that I did that, and I broke up with him that day and moved out the next day."
The song was "Let Me Go," which Pierce and Parsons cowrote. It not only got her into the band but also grabbed the attention of more than a few people around town, including friends and supportive family members, though she thinks it might have been "a complete shock" to her grandparents.
"You can imagine, my name's Mary, which is kind of ironic that I'm singing from this holy Bible from the stage with all our friends there," Richardson said with glee. "And everybody's so excited to see all their friends being in this band because at that point, I knew everybody in the music scene but nobody knew that I sang. So it was a surprise for a lot of people to be like, 'Holy shit. This girl can actually sing. Damn.' "
Visionland of hope and schemes
The final piece of the puzzle was Vines, the bassist whose friendship with Parsons goes back the longest — to their early teens — and through the times they were co-members in other bands. His acumen with numbers and driving directions put him in business and leadership roles, and the nonstop touring schedule at the outset proved invaluable as Banditos played live before recording — and rerecording — their first album that was released in 2015.
Seven years and counting, Banditos are on their way to eclipsing the lifespan of the original Visionland, the theme park in Bessemer, Ala., for which the album and title song are named.
Opened in 1998 in a town 15 miles southwest of Birmingham, the park filed for Chapter 9 bankruptcy in 2002 while experiencing a series of accidents and incidents along the way, was rebranded under new ownership as Alabama Adventure in 2006, then sold again to the Koch family in 2014.
Vines and Salter were employed there after it first opened, said Parsons, who added, "Danny did custodial work there. And he quit when they wanted him to clean out human feces from a photo booth. (He and Richardson laugh) If that gives you any idea of what this place was like …"
Richardson called it "a hangout for some unsavory characters," and its failure was exacerbated by the deeds of Birmingham mayor Larry Langford, who had a major role in its development. In 2010, he began serving 15 years in prison with convictions on 60 counts of corruption that included bribery, money laundering, fraud and filing false tax returns.
"The main thing I remember from going there was like just getting whiplashed and sunburned," Richardson said with another laugh.
Snidely pointing out the renamed Alabama Adventure gave off "some Deliverance vibes," Parsons, whose precious duet with Richardson gives the slow-cooking title tune a warm glow, concluded, "We were kids (when Visionland opened), so even with all the terrible shit going on, it's still a theme park in our hometown. Not all bad memories."
The remaining nine songs on this Visionland, co-produced by Banditos along with Israel Nash and Ted Young, offer more thrills, whoops and hollers than a roller-coaster ride and are destined to make a bigger splash than any water park misadventure.
"It's kind of a step in a new direction for us," Parsons said of his band that colors outside the lines of roots rock with strokes of punk, country, folk, R&B and — yes, even now — stylized pop.
Mostly recorded last summer while spending two weeks at Plum Creek Sound studios in Dripping Springs, Texas, he liked the secluded Hill Country location where they could "just completely submerge ourselves in the album instead of hanging around Nashville and going out every night."
The album includes: a shit-kicking opening ("Fine Fine Day" is a Parsons and Pierce tune written in Opelika while under the influence of Exile on Main Street-era Mick and Keith and a free full bottle of Tito's Handmade Vodka); dreamy, space-age soul (Richardson wrote the lyrics and delivers the goods on "Healin' Slow"); and even "When It Rains," Richardson's album favorite that's "one of those front porch drinking songs," with Parsons singing through a telephone receiver.
"I just wanted to write a pop song," Parsons said. "It's the first time I've ever tried to write a strictly pop song. It kind of turned out a little yacht rockish. … It's cool, it's cool. I like it. It was weird for me but, yeah, I like it."
Richardson jumped in quickly to reveal that Parsons has been listening to a lot of Steely Dan lately, which seems hard to envision during this trip to Visionland with these Southern stomp rockers.
"Wait until our next album," Parsons deadpans, before he and Richardson yuk it up again.
If some of this is a put-on, the laughs give it away, though Parsons comes clean to admit he's "been listening to a lot of like smoother '80s and maybe '70s, just like funky, groovy stuff," including Funkadelic and disco-era Leo Sayer.
"You definitely don't look like the guy that listens to Leo Sayer but you totally love it," Richardson confirmed while teasing Parsons, who makes another American Idol threat with, "Probably what our next album is gonna sound like."
So even if it's not on the Banditos' next record, wait for "You Make Me Feel Like Dancing," coming to a concert venue near you.
That's probably stretching the truth, too. One way or another, though, Banditos will try to steal the show, and maybe even your heart.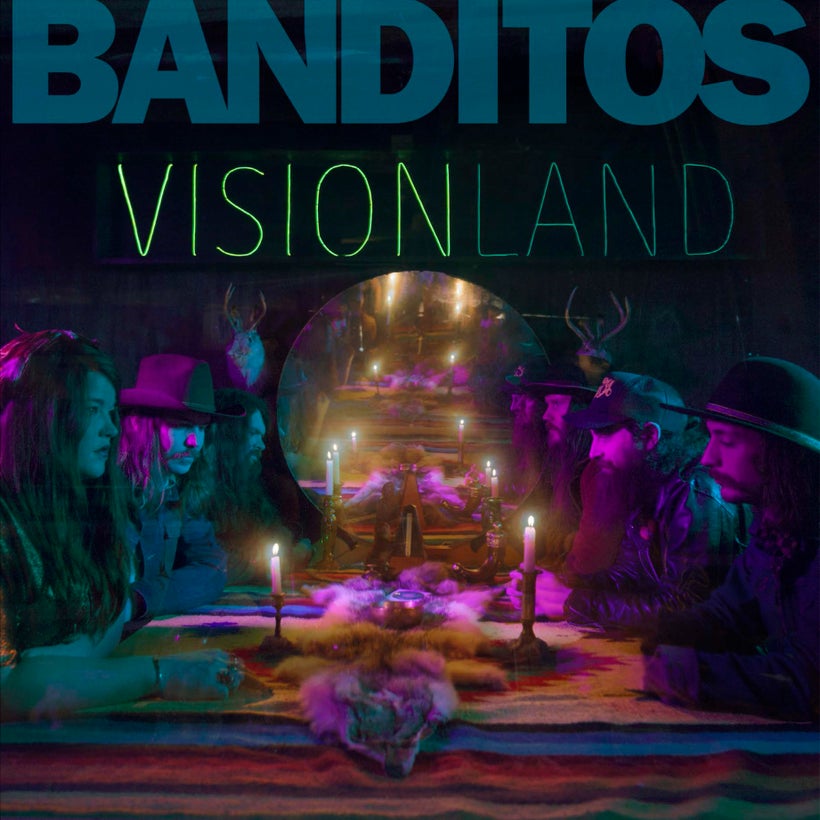 MORE TRUE STORIES ABOUT BANDITOS BAND MEMBERS
To learn more about Banditos' other members, Corey Parsons and Mary Beth Richardson were asked to reveal some of the band's best (and not so admirable) qualities. Some highlights:
"I think Danny's the bossiest," said Parsons, who also called Vines the "rock" of the band. "He likes to have control of the surroundings. And I respect that."
Added Richardson: "He has to have a grasp on the situation. That's not a bad quality. We would have definitely spiraled out years ago without someone like that."
Richardson: "Corey's the most … he's the quickest, I would say."
Parsons: "Don't let that wit fool you for intelligence."
Both suggest each other before Richardson adds, "I just have to have a lot of stuff with me to feel like I have everything I need."
Parsons: "None of us are really that messy at all."
Richardson: "I'm sitting in my room right now and would definitely say I'm pretty messy." (laughs)
Most musical/best musician
Both agree on Salter. "Jeff went to school for music (Alabama-Birmingham) and he is just like the guy that can figure out anything on a guitar if you give him a little time to sit down with it," Richardson said.
Parsons: "Jeff basically taught me how to play guitar since we started the band."
"At the moment? Steve," Parsons said as Richardson gets disconnected. "I mean it changes. I'm sure I'm the biggest pain at some points."
Here's the exchange after Richardson returns:
Richardson (to Parsons): "Oh. Who did you say?"
Parsons: "Who do you think I said?"
Richardson: "Oh," followed by a burst of laughter. "Oh, man. Oh, well, it's just like people that are very particular about their situations and surroundings that … did he already say Steve?" (laughs)
Parsons: "I said it changes. It's a day-to-day thing."
Corey: "Hmmmm. I don't know. I think we're all equally very romantic."
Richardson: "I've been trying to think about it, about what everybody will do for their significant others that's romantic. I don't know. I'm pretty romantic, right? Right?"
Parsons: "Sure." (Richardson laughs)
Richardson: "You guys don't get to see that side of me. I'm the sister side, I'm not like the romantic side so. … (To Parsons): Do you think Danny secretly is the most romantic?"
Parsons: "Yeah. Yeah, I think Danny is. He's a big teddy bear."
Richardson (laughing): "Yeah, he's a big little lovable teddy bear. All he wants to do is just be with a woman and like cuddle and like, I don't know, watch movies and stay in bed all day. That's like his idea of his perfect relationship, I think."
Both choose Salter, but Richardson sounds unsure.
Parsons: "He might not be funny to everyone but he's very funny to me. I don't know. I think he's funny to everybody."
Realizing one of the six is not included, another category is added.
Richardson: "Can we give that to Randy (Wade)?"
Parsons: "Yeah. Give him one."
Richardson: "We'll give that to Randy. He's the most mature. He's the mediator. He keeps us all in line. He's like the therapist of the band."
Michael Bialas is a journalist and photographer who enjoys writing about entertainment and sports for a number of online publications, including HuffPost. Follow him on Twitter: @mjbialas
Calling all HuffPost superfans!
Sign up for membership to become a founding member and help shape HuffPost's next chapter
This post was published on the now-closed HuffPost Contributor platform. Contributors control their own work and posted freely to our site. If you need to flag this entry as abusive,
send us an email
.