Johnnyswim's Georgica Pond makes marriage sound wonderful - just ask TV's hottest couple, Chip and Joanna Gaines.
"The album has been playing on repeat in our car since it came out in October," Chip says.
The Gaineses' HGTV show, Fixer Upper, made ceramic farm sinks and "shiplap" paneling en vogue. Now they're promoting their favorite duo Johnnyswim as headliners at "Silobration" (the annual fan festival held at their company headquarters in Waco, Texas).
Joanna says she and Chip can't get enough of the singers' new album.
"Johnnyswim's music speaks to us on so many different levels," she says. "We fall in love all over again while listening to Georgica Pond."
The second full-length release from Johnnyswim captures the days and nights of Abner Ramirez and Amanda Sudano Ramirez, two songwriters married to music (and each other). Recorded in Los Angeles and Nashville with collaborators such as Vince Gill ("Lonely Night in Georgia") and Britten Newbill, the self-produced Georgica Pond is a slow-burn trip through loss and love. Its fourteen tracks flow from the styles of intimate recordings by famous musical partners such as Roberta Flack and Donny Hathaway, Diana Ross and Lionel Richie, Tuck and Patti, Everything But the Girl, Over The Rhine, and Arcade Fire.
Johnnyswim sets itself apart from predecessors by blurring the lines between life and art. Are the lyrics about working on a marriage or working on a song? "Summertime Romance" offers a rosy view of hotel life; "Villains" airs relationship tensions with an echoing electric guitar riff fit for alternative rock radio; "Drunks" is a late-night road march that skips to the beat of a snare drum; "Touching Heaven" is an ode to gratefulness featuring a choir and the coos of the Ramirezes' toddler son (a sound similar to when Stevie Wonder captured the noise of infant daughter Aisha playing in the bathtub on the recording of "Isn't She Lovely?"); "In My Arms" combines a line about making "a baby or two" with strings and a verse sung in French; and a moody remake of Chris Isaak's "Wicked Game" is one of the darkest and sexiest moments in Johnnyswim's repertoire.
Abner says, as producer, he stripped away layers of sound (like those found on the band's first full-length outing, 2014's Diamonds) and let go of the fear of over-simplification. "We approached it like a live show. In each song, we wanted to get to the energy quickly so the listener has clues to whether the experience will be introspective or something upbeat we'll all be singing together."
Today co-hosts Hoda Kotb and Kathie Lee Gifford sang along in the wings when Johnnyswim performed the single "Let It Matter" on the TV show last month. The song has a self-healing message disguised within a mid-tempo groove, and a chorus that leaves room for Amanda to freely vocalize. In one refrain, she sings about the heartbreak the couple endured after the deaths of her mother and Abner's father: "Don't hide yourself from the horror, if it's fragile and it shatters, let it matter."
"With grief and loss, sometimes there's blame or sorrow and desperation you feel like you're never going to get out of," Amanda says. "A friend of ours said, 'Be sure to feel everything. Don't rush yourself.' That gave us permission [to write this song]."
Amanda's mother is multiplatinum singer Donna Summer, who died in 2012. Although press coverage of Johnnyswim's rise to fame has tended to downplay her lineage in order to give space for the duo to create its own sound and identity, there is a family vibe on Georgica Pond that cannot be denied. When I interviewed Summer in 1996, she was celebrating her sixteenth anniversary to Amanda's father, music producer Bruce Sudano, and focusing on her three daughters. "The job you do doesn't have to dictate who you are," she told me of the life balance she felt like she was on her way to finding at the time. She said her future held "many musical miles left to cover."
In the melodies of Georgica Pond, Amanda and Abner cover their own miles and seek to find the balance. Like their friends Chip and Joanna Gaines, they are a couple in the spotlight who are not afraid to admit that life is not always perfect.
"We are simply trying to lead with love and grace," Amanda says.
Johnnyswim's tour arrives at Atlanta's Buckhead Theatre November 5.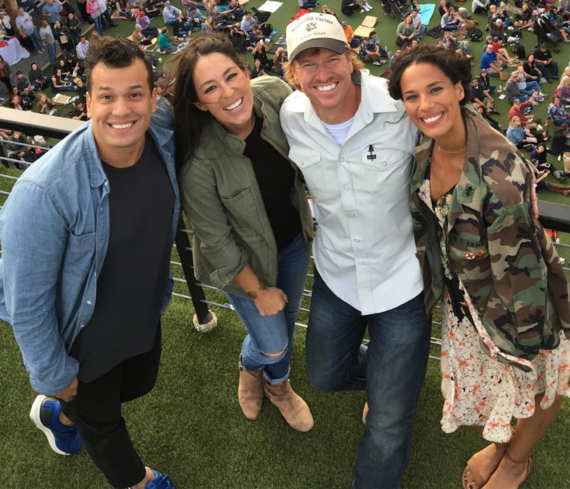 Friends: Abner Ramirez, Joanna Gaines, Chip Gaines and Amanda Sudano Ramirez at the Magnolia Silobration. Photo courtesy of Joanna Gaines/Instagram.
Popular in the Community