"There's really no such thing as the 'voiceless,'" Arundhati Roy writes. "There are only the deliberately silenced, or the preferably unheard."
In Congo, a country where women have been deliberately silenced, where they have little or no land rights, where education is not an expectation and it is reported that 2.5 million girls are out of school, these women are speaking up. They're learning to sew, a trade that is already earning them income to send their girls to school, to feed and clothe their kids, to save money for the future.
It was Action Kivu's Sewing Workshop graduation day for 60 girls and women in a village in eastern Congo, a day made possible by pajamas, you, and Robin Wright! Celebrating, the women held high their graduation certificates, sang songs of gratitude, and made plans for their new small business ventures as designers and seamstresses.
Robin Wright, "Mama Robin," as many of the Congolese women who met Wright on her 2011 trip to the Democratic Republic of Congo call the actor, is a vocal activist on behalf of the people of Congo. Late last year, Robin partnered with her friend and fashion designer Karen Fowler to create a campaign for the women of Congo through Pour Les Femmes, a luxury pajama company.
Robin Wright watched the above video of the graduates celebrating and sharing their stories, and sent this message to the women.
"Congratulations to the graduates of Action Kivu! This is only the beginning... You are setting the example and reminding all of us that self-reliance is the key to a sustainable and rewarding life. Bravo!!!"
- Robin Wright
The profits from the PJ sales traveled 15,114 kilometers from Los Angeles to Congo, and purchased sewing kits for these women to start their own businesses, earning income to feed, clothe, and send their kids to school, helping to break the cycle of poverty and change the landscape of their lives.
Some women walked one kilometer, some trekked five or six, a few bused in from the city of Bukavu, braving the unpaved dirt roads made muddy and dangerous from two days of the non-stop, rainy season wet weather. It's just this wet weather that makes travel in Congo so dangerous, yet also makes it look a lush, verdant paradise, with its rolling green fields and the wide leaves of banana trees leading up to the misty mountains surrounding the valley. But the potential for paradise in Congo has long been marred by conflict, extreme poverty, and violence against women as a weapon of war.
Amani Matabaro is the man and the inspiration behind Action Kivu. In 2006, Amani and his wife created Action Kivu's partner organization in eastern Congo, Actions pour le Bien être de la Femme et de l'Enfant au Kivu (ABFEK), after learning that his cousins, victims of the ongoing conflict, needed work and a place to live. At the March 2015 graduation, Amani congratulated each seamstress for her diligence in learning a new skill and gaining an education, invoking empowerment that no one could take away from them. Often overwhelmed by tears of joy, Amani handed each woman her certificate of completion, and draped her new tape measure around her bowed head, a sort of sewing stole denoting achievement in education.
Each woman received her graduation kit: a push-pedal sewing machine (for working in villages with little or no electricity), fabric, a box of threads, scissors, and her tape measure. The rain abated, and the women stepped outside to pose for photos and share their stories of how learning to sew and having the means to earn income has already changed their lives.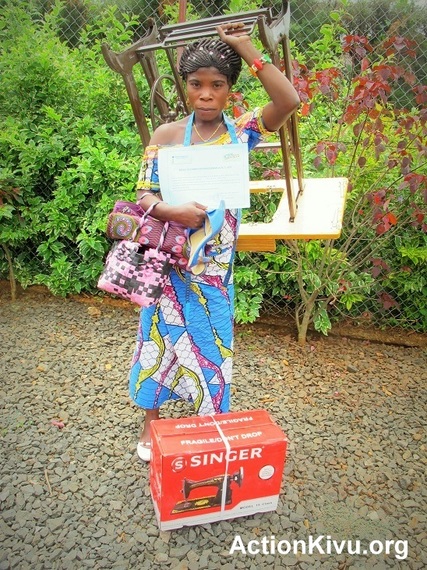 "I am the happiest person on the planet today because of this graduation kit, I had never expected this, I waited for a long time but today is the day," said Cibalonza Claudine, the sewing program's star student, who was wearing a dress she had made. Cibalonza walks an hour and a half each way to attend the sewing classes at the Center, and was never late, never missed a session, said Amani.
Action Kivu's work in Congo provides women with a variety of entrepreneurial programs to create sustainable change in their community, from bread baking and basket making to the sewing workshops, from literacy classes to a demonstration farm for growing food to sell and eat, as well as education assistance for the kids in the community whose families cannot afford to send them to school. Your partnership through Action Kivu, whether an annual gift or a monthly donation, changes lives.
"Before I came to this center, I was nothing, I meant nothing at all," Cibalonza said at the graduation ceremony. "After learning the sewing skills, I started rebuilding my life and today, I AM SOMEBODY. No matter the rain I will carry my sewing machine and show my mom and my child that I have to start a new life. My plan is to open a new business and I promise I will prosper -- thank you ABFEK, thank you Action Kivu, thank you Robin Wright, God bless you all and keep you strong for changing my life."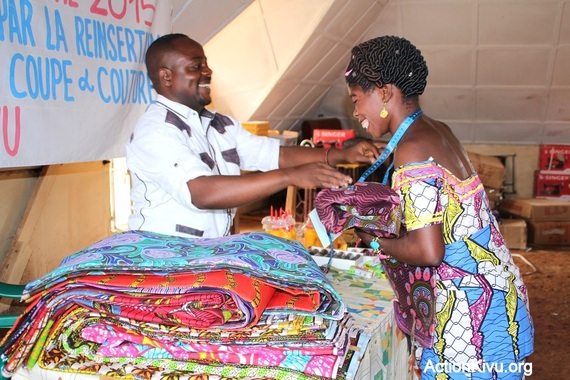 REAL LIFE. REAL NEWS. REAL VOICES.
Help us tell more of the stories that matter from voices that too often remain unheard.