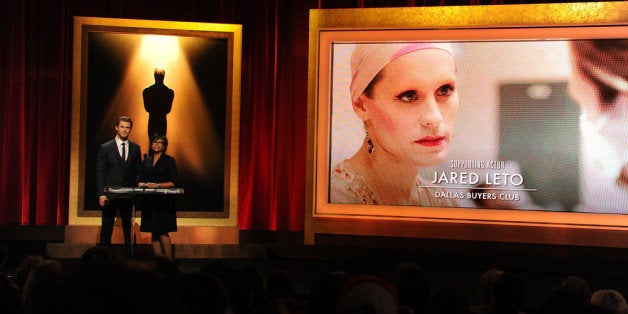 I sat on the edge of my bed, a fistful of pills in the palm of my hand. It was the middle of summer in Schaumburg, the small upper middle class Chicago suburb we were living in. It was a gorgeous afternoon, and the sun was streaming through my bedroom window leaving streaks along the green carpet as I contemplated taking my own life. I was 16-years-old and I would have rather died than gone through one more minute as Scott.
I simply wasn't what everyone else seemed to see, and with my spirit at war with my physical self, in 1978, there was no one I could turn to. And so I needed out. I needed to run as fast and as far away from life as I could. On that gorgeous summer day, my mother watered her roses as she did every weekend, having no idea her son was about to kill himself in his bedroom, because he wasn't her son at all.
And as the TV turned from its early afternoon programming to its later in the day, adult-time talk shows, a man with silver hair and glasses perched professorially at the end of his nose, announced that today on his show, they'd be interviewing a new kind of professional showgirl. In fact; these girls were once men. And my head lifted up as if out of a haze, and smiling through a sea of sequins and rayon, I saw the most glamorous, beautiful, sparkling women shine through my television set and replace the half setting sun. I caught myself smiling. I caught myself actually smiling that day. I sat back a little on my bed, occasionally dropping a pill or two along the way, and as the interviews progressed and the charming and protective, and always highly sensitive, Phil Donahue opened up the conversation to the audience; the girls were bombarded with the rude and thoroughly confused studio audience.
Exotic and Ann-Margret stunning, the wit of the infamous Chili Pepper, (from The Baton Showlounge in Chicago; where I eventually ended up almost ten years later), fielded the penultimate issue:
"So... Are you a male or a female?" a shrill woman from the back row screeched.
Chili raised her hand, brushed a hair aside, and said in a husky Zsa Zsa Gabor voice:
"Darling. I'm a Showgirl."
And the girls on stage laughed, and so did Phil. And so did one or two of the audience members.
As Phil laughed, and I sat crushed against my pillow near my bedroom wall, I laughed. It was as if I was standing outside of myself, and yet I could hear my own voice and I could feel my own heart and as my laugh got bigger and stronger. I dumped the pills on my night stand and watched the rest of the show.
Recently, on the nationally television Golden Globe Awards, Jared Leto gave an acceptance speech when he was blessed enough to be honored for his performance in Dallas Buyer's Club. He spoke about shaving his legs, he spoke about his backside in his bikini, and he spoke about a Brazilian wax he never got because it seemed to be too much trouble. What he didn't speak about was the transgender woman he played, or the millions of other transgender people in the audience, or the hundreds of millions of people around the world who are living with and dying from the AIDS virus.
What Mr. Leto did was try desperately to distance himself from the person he portrayed. He did not want it to be known that he had anything in common with Rayon. There were absolutely no similarities, and so consequently, he had no responsibility. He owed nothing to no one. After all, that wasn't him. It was someone else. What Mr. Leto doesn't seem to quite grasp yet, is that there is no such thing as character. It doesn't exist. When you rise up to the challenges of bringing an imaginary circumstance given to you by an author to life by being who you are authentically, you don't do it by becoming someone else. No one ever does that. I've been in the theatre since 1968, and never once have I seen an actor sit backstage smoking while his Character goes on to give a performance. If that's happening to someone, they are either lying, or they need medication.
So Mr. Leto's attempts at trying to escape the part of himself he revealed on screen, not only failed, they were dangerous and selfish.
Finding your authentic voice is a journey all of us move towards. There is no such thing as someone who's finished, someone who has all the answers, or someone who's figured it all out. That's not true of anyone in the middle of the human experience. And in order for us to move forward, to keep going, to keep searching, we have to share who we actually are with each other. Deeply, ultimately and profoundly. This is the great way into the human spirit. This is how we give. This is how we learn. The more we keep inside, the more we run away. And as I've found out through my 50 years on the planet: You can only run so far and for so long, eventually You catch up to You. If Jared would breathe through his own gift and know that Rayon lives, and had always lived, inside of him and the work, and the skill comes from releasing this gift over and over in a repeatable way, he'd be larger for it. He did this. He lived this. He went through it and survived this journey, not his character. So, in doing this, in sharing this with us, in claiming his own voice, he might have given another 16-year-old a reason to drop their handful of pills. But Mr. Leto chose to run, and it's less about what he said, and more about what he didn't say.
So I only hope that as he begins to pick up more and more things to put on his shelf, at the end of the day, he turns to someone who may be lost in the universe, and he admits that he sees them. He can see them and there is no shame or guilt or need for rage attached to who they actually are, no matter what everyone else is saying. If, as he's grasping on to one more shiny gold thing in his life and standing before millions of people, he remembers that there is no shame for him to reveal openly, he will in turn, give that gift to someone watching. That is beautiful. That is courageous. And if he can do it through his own sense of joy and humility, he might change the world. Because that's how we do it: one spirit at a time. But we can't do it, if we all don't allow ourselves to remember we don't have to run from what is truly calling us.
And who knows? If it's only one soul he reaches, that's the one that may end up bringing the glory of peaceful revolution to a bone-weary time. Jared's only one voice, I realize that. But one voice has the power to resonate through the deepest, darkest hours and light the way for a new beginning to a life half lead. I know. It happened to me.
Related
Popular in the Community